Charlie Hebdo attack: Former editor Philippe Val urges people to use laughter as the 'ultimate weapon' against extremists
'Ridicule the b******s', said Philippe Val, whose closest friends were killed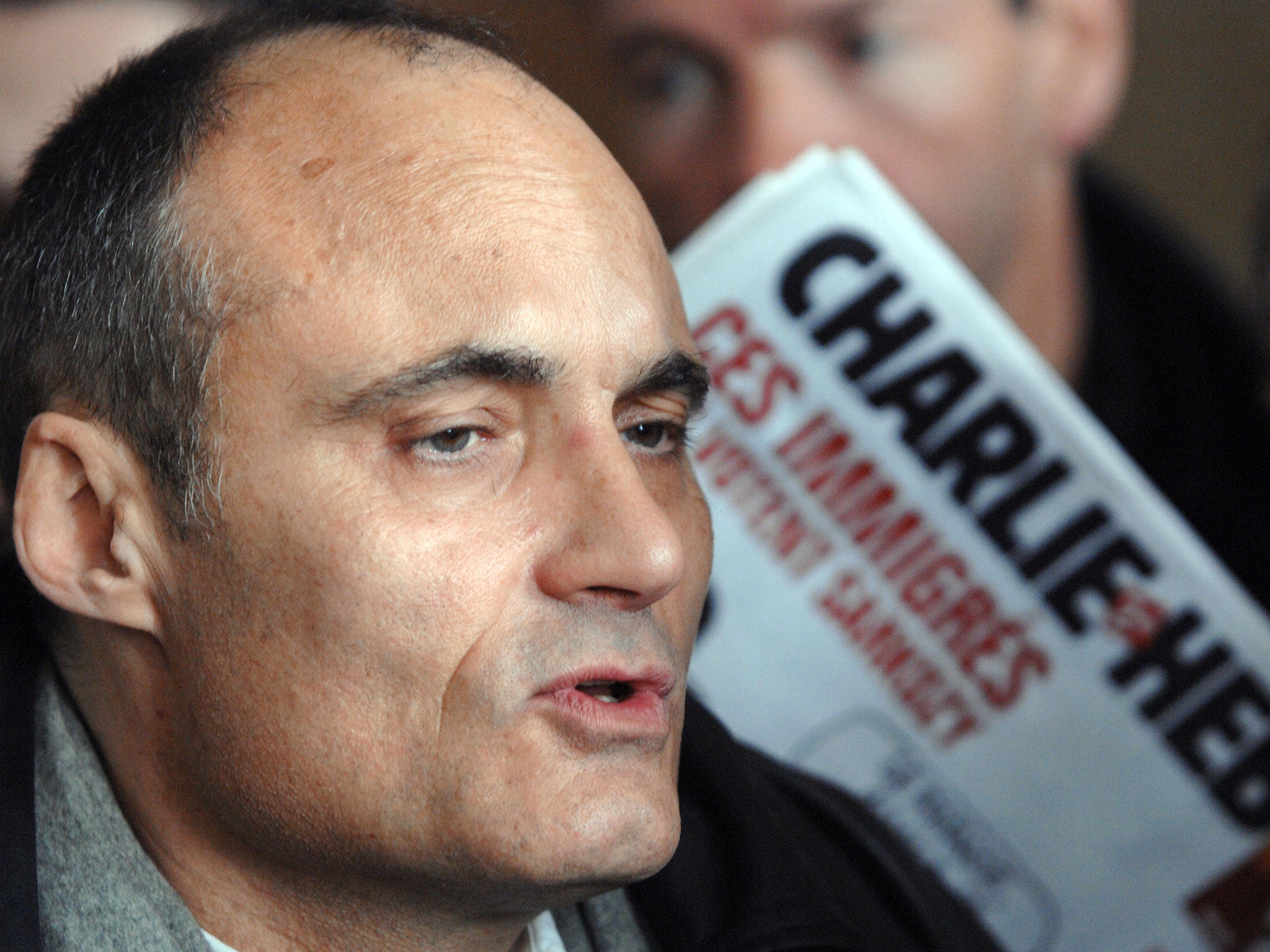 The former director and editor of Charlie Hebdo has urged people to use laughter as the "ultimate weapon" against extremism and hate following the massacre of his friends and former colleagues.
In a tearful interview in the aftermath of the atrocity, Philippe Val, the satirical magazine's former director said he had lost all his friends.
"I am practically alone, all my friends are gone," he said in the statement broadcast by France Inter radio and transcribed by Libération.
"They were not bad people, they just wanted to make us laugh.
"They just wanted humour to have a place in our lives, that's all."
Mr Val said he wished he could have told his former colleagues how much he loved them, how they had been indispensable to him "and all others".
Eight journalists, a security guard and two police officers were among those shot dead and four others remain in a critical condition.
Mr Val called on all newspapers to call themselves Charlie Hebdo, for "all of France calls itself Charlie Hebdo".
"This will show that we're not okay with this, that we'll never accept it. We'll never let go of liberty," he added.
The journalist, who headed Charlie Hebdo between 1992 and 2009, when he became the director of France Inter radio, called on the world to "unite against this horror".
"Terror must not prevent the joy of living, of freedom, of expression," he said. "Democracy is at stake."
He individually paid tribute to his murdered colleagues, including the "genius" cartoonist Cabu, full name Jean Cabut, who was murdered alongside the magazine's editor Stéphane Charbonnier or "Charb" during their morning editorial meeting.
Struggling to hold back tears, Mr Val said the world "could not tolerate" the atrocity and must act.
The media had not properly reflected the rise of radicalisation and Islamic fundamentalism in France, he argued, while Charlie Hebdo had been lambasted for doing so in its controversial cartoons.
"Our country will never be the same," Mr Val said. "They have killed a certain way of doing journalism. They killed all the people who were able to laugh at serious ideas.
In pictures: Reaction to Charlie Hebdo attack
Show all 39
"We have been struck by a terrible atrocity but we must not be silent, or they will win."
He told how the magazine's staff had "laughed" at the firebombing of 2011, when Charlie Hebdo was again targeted by extremist for its depiction of the Prophet Mohamed.
"Today is hard but it is the ultimate weapon," Mr Val continued. "It is the weapon of solidarity. Let people laugh, let them ridicule the b******s…we cannot live in fear."
Join our commenting forum
Join thought-provoking conversations, follow other Independent readers and see their replies