Charlie Hebdo attack: Thousands join vigils in Paris, London, Berlin and around the world
People held up pens to symbolise freedom of expression and wore stickers saying "je suis Charlie"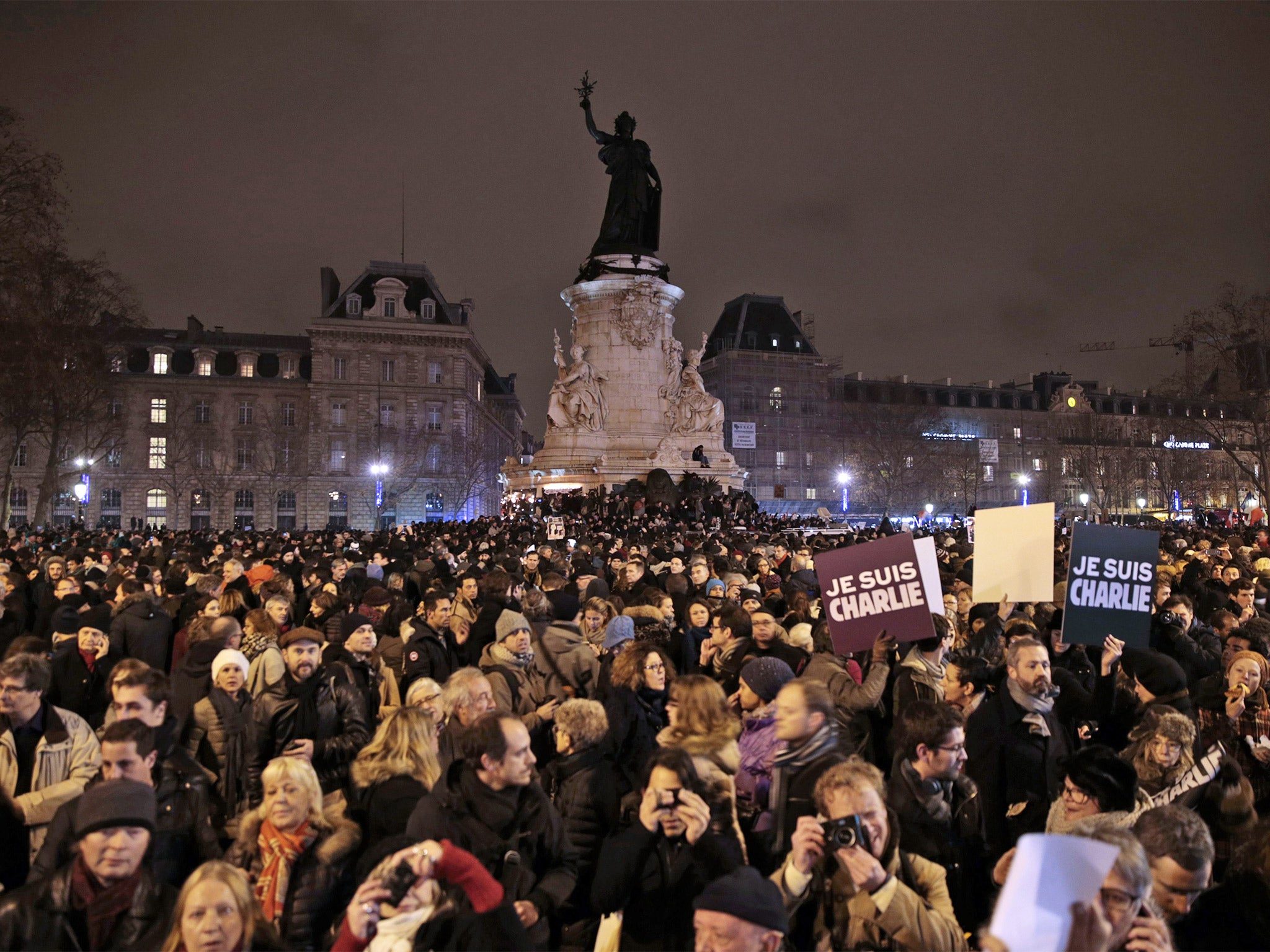 Thousands of people have flooded Paris' Place de la Republique in a vigil to pay tribute to the victims of the attack on satirical magazine Charlie Hebdo.
Journalists held up their press cards as members of the public silently raised pens in the air in a poignant symbol against what is being seen as an attack on freedom of speech.
The phrase "je suis Charlie" ("I am Charlie") has become a rallying call for people expressing solidarity with the victims around the world, with many Paris protesters wearing the slogan on stickers and painting it on giant placards.
The mood was said to be sombre but defiant, with groups of friends quietly talking and comforting each other, trying to come to terms with the day's horrifying events.
Organisers urged people to bring signs and flowers to commemorate the attack on Charlie Hebdo, as well as pens "to celebrate freedom of expression".
A statement added: "This is about peace. Haters, stay at home!"
The Independent's Andrew Griffin described the atmosphere as "very quiet".
"The bells from the church next to the square seem louder somehow. There are hundreds of people here and everyone is facing towards a tricolour in the middle of the square," he added.
The silence was reportedly only broken by a sombre rendition of French national anthem the Marseillaise.
According to a map compiled by French newspaper Le Monde, Charlie Hebdo vigils are being held tonight in Dublin, Edinburgh, Amsterdam, Brussels, Madrid, Rome, Berlin, Vienna, Moscow, Tunis, Lima, Rio de Janeiro and in cities across France.
A single black ribbon also appeared on the French version of Google on Tuesday evening in a token of mourning.
In pictures: Reaction to Charlie Hebdo attack
Show all 39
Gunmen burst into the magazine's offices at around 11.30am this morning and opened fire on journalists and cartoonists gathered for an editorial meeting.
Witnesses said they shouted "Allahu akbar" and claimed to be "avenging the Prophet Mohamed" in an apparent reference to the magazine's publication of controversial cartoons that led to previous threats and a firebombing attack in 2011.
At least 12 were killed, including police officers, and 11 more were more injured. Four are in a critical condition in hospital.
A huge manhunt is underway for the three suspects, who police said fled in a stolen car.
Join our commenting forum
Join thought-provoking conversations, follow other Independent readers and see their replies