Charlie Hebdo attacks: New video emerges showing Kouachi brothers escaping police
One of the brothers shouts: 'We are avenging the Prophet Mohamed'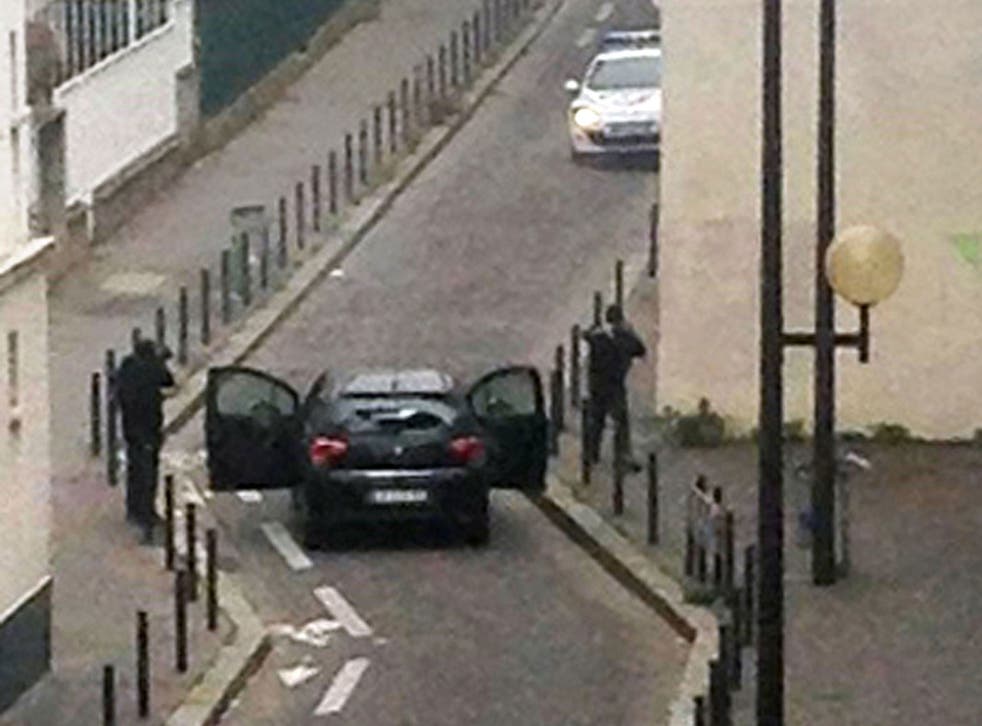 Fresh footage has emerged from the Charlie Hebdo attacks showing brothers Said and Cherif Kouachi escaping in a getaway car just after shooting 12 people dead in the magazine's offices.
One of the brothers is heard repeatedly shouting: "We are avenging the Prophet Mohamed," while holding his fist in the air. They then calmly pick up their guns, get in the car and drive off.
In the second half of the video, a police car approaches the brothers, who climb out and begin shooting at the vehicle. The police car reverses all the way down the street and the brothers drive directly towards it. More gun shots are heard.
Seventeen people were killed in a two-day spree launched by the Kouachi brothers and their associate Amedy Coulibaly, who shot dead a police woman and then killed four hostages inside a Jewish grocery store.
Other videos surfaced almost immediately after the assault was launched on the magazine. One of the most widely shared videos was footage of the moment the brothers attacked Muslim policeman Ahmed Merabet.
The video has emerged as three million copies of the first edition of the magazine since the massacre went on sale today.
In pictures: Charlie Hebdo demonstration, Paris

Show all 20
Ever controversial, it features a depiction of the Prophet Mohamed on its front page and other cartoons inside.
The proceeds of the 'survivor' issue will be given to the victim's families.