Charlie Hebdo: Belgian seeking to trademark "Je Suis Charlie" says he wants to help victims
The phrase was coined by an artist hours after the Paris attacks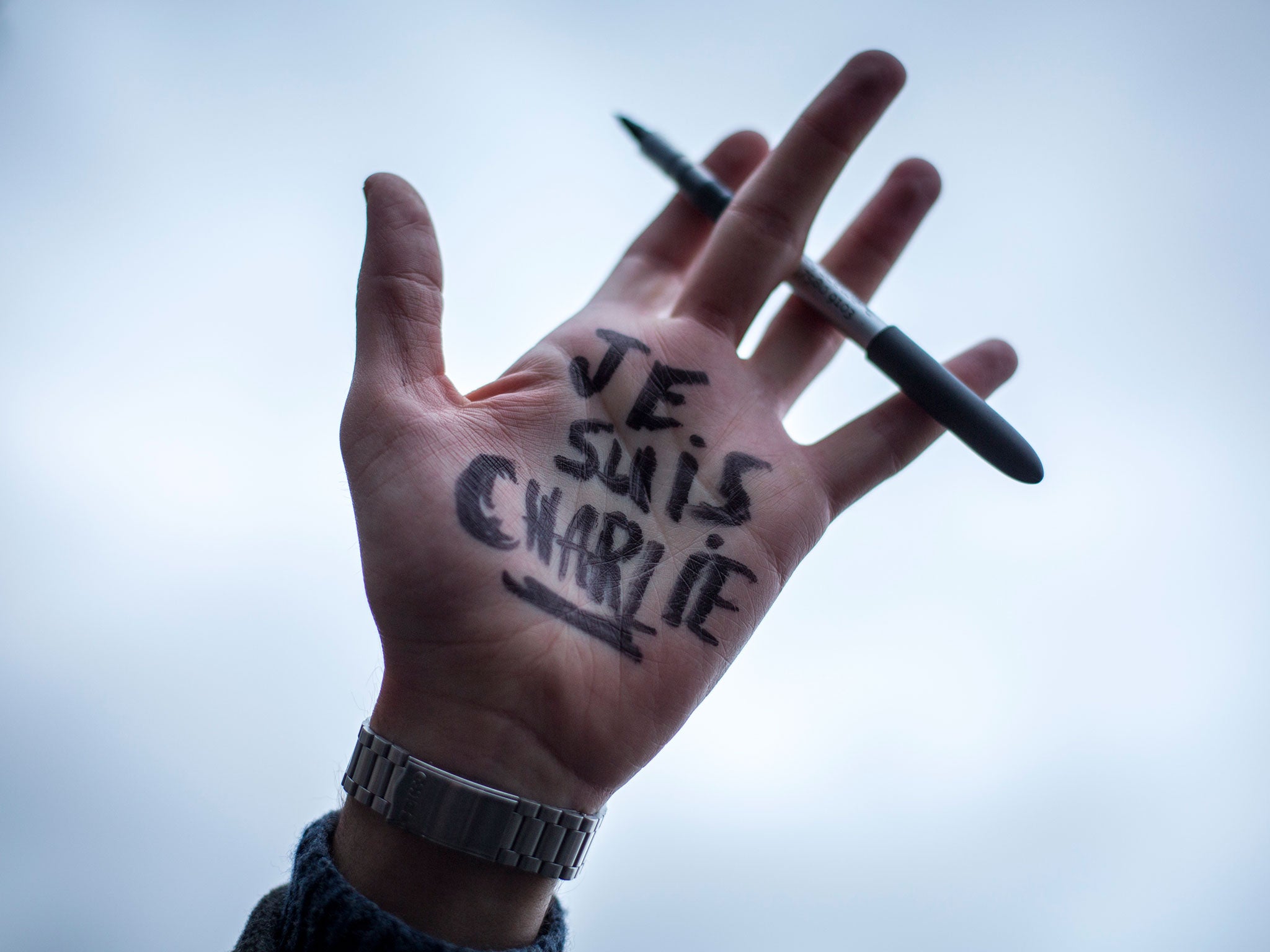 When Yanick Uytterhaegen applied to trademark the slogan "Je Suis Charlie" for commercial goods he became an instant hate figure.
But the Belgian businessman has told The Independent that he plans to licence the phrase, adopted by Charlie Hebdo sympathisers worldwide, to raise funds for the families of the cartoonists massacred by terrorists last week.
In pictures: Charlie Hebdo demonstration, Paris
Show all 20
Uytterhaegen, a Brussels resident, yesterday lodged an application to register "Je Suis Charlie" at the Benelux Trademarks Office.
The application, which would apply across Belgium, Luxembourg and the Netherlands, covers goods including laundry and cleaning products, printed matter, clothing, footwear, toys, decorations for Christmas trees, fruit juices and beer.
Uytterhaegen was called "money-grabbing" and accused of seeking to "cash-in" on the tragedy by social media users. Copyright lawyers questioned whether the application could be struck out on moral grounds.
Uytterhaegen told The Independent: "The phrase 'Je Suis Charlie' is a brand name, just like Dior, Guess or Adidas. I can see a lot of big brands will want to use 'Je Suis Charlie' to sell products."
However he insisted that he was not seeking to profit from the slogan's commercial exploitation. "I wanted to do something to help the victims of this horrible terrorist attack.
"I want to licence the trademark Je Suis Charlie to help the magazine to get some money and continue produce its work. I want money from the products to go to the Charlie Hebdo foundation and to the victims' families."
Uytterhaegen, 49, said he had experience licensing trademarks. He had not approached Charlie Hebdo over his attempt to claim rights over the slogan, which some patent lawyers believe should lie with the magazine.
"I didn't want the phrase to fall into the hands of people who wanted to do other things than I want to do. I will get in contact with Charlie Hebdo," he said.
"I think we can sell on the name to big brands to use on products to make money. The people who work on those goods will get paid but a part of the financial benefit will go to Charlie Hebdo."
Uytterhaegen was not specific on the kinds of goods he plans to licence. "Maybe we can do something which honours the memory of the cartoonists who were killed. Or we could hold an auction to raise more money." He will not approve clothes which use Charlie Hebdo's front page cartoons of the prophet Mohamed.
The businessman claimed to be unaware of the campaign of Twitter vilification which followed his application. The symbol of solidarity belonged to everyone, social media users complained.
"I don't want to stop other people using these three words. I wanted to help," Uytterhaegen said. "There might be opposition. Now we must wait three months to see if the application succeeds."
The phrase was coined by an artist, Joachim Roncin, within hours of the Charlie Hebdo attacks in Paris last week. Roncin said he had rejected approaches to monetise his slogan.
Kristof Neefs, a lawyer based in Belgium, said on Twitter that he believed the "Je suis Charlie" application could be rejected because it is "contrary to public policy or accepted principles of morality (Article 3(1)(f) of the Trademarks Directive (2008/95/EC))".
Other patent lawyers argued that the application could be approved, since there was nothing disparaging or offensive about the term. However Charlie Hebdo could oppose the application since the slogan relies on a key element of its own trademarked name. However those involved in publishing the magazine after the tragedy may have little appetite for a copyright battle.
The Benelux Trademarks Office is expected to discuss the application at a meeting this week. Third parties have two months to make an objection based on possible infringement of a prior trademark. The office can reject an application on "absolute grounds".
Join our commenting forum
Join thought-provoking conversations, follow other Independent readers and see their replies