Charlie Hebdo reprints controversial cartoons of prophet Muhammad ahead of terror trial
'We will never lie down. We will never give up,' editor writes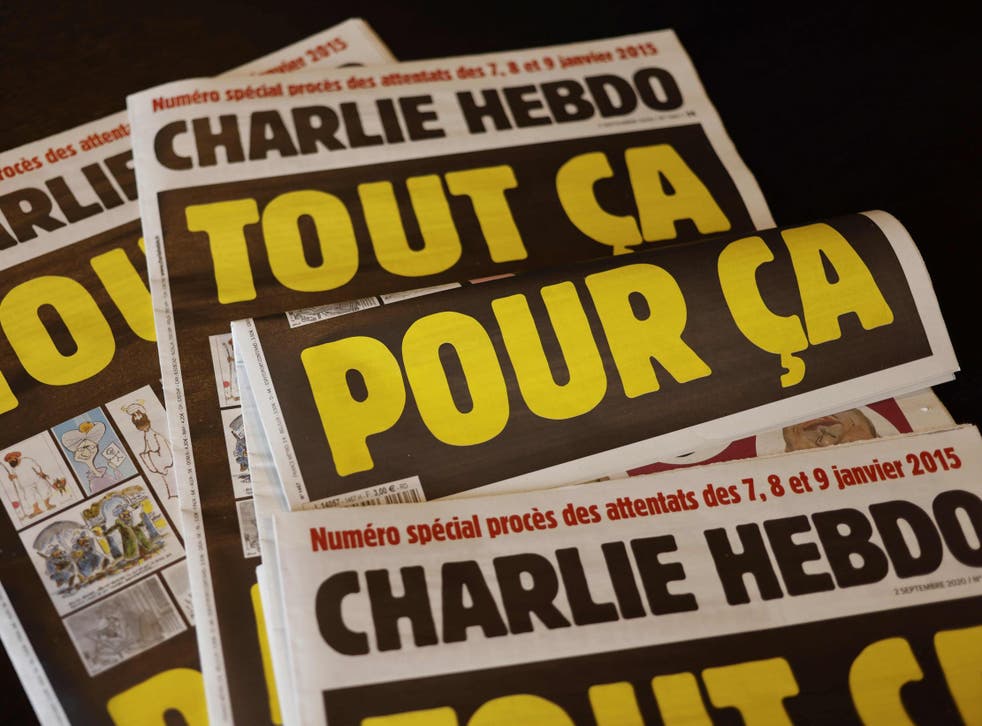 The French satirical magazine attacked by Islamist gunmen in 2015 is republishing controversial caricatures of the Prophet Muhammad to mark the start of the trial of alleged accomplices in the attack.
Among the cartoons to be published in Charlie Hebdo is a drawing of Muhammad wearing a bomb-shaped turban with a lit fuse.
"We will never lie down. We will never give up," editor Laurent "Riss" Sourisseau wrote in a article which accompany the front cover when it is published in print on Wednesday.
Twelve people were killed when Said and Cherif Kouachi stormed the Paris offices of Charlie Hebdo and raked the building with automatic gunfire.
The Kouachi brothers and a third gunman who killed five people in the 48 hours following the Charlie Hebdo massacre were shot dead by police, but 14 of their alleged accomplices will go on trial on Wednesday.
The caricatures were first printed in 2006 by the Danish newspaper Jyllands Posten, and set off sometimes violent protests by Muslims, who believe any depiction of Muhammad is blasphemy.
​In 2007, a French court rejected accusations by Islamic groups that Charlie Hebdo incited hatred against Muslims.
"The freedom to caricature and the freedom to dislike them are enshrined and nothing justifies violence," the French Council of the Muslim Faith wrote on Twitter in response.
France's president, Emmanuel Macron, said it was not his place to pass judgement on the magazine's decision, saying France has freedom of expression.
Speaking on a visit to Lebanon, Mr Macron said it was incumbent on French citizens to show civility and respect for each other and avoid a "dialogue of hate."
"It's never the place of a president of the Republic to pass judgment on the editorial choice of a journalist or newsroom, never. Because we have freedom of the press," Mr Macron said.
Additional reporting by agencies
Register for free to continue reading
Registration is a free and easy way to support our truly independent journalism
By registering, you will also enjoy limited access to Premium articles, exclusive newsletters, commenting, and virtual events with our leading journalists
Already have an account? sign in
Register for free to continue reading
Registration is a free and easy way to support our truly independent journalism
By registering, you will also enjoy limited access to Premium articles, exclusive newsletters, commenting, and virtual events with our leading journalists
Already have an account? sign in
Join our new commenting forum
Join thought-provoking conversations, follow other Independent readers and see their replies