Charlie Hebdo publishes cartoon of Emmanuel Macron's wife pregnant with caption 'he will do miracles'
Social media users have slammed the drawing as 'sexist'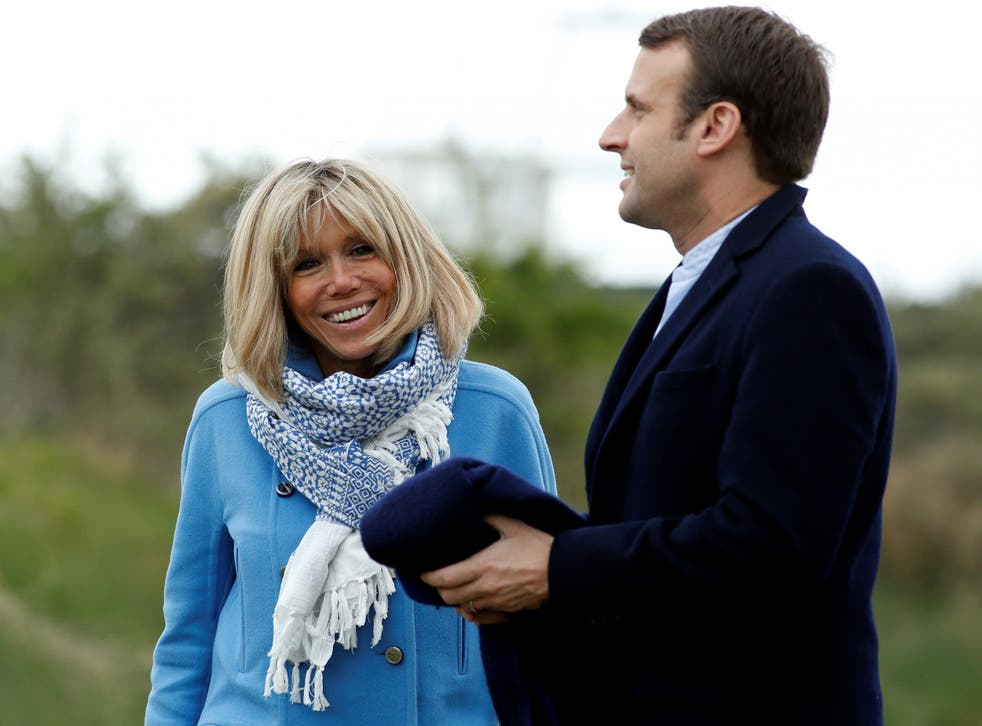 French satirical magazine Charlie Hebdo has courted controversy with its latest front cover, which shows newly elected president Emmanuel Macron next to his pregnant wife Brigitte with the caption: "He will do miracles".
Taking to social media, some users called it "disgusting", and "a disgrace", while some accused it of being sexist. On the magazine's Facebook page some accused the publication of being backwards.
The Macron's story has been widely covered both in France and abroad. Ms Macron, 24-years his senior and married, was a teacher at the new French president's school when the pair began their relationship.
Ms Macron confided in Paris Match last year: "At 17, Emmanuel told me 'Whatever you do, I will marry you.' Love carried everything with it and led me to divorce."
In October 2007, the pair married in the upmarket town of Le Touquet, where they have a home.
Now, 64, Ms Macron has three children from a previous marriage and seven grandchildren.
The couple have no children and given Ms Macron's age they are unlikely to do so - something which was picked upon by Charlie Hebdo.
The front page cartoon signed by Riss, the magazine's editor. It depicts Mr Macron with his hand on his pregnant wife's abdomen. She is grinning.
"He will do miracles," the caption reads.
The magazine routinely targets French politicians and public figures, so Mr Macron was always likely to feature on its cover.
French crowd goes wild as Macron is announced election winner
However, some have criticised the cartoon on social media.
Magali Cazo said: "What a regressive cartoon. How stupid! He [Mr Macron] is being mocked because he has no children with his wife. I found Charlie much too old school."
Nathalie Marchadier wrote: "This drawing could never be made by a woman. Only a man could draw something of such bad taste."
Others defended the cartoon, which they argued was not an attack on Ms Macron's age but rather a barb at the newly elected president, who they say believes he will be able to transform France's political landscape and achieve miracles.
World news in pictures

Show all 50
The cover comes after Mr Macron hit back at speculation he was gay and could not be in love with his older wife.
Mr Macron blamed misogyny and homophobia for assumptions that he could not be in love with his wife and claimed that if his wife was 20 years younger than him, nobody would question the relationship.
Charlie Hebdo, which was victim of a terror attack in January 2015, when a pair of gunmen walked into the magazine's offices and opened fire, killing 12 people with their automatic rifles.
Controversial caricatures of the prophet Mohammed which had been published by the magazine, were thought to have been the reason for the attack.
Register for free to continue reading
Registration is a free and easy way to support our truly independent journalism
By registering, you will also enjoy limited access to Premium articles, exclusive newsletters, commenting, and virtual events with our leading journalists
Already have an account? sign in
Register for free to continue reading
Registration is a free and easy way to support our truly independent journalism
By registering, you will also enjoy limited access to Premium articles, exclusive newsletters, commenting, and virtual events with our leading journalists
Already have an account? sign in
Join our new commenting forum
Join thought-provoking conversations, follow other Independent readers and see their replies