Charlie Hebdo: Nearly half of French people oppose Mohammed cartoons
Satirical magazine is publishing 7 million copies due to extraordinary demand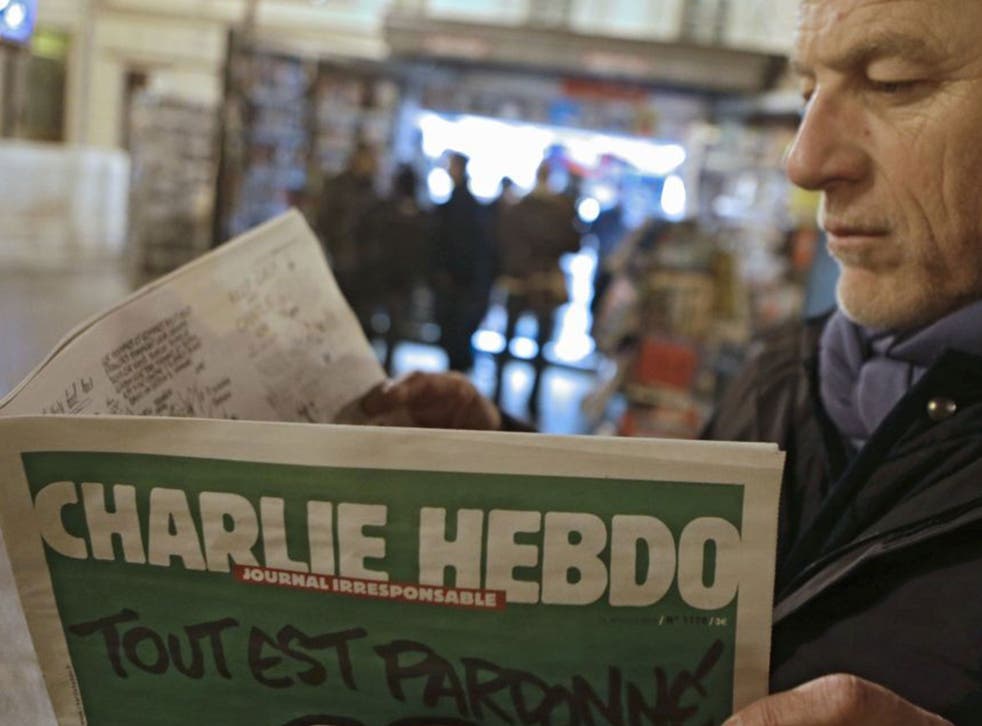 Almost half of France opposes the publishing cartoons of the Prophet Mohammed, and even more say there should be limitations on free speech, according to a new poll.
The Ifop poll, published in France's Journal du Dimanche, had 42 per cent of respondents express opposition to cartoon depictions of the Prophet Mohammed, though 57 per cent say Muslim dislike of the cartoons should not stop their publication.
Half of those polled said they believe that there should "limitations on free speech online and on social networks" — indicating a division in the interpretation of France's republican values that stands in contrast to the unity displayed at last week's grand march in Paris.
The results come in the wake of the deadly attack on the offices of Charlie Hebdo, a satirical magazine best known for its critical cartoons of Mohammed.
Twelve people were killed in the shooting on January 7 by the Islamic extremist Kouachi brothers over the magazine's depiction of Mohammed, which is considered blasphemous.
Highlighting public opinion divide on the subject is news today that the Charlie Hebdo 'survivors issue' - the first since the attacks - has increased the number of copies published to 7 million following extraordinary demand.
Charlie Hebdo: The first edition since the Paris massacre

Show all 15
There was originally one million copies planned, which was then raised to three million, then five million and now seven million — the magazine used to publish only 60,000 per edition.
The latest issue is fronted by a cartoon of Mohammed holding up a sign saying "Je suis Charlie" - after the now iconic phrase of solidarity - with the words "all is forgiven" written beneath.
It sold out in France within minutes of going on sale on Wednesday.
The decision to lead publish another picture of Mohammed has been met with condemnation by Muslim groups in France, and violent protests around the world.
France's laws of free speech has been scrutinised in the aftermath of the shooting at Charlie Hebdo, with Amnesty International but one group claiming hypocrisy over the decision to arrest comedian Dieudonné M'Bala M'Bala for defending the terrorist attack.
In France, blasphemy is legal but comments inciting racial hatred or defending terrorism are not.
The subject of the conflict may divide the French people, but there is agreement on taking a hard line on Islamic extremism, with 81 per cent supporting measures to strip French citizenship from dual nationals who have commited terrorist attacks in France.
And 68 per cent say French citizens should be banned from returning to France if they are suspected of fighting in countries and regions where terrorist groups are active.
Join our new commenting forum
Join thought-provoking conversations, follow other Independent readers and see their replies