Charlie Hebdo: Pope slams 'deviant forms of religion' in wake of Paris attacks
Pope Francis said the gunmen were enslaved by faith that used God as pretext for violence
Lizzie Dearden
Monday 12 January 2015 11:01 Comments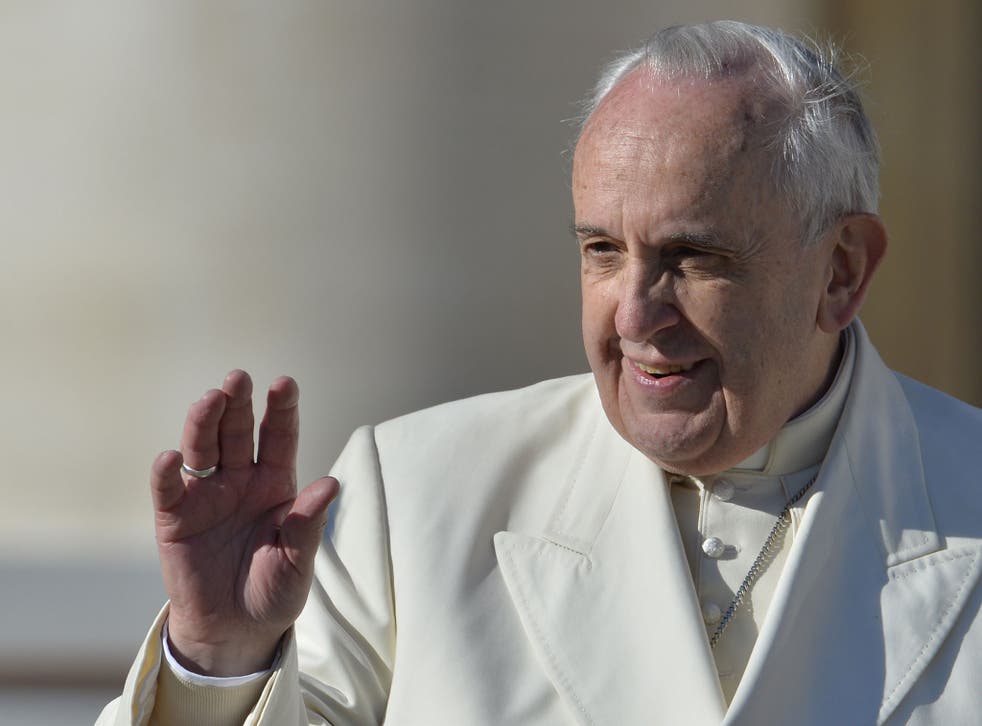 The Pope has condemned "deviant forms of religion" that are used to justify violence after the Paris attacks.
The Roman Catholic leader denounced the religious fundamentalism that inspired the three gunmen, saying they were enslaved by a subverted faith that used God as a mere ideological pretext to perpetuate mass killings.
In his annual foreign policy address to Vatican-based ambassadors, Pope Francis called for a united response from the international community to end "fundamentalist terrorism" and for Muslim leaders in particular to condemn extremist interpretations of their faith that seek to justify such violence.
He claimed the attacks were the result of a "throwaway culture" where human beings and God are rejected outright.
"Religious fundamentalism, even before it eliminates human beings by perpetrating horrendous killings, eliminates God himself, turning him into a mere ideological pretext," he added.
The three day rampage, starting with the massacre of 12 people at Charlie Hebdo's offices and ending with two police assaults that left the three gunmen dead, has sparked widespread debate about fundamentalism.
Revenge attacks have been reported at mosques and Muslim businesses in France despite calls for unity and tolerance.
The brother of Ahmed Merabet, the Muslim police officer killed by the Charlie Hebdo gunmen, pleaded with people not to mix up Muslims and extremists saying madmen have no race or religion.
"My brother was Muslim and he was killed by people who pretend to be Muslims," Malek Merabet said. "They are terrorists, that's it."
In pictures: Charlie Hebdo demonstration, Paris

Show all 20
The Pope is visiting Sri Lanka today, where the Catholic community was hoping he could help heal the ongoing divisions from its 25-year-civil war.
It was waged between minority Tamil rebels, who are mostly Hindu, and the central government, dominated by the overwhelmingly Buddhist ethnic Sinhala majority, until 2009.
Additional reporting by AP
Register for free to continue reading
Registration is a free and easy way to support our truly independent journalism
By registering, you will also enjoy limited access to Premium articles, exclusive newsletters, commenting, and virtual events with our leading journalists
Already have an account? sign in
Join our new commenting forum
Join thought-provoking conversations, follow other Independent readers and see their replies