Charlie Hebdo protests: Chechnya declares holiday for rally against Prophet Mohamed cartoons as angry worldwide reaction grows
Russia estimated that as many as 800,000 – 60% of the region's population – attended the rally in Grozny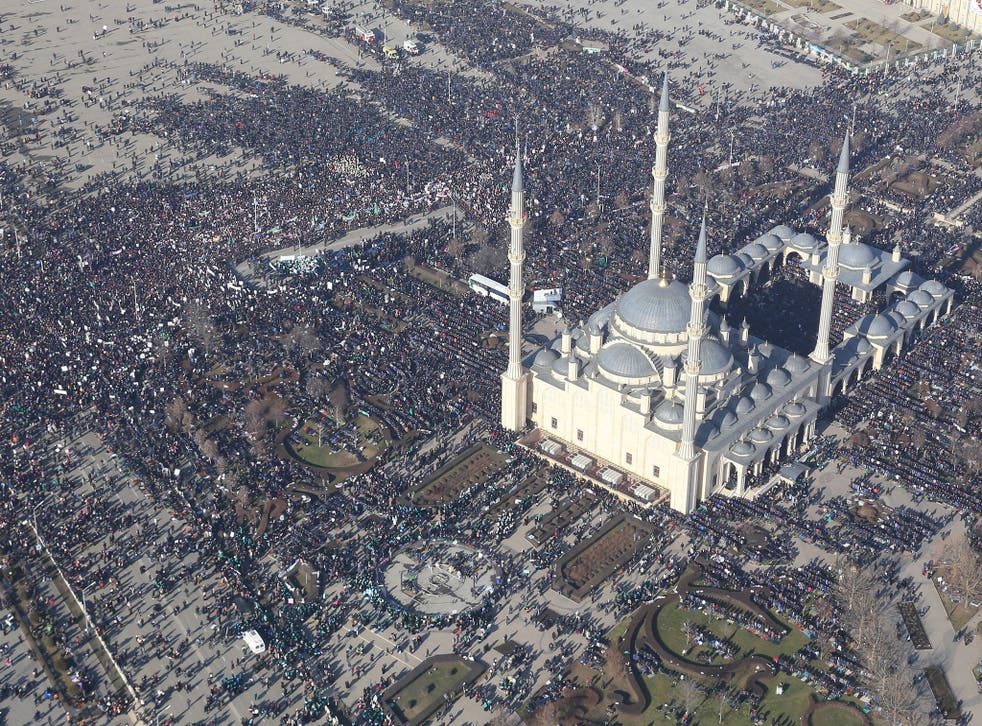 Protests against Charlie Hebdo's depiction of the Prophet Mohamed have continued to grow in strength in some parts of the predominantly Muslim world, as publishers confirmed that a new edition of the magazine won't be released for a number of weeks.
In Chechnya, extraordinary images showed hundreds of thousands taking to the streets after the Kremlin-backed regional government declared a holiday for people to attend the demonstration.
Those present at the so-called "Love to Prophet Mohamed" protest combined pro-Islamic and anti-Western chants, and some carried signs in English in an overt appeal to international coverage.
There were suggestions that the protest, held in the Chechen capital of Grozny, was supported by Vladimir Putin as an outlet for the expression of outrage at Charlie Hebdo at a remove from the Kremlin itself.
A similar protest was banned in Moscow, but Russian state TV broadcast extensively from the Chechnya masses and a Russian government official claimed 800,000 people attended – likely an overestimate.
Ramzan Kadyrov, the Chechen leader, issued an emotional on-stage address to chants of "Allahu Akbar. Chechnya, a federal state in the Russian republic, has a population of around 1.25 million – the vast majority of whom are Muslim.
"If needed, we are ready to die to stop anyone who thinks that you can irresponsibly defile the name of the prophet," Kadyrov said.
"You and I see how European journalists and politicians under false slogans about free speech and democracy proclaim the freedom to be vulgar, rude and insult the religious feelings of hundreds of millions of believers," he said.
On Monday, the government of Niger said at least 45 churches had been set on fire and 10 people killed in protests against the magazine which began on Friday.
The authorities have called for three days of national mourning, and promised to punish those responsible for the arsons and deaths.
In Gaza, protesters burned French flags and held banners outside the French Cultural Centre, empty at the time. According to The Associated Press, a demonstrator held a sign praising one of the extremists who took part in the deadly attacks.
Across Iran, demonstrations against France, the US and Israel were held in a number of cities, state media reported. Hundreds gathered outside the French embassy in Tehran, calling for the ambassador to be expelled, while conservative politician Ahmad Tavakoli said the Charlie Hebdo shootings were "the fruit of your own action".
Anti-Charlie Hebdo protests around the world

Show all 23
Sunday saw the fourth day of protests by both Muslim and Christian groups in Pakistan, the biggest of which draw over 10,000 supporters in Lahore who chanted: "Down with Charlie Hebdo" and "death to blasphemers".
Register for free to continue reading
Registration is a free and easy way to support our truly independent journalism
By registering, you will also enjoy limited access to Premium articles, exclusive newsletters, commenting, and virtual events with our leading journalists
Already have an account? sign in