Charlie Hebdo reveals special edition cover to commemorate first anniversary of attack
The cover bares the slogan: "1 an après l'assassin court toujours"- "One year on the assassin is still out there."
Siobhan Fenton
,
John Lichfield
Sunday 03 January 2016 17:28 Comments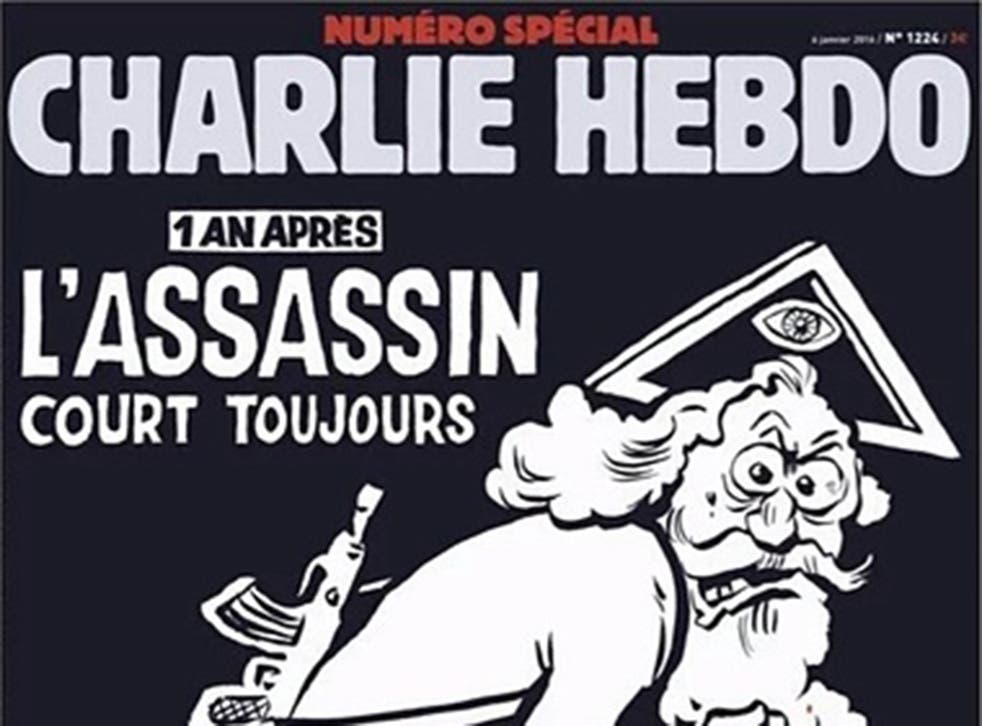 Charlie Hebdo have revealed the cover of their special edition to mark the first anniversary of the 6 January terrorist attack which claimed the lives of 12 people in its offices.
The cover depicts a bearded man with a Kalashnikov slung across his back. The image is monochrome, with the exception of striking red splatters of blood on the hem and the cuff of the man's robes.
The edition is 32 pages long and will feature cartoons by staff who died in the attack, as well as designs by current cartoonists, it has been reported.
The satirical magazine will print approximately one million copies to be sold globally in honour of its deceased colleagues.
One year ago on Thursday Chérif and Said Kouachi burst into the Charlie Hebdo offices in Paris and shot 12 people, including the magazine's editor and seven other staff members. Over the next two days, a gunman associated with the Kouachi brothers, Amédy Coulibaly, murdered a policewoman and killed four hostages at a Jewish supermarket in Paris.
Although the three days of mayhem have been overshadowed by the jihadist attacks in Paris on 13 November in which 130 people died – raising further questions about security in the city – there will be three days of commemorations in the French capital starting today.
In pictures: Charlie Hebdo demonstration, Paris

Show all 20
President François Hollande will unveil plaques at the sites of the January attacks today. Large crowds are expected at the Place de la République on Sunday when Mr Hollande will preside over the planting of a 30ft memorial oak tree.
Johnny Hallyday, the 72-year-old French pop veteran, will perform "A Sunday in January", a song about the millions of people who marched in protest after the Charlie and kosher supermarket attacks.
Last Friday, The Legion of Honor, France's highest decoration was awarded posthumously to the victims.
The magazine will republish cartoons by the four illustrators who died on 7 January last year, including the editor Stéphane Charbonnier , known as "Charb". There are also articles from celebrities, including the actors Russell Banks, Isabelle Adjani, Charlotte Gainsbourg and Juliette Binoche.
The new editor, Laurent Sourisseau – known as Riss – who was seriously wounded on 7 January 2015, has written a leading article attacking "fanatics made into imbeciles by the Koran" but also "hypocrites of other faiths" who wanted to kill Charlie because it laughed at religion.
"The beliefs of atheists and lay campaigners can move more mountains than the faith of believers," Riss writes. "They will not see Charlie croak. Charlie will see them croak first."
With additional reporting by Associated Press
Register for free to continue reading
Registration is a free and easy way to support our truly independent journalism
By registering, you will also enjoy limited access to Premium articles, exclusive newsletters, commenting, and virtual events with our leading journalists
Already have an account? sign in
Join our new commenting forum
Join thought-provoking conversations, follow other Independent readers and see their replies