Chechen despot Ramzan Kadyrov greets new best friend Gérard Depardieu with pies, songs and dance
Torture allegations no problem to the French-born, newly Russian actor as he cosies up to Kadyrov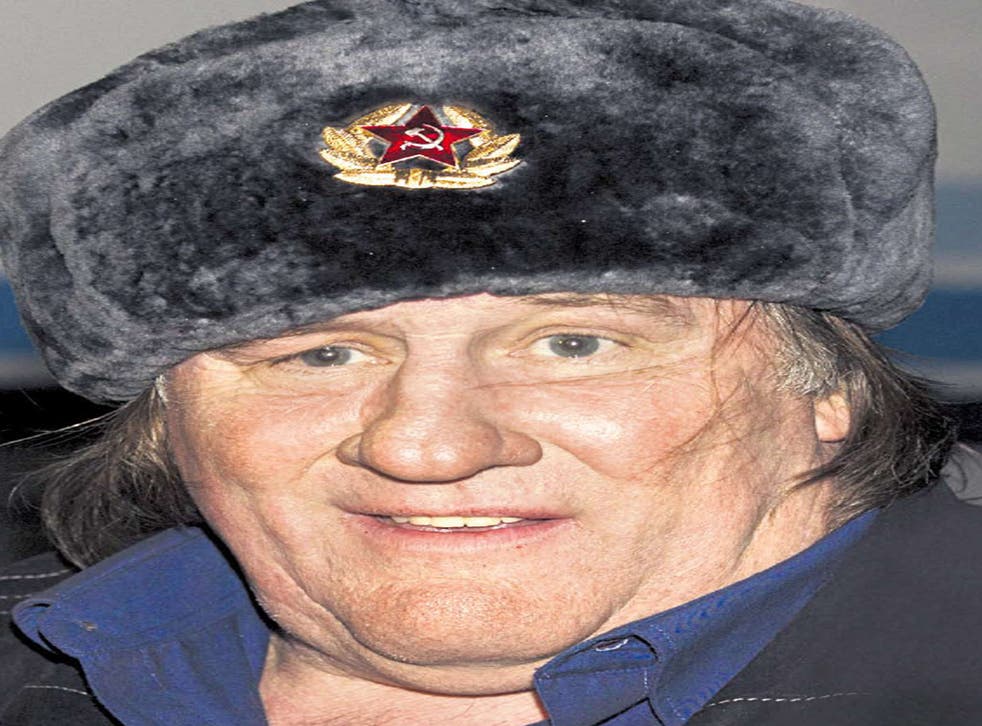 There were awkward dance moves, impassioned embraces and guffaws of laughter as the French actor and newly minted Russian citizen Gérard Depardieu danced his way further into the land of the surreal in Grozny. The actor, best known for his roles in films such as Green Card and Asterix, was in Chechnya cementing an unlikely bromance with the region's Kremlin-backed leader, Ramzan Kadyrov, best known for allegations of torture and human rights abuses.
Depardieu, who in recent months has apparently become immune to criticism of his fawning over various dictators, outdid himself in Grozny, lavishing praise on the Chechen leader and promising to make a film detailing his achievements during a bizarre visit that was chronicled in photographs by Mr Kadyrov through his Instagram account.
The French actor took Russian citizenship earlier this year after protesting against planned tax hikes in his native France. He flew to Grozny from Saransk, the capital of the region of Mordovia where he was registered as an official resident over the weekend. He was greeted with songs, dances and freshly-baked pies when his private jet touched down in Grozny, and was whisked off to dinner and dances by Mr Kadyrov, who was wearing a white tracksuit top.
The pair embarked on a few moves from the Lezginka Chechen mountain dance before embracing each other in fits of laughter. The Chechen leader later wrote on Instagram that he had presented Depardieu with a five-room apartment and made him an honorary citizen of Chechnya.
Under Mr Kadyrov, who has effectively ruled the republic since his father Akhmad Kadyrov was killed in a bomb blast in 2004, Grozny has undergone a remarkable transition, growing from a war-wrecked husk of a city to a modern metropolis with neatly manicured streets and new high-rise buildings. But critics say that the shiny new image of Grozny is a façade, and Mr Kadyrov has been personally implicated in allegations of widespread torture and rights abuses. He has also been accused of having a "hit list" of enemies, after political and personal foes have been shot dead. He has always denied involvement in any killings.
Depardieu said he had travelled to Grozny because he wants to make a film about the wonderful achievements of Mr Kadyrov in rebuilding Chechnya. It was his second visit to the region, after he attended Mr Kadyrov's birthday party last year and shouted "Glory to Kadyrov" from the stage. "A lot of things have been said about Chechnya, that it's a difficult region and so on, but I wanted to come for myself to see," said Depardieu. "I want to explain to people how one person was able to build a city from scratch in five years. I'm certain that genuinely happy people live here. In order to dance and sing like Chechens do, you have to be genuinely happy."
Depardieu received Russian citizenship in January on the personal orders of Vladimir Putin. He has angered rights activists in the past with his support for Mr Kadyrov and has willingly endorsed a number of controversial figures in the post-Soviet region. He sung a love duet with Gulnara Karimova, daughter of Uzbekistan's ruthless dictator Islam Karimov. His latest trip to Grozny appears more of a courtesy call, it is unclear whether he plans to spend any time living in his new Chechen abode.
Register for free to continue reading
Registration is a free and easy way to support our truly independent journalism
By registering, you will also enjoy limited access to Premium articles, exclusive newsletters, commenting, and virtual events with our leading journalists
Already have an account? sign in
Register for free to continue reading
Registration is a free and easy way to support our truly independent journalism
By registering, you will also enjoy limited access to Premium articles, exclusive newsletters, commenting, and virtual events with our leading journalists
Already have an account? sign in
Join our new commenting forum
Join thought-provoking conversations, follow other Independent readers and see their replies