Chechnya leader Kadyrov 'tortures' and imprisons top aides in new purge
At least a dozen high ranking officers – and their relatives – sent to secret prisons after wave of arrests 
Oliver Carroll
Moscow
Wednesday 16 October 2019 17:57 Comments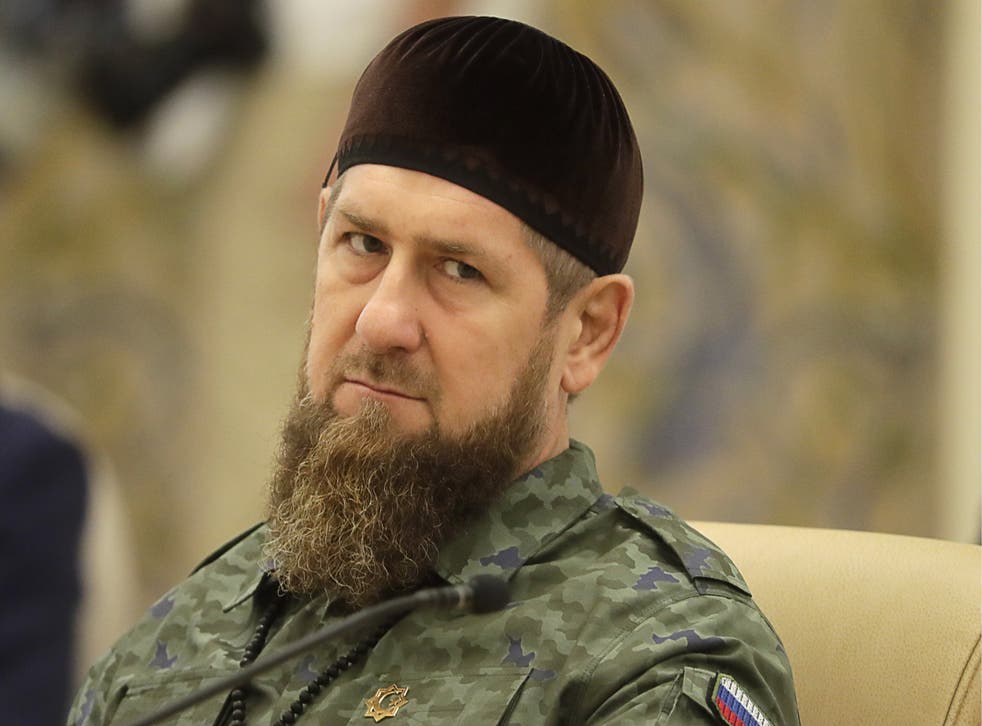 Long hostile to any opposition, human rights activists and the LGBT+ community, Ramzan Kadyrov's security operation now appears to be turning on itself.
According to a new Russian media report, Chechnya's ruthless ruler has turned his suspicion to those closest to him. Amid rumours of assassination attempts, at least a dozen high-ranking officers – security officers, bureaucrats and their relatives – have been arrested and sent to secret prisons.
In some cases the men were tortured while being interrogated about their loyalty, the Novaya Gazeta newspaper reported. Some were allegedly been stripped of assets while those released were forced to give large donations to the Kadyrov family's foundation.
The wave of arrests began in August, within days after the removal of Ibragim Temirbayev, the mayor of Chechen's second town, Argun. Mr Temirbayev was unexpectedly replaced by Khas-Magomed Kadyrov – a relative of the Chechen president.
The appointment of the inexperienced 28-year-old was not welcomed locally. But what seemed to have settled things for Mr Temirbayev was a series of telephone calls made in the three days following his dismissal.
According to Novaya Gazeta, the former mayor was liberal in his criticism of Mr Kadyrov and his family. He "disavowed loyalty" to the Chechen leader's "bearded men", and said he would answer only to Vladimir Putin and Russia.
Unfortunately for Mr Temirbayev, Mr Kadyrov got hold of transcripts of the calls. A few days later, Mr Temirbayev, his relatives and security guards were arrested and his allies were removed from government posts.
In the next week, the net was cast wider. The head of the republic's emergency services, Ruslan Yakhyev, was arrested. Former deputy prime minister Khalid Vaikhanov, and ex-forestry minister, Dikmagomed Mulayev followed. A number of regional managers were also taken in.
The Chechen government has dismissed the reports as "fake", but it certainly seems possible that Mr Kadyrov's insecurities may have been stoked by fear of a challenge from within.
"This is what totalitarian leaders do," said Ekaterina Sokirianskaia, director of the Conflict Analysis and Prevention Centre. "It's what happens when you have paranoia and a fear of elite schism."
Earlier this month, an anonymous social media channel carried news of an alleged poisoning operation against Mr Kadyrov. Those reports claimed that two former mayors and a high-ranking official were involved in the plan.
The Independent has not been able to determine the origin or veracity of those reports, but they have been widely disseminated in the region.
Mr Kadyrov continues to enjoy almost total control in Chechnya as a result of a grand security bargain with Vladimir Putin.
The patronage of the Kremlin has allowed him to escape investigation over a number of high profile murders: from journalist Anna Politkovskaya and human rights defender Natalya Estemirova to the opposition politician Boris Nemtsov, gunned down in the shadows of the Kremlin in 2015.
Russian authorities have been equally reluctant to investigate a series of crackdowns on gay men and women that left at least three dead.
But Mr Kadyrov's growing ambitions are a source for concern among many in Moscow's security elite. The leader has also amassed no shortage of enemies during over a decade in power.
"Kadyrov is the most vulnerable man in Russia, whose life and biological survival depends on Putin," said Ms Sokirianskaia.
"He knows that he needs to be feared by everyone and anything in order to survive.
Register for free to continue reading
Registration is a free and easy way to support our truly independent journalism
By registering, you will also enjoy limited access to Premium articles, exclusive newsletters, commenting, and virtual events with our leading journalists
Already have an account? sign in
Join our new commenting forum
Join thought-provoking conversations, follow other Independent readers and see their replies