Chernobyl vodka: Scientists brew radioactivity-free alcohol
'This is the most important bottle of spirits in the world,' says scientist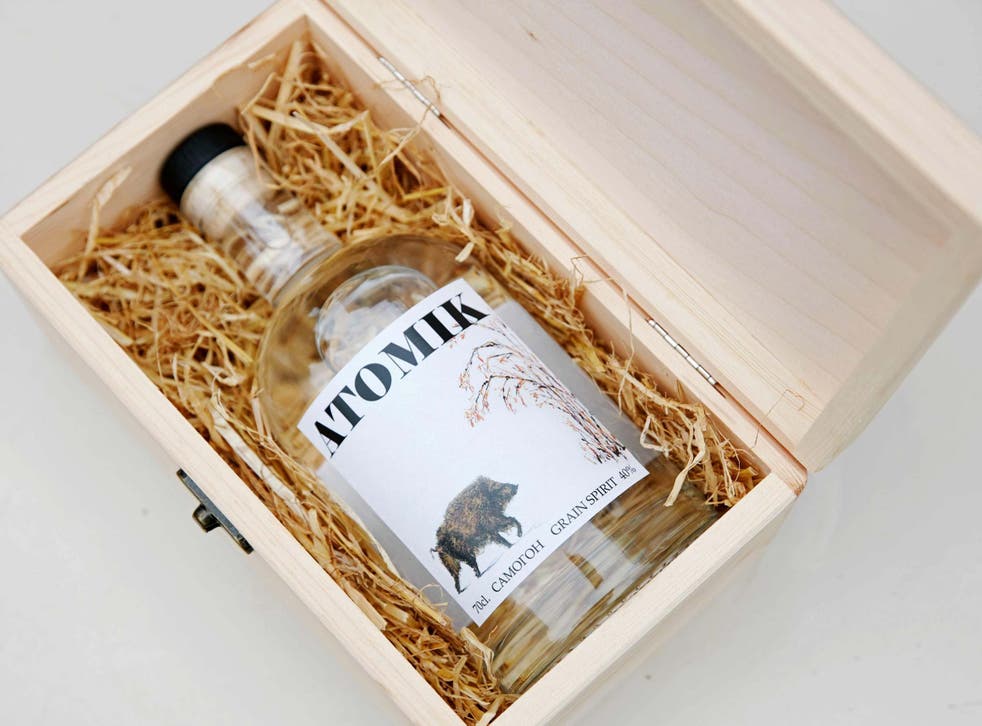 British scientists have brewed artisan vodka from grain grown in Chernobyl's exclusion zone.
The drink, branded Atomik, is radioactivity-free and safe to drink.
Researchers first distilled alcohol from the crop before diluting it with water.
The mineral water was taken from an aquifer in Chernobyl town, in northern Ukraine, which is free from contamination.
A nuclear accident devastated the region in 1986, when a series of explosions destroyed Reactor Number 4 at the Chernobyl Nuclear Power Plant.
Illegal tour of Chernobyl visits forgotten sites

Show all 25
Radioactive contamination was widespread following the disaster and a 1,622 square mile exclusion zone was set up around the reactor.
Around 300,000 people were permanently evacuated from the region after the accident.
The vodka is the first consumer product to be made in the exclusion zone since 1986.
"I think this is the most important bottle of spirits in the world because it could help the economic recovery of communities living in and around the abandoned areas," said Jim Smith, a professor of environmental science at the University of Portsmouth.
"Many thousands of people are still living in the Zone of Obligatory Resettlement where new investment and use of agricultural land is still forbidden."
Mr Smith hopes to produce more of the traditionally brewed vodka.
The team intends to sell the alcohol through The Chernobyl Spirit Company, a social enterprise.
They plan to donate 75 per cent of the profits made to people in Ukraine who were affected by the disaster.
"The team found some radioactivity in the grain: Strontium-90 is slightly above the cautious Ukrainian limit," a University of Portsmouth spokesperson said.
"But, because distilling reduces any impurities in the original grain, the only radioactivity the researchers could detect in the alcohol is natural Carbon-14 at the same level you would expect in any spirit drink."
Mr Smith said he did not believe the exclusion zone should be extensively used for agriculture.
"It is now a wildlife reserve but there are other areas where people live but agriculture is still banned," he said.
"Thirty-three years on, many abandoned areas could now be used to grow crops safely without the need for distillation.
"We aim to make a high-value product to support economic development of areas outside the main exclusion zone where radiation isn't now a significant health risk."
Support free-thinking journalism and attend Independent events
Oleg Nasvit, first deputy head of the State Agency of Ukraine for Exclusion Zone Management, said: "We welcome this initiative to use abandoned lands to help local communities."
He added: "I'd call this a high-quality moonshine – it isn't typical of a more highly purified vodka, but has the flavour of the grain from our original Ukrainian distillation methods – I like it."
Additional reporting by agencies
Register for free to continue reading
Registration is a free and easy way to support our truly independent journalism
By registering, you will also enjoy limited access to Premium articles, exclusive newsletters, commenting, and virtual events with our leading journalists
Already have an account? sign in
Register for free to continue reading
Registration is a free and easy way to support our truly independent journalism
By registering, you will also enjoy limited access to Premium articles, exclusive newsletters, commenting, and virtual events with our leading journalists
Already have an account? sign in
Join our new commenting forum
Join thought-provoking conversations, follow other Independent readers and see their replies