Tens of thousands of child refugees at risk of long-term psychosocial damage, Unicef warns
Youngsters who have fled war being 'set back for years to come' due to emotional distress and anxiety caused by uncertainty surrounding family reunification process
May Bulman
Thursday 04 May 2017 00:01 Comments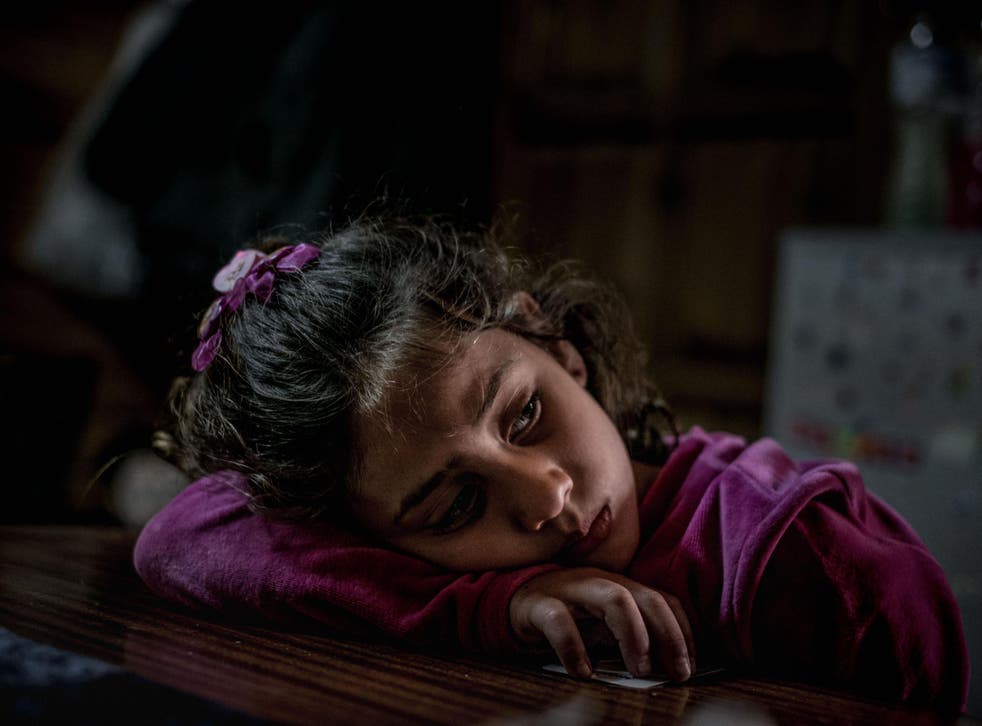 Tens of thousands of refugee children in Europe are at risk of psychosocial distress that will affect them for years to come due to living in a protracted state of limbo, Unicef has warned.
Youngsters who have fled from Syria and other war zones are being "set back for years to come" due to the emotional distress and anxiety caused by the uncertainty surrounding the family reunification process, which can see them waiting in temporary camps for months or even years.
Nearly 75,000 refugees and migrants, including an estimated 24,600 children, are currently stranded in Greece, Bulgaria, Hungary and the western Balkans. Despite having a legitimate right to join families in destination countries in western Europe, most do not know whether or when they will be permitted to move forward.
The situation is particularly acute for single mothers and children stuck in Greece or the Balkans waiting for reunification with family members in other EU countries, Unicef warned, with adult males often being the first family members to make the trip to Europe, and the rest of the family following later.
Following the border closures and implementation of the EU-Turkey statement last year, women and children are increasingly being held up in transit countries from where they must apply for family reunification with their loved ones – a process that typically takes between 10 months and two years.
Unicef warned that the process could be "painstakingly slow". In 2016, nearly 5,000 family reunification requests – including 700 from unaccompanied and separated children – were made from Greece, with only 1,107 successful applicants having reached their destination country by the end of the year.
The number of refugees and migrants stranded in Greece, Hungary and the western Balkans has meanwhile continued to grow – increasing by around 60 per cent over the past year, from 47,000 in March 2016 to nearly 80,000 at the end of April.
"We are seeing single mothers and children who have not seen their husbands and fathers for months or even years," said Afshan Khan, Unicef Regional Director and Special Coordinator for the Refugee and Migrant Crisis in Europe
"The family reunification process is slow and its outcome uncertain, and it is this uncertainty which can cause significant emotional distress and anxiety for children and families, setting them back for years to come."
Sofia Tzelepi, a lawyer working with Unicef partner Solidarity Now, added: "Many single mothers are feeling stuck and seem to have lost motivation. Their emotional state affects their children."
One mother, Rosa Hamy, 28, and her children, two-year-old Arin and Mohammad, six, fled from Syria in 2014 and have been living in a makeshift camp in Thessaloniki, Greece, since March last year.
At the 10-month mark, Ms Hamy said she was granted her first interview with relocation services, which in eight months from now, might allow her family to reunite with their father in Germany. She told Unicef her children had stopped eating properly and were constantly stressed.
"We are stuck here. The most difficult thing is for the children. They don't eat their food, and they're are tired and stressed all the time," she said.
"They cry and say, 'Where is our father? Why doesn't he come here? This is daddy's fault'. I tell them daddy is going to come and take us, but my kids say: 'You always say that and he never comes.'
"We don't have anymore patience, we cannot take it anymore. Sometimes I get nervous with the kids, and I think I'm going to hit them, but I say to myself 'It's not their fault', and then I calm myself down by crying."
Another refugee stranded in Greece, Azhar Khalil, 18, was a child when she fled Syria two and half years ago, and is now living in a shelter with her family at Skaramangas, the largest camp in Greece, housing over 3,000 people in the port area of northern Athens.
The family intended to travel to Germany where they have close relatives and feel that there are more options available to refugees, but when they arrived in Europe in March 2016 the EU-Turkey deal had stopped the flow of refugees in Greece, where they have been in limbo ever since.
"Welcome to my life. We left Syria exactly 29 months, 19 days, and four hours ago," Ms Khalil told Unicef.
"Sometimes I feel trapped, but in my books, my study, I can feel freedom. I've lost so much time. There is so much I want to do, but I can't do it here.
"I wake up in here every morning, and I see six people in our tiny room, and I think: 'I need to make this situation better.' I have to fight, and every day I fight to improve."
The number of children stranded in Europe who could be eligible to join family in the UK is unknown, and NGOs are urging the UK Government to ensure appropriate resources are available to identify eligible children in Europe and support them through the family reunion process.
Last month, a study by Harvard University warned of a "growing epidemic" of sexual exploitation and abuse in Greece, while in March Save the Children warned desperate refugees trapped in Greece were self-harming and attempting suicide as a result of "disastrous" EU policies, with more refugees dying than ever before while attempting to reach Europe following the controversial deal struck with Turkey.
"Keeping families together is the best way to ensure that children are protected, which is why the family reunification process for refugee and migrant children is so important," Ms Khan added.
"With the number of those stranded continuing to rise, it is incumbent on member states to alleviate procedural bottlenecks so that families can get back together as quickly as possible."
Register for free to continue reading
Registration is a free and easy way to support our truly independent journalism
By registering, you will also enjoy limited access to Premium articles, exclusive newsletters, commenting, and virtual events with our leading journalists
Already have an account? sign in
Join our new commenting forum
Join thought-provoking conversations, follow other Independent readers and see their replies