Child refugees in northern France facing exploitation and violence on a daily basis, Unicef warns
Unaccompanied minors 'threatened by men armed with knives and machetes', according to report, as charities warn children are more at risk than ever following Dunkirk camp fire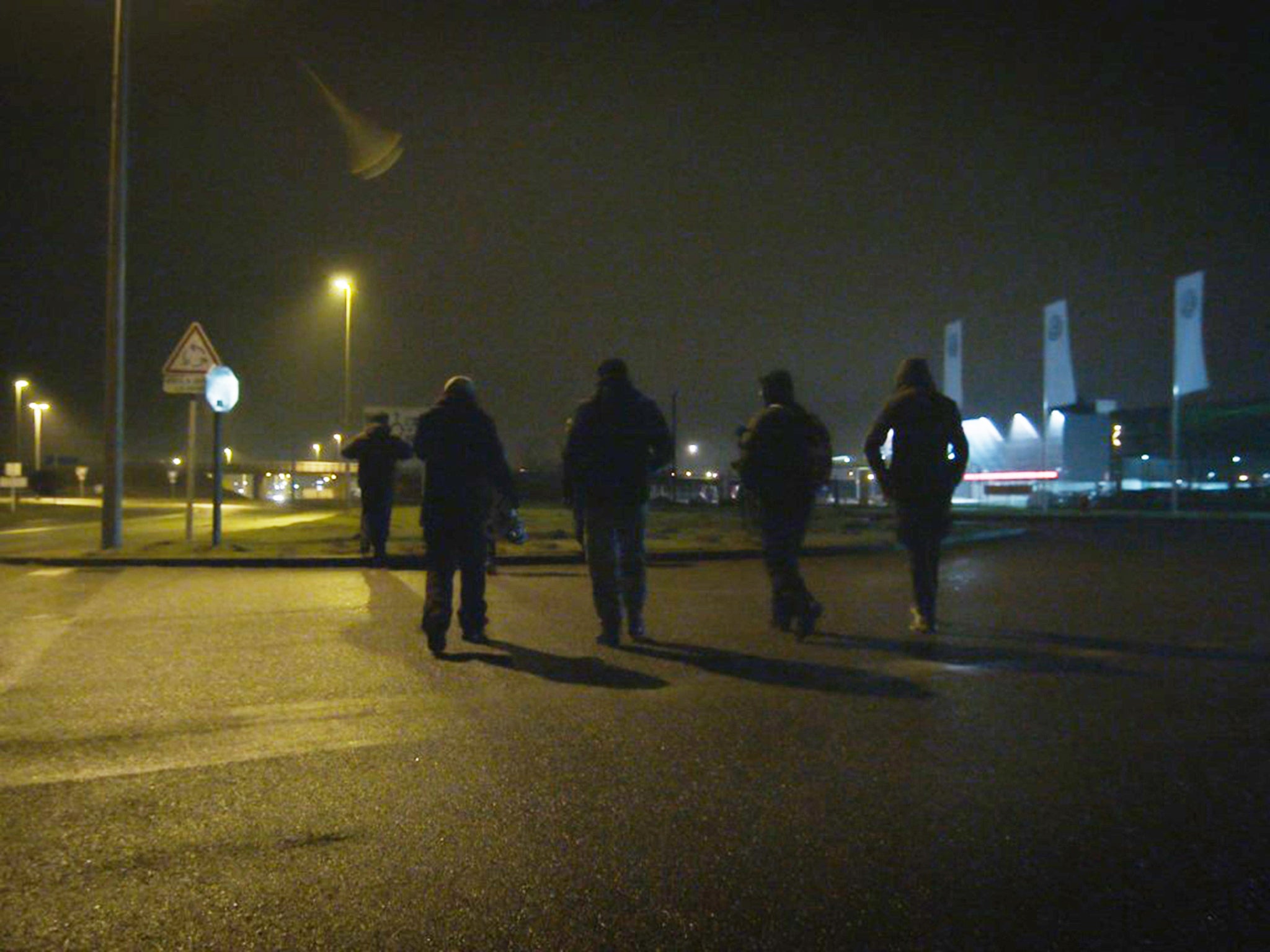 Child refugees in northern France are facing exploitation and violence on a daily basis​, including threats from adult men armed with knives and machetes, Unicef has warned.
An alarming report has revealed that unaccompanied minors who lived in the Grande-Synthe refugee camp in Dunkirk before it burnt down last week were "constantly fearful" of sexual abuse and attacks with weapons, and that no one – including the police – was there to care for them or to protect them.
In a series of interviews conducted by Unicef last month, 13 unaccompanied minors said due to brutal treatment by the authorities in France during their journeys, they had turned to smugglers and traffickers who were offering information and apparent protection, but who in turn abused and exploited them.
The report also found that despite frequent contacts with the authorities in European countries on their journeys towards the UK, children have repeatedly been ill-informed about their legal rights to protection, including their right to be reunited with their families.
The boys interviewed, all from Kurdish Iraq and Afghanistan and all of whom are going through the legal process of being united with family in the UK, said they had fled conflict and recounted numerous horrific stories about their journeys through Europe, including being assaulted by the police and arbitrarily detained.
Once in Dunkirk, the children were controlled by a group of Kurdish traffickers, and all described the immense violence in the camp. The study reported that there was particularly strong pressure on the Afghan boys, who were segregated from the Kurds and forced to carry out tasks for the traffickers and to sleep on the floor of the communal kitchen.
One 16-year-old boy, named Can and from Afghanistan told Unicef: "The Kurdish gangs are very dangerous. They have weapons. Every third evening there are gunshots. The police don't want to get involved. I know in any case that they are not there to protect us."
Another Afghan boy, aged 15, said: "They threaten me so I will pay them. There is gunfire, tear gas, knives, machetes."
None of the children interviewed had been informed of their right to apply to be reunited with their families members legally, with the only child who had heard about this having learnt from his father following a BBC report on this issue.
Unaccompanied children anywhere in Europe are currently entitled to apply for a transfer of their asylum case to the country where their family member is residing, but the study found that most children only discover there is a legal process for reuniting with their family members by word of mouth once they reach the camp in Dunkirk.
They said they feared detention and deportation to the first countries of the EU they passed through or their country of origin – in these cases Hungary or Bulgaria – so tried to avoid having their fingerprints taken in Italy and France.
Unicef said this fear to engage with official processes was compounded the children's lack of trust in the authorities, which had prevented them from learning about their rights and encouraged them to turn to smugglers and traffickers as their only perceived source of protection and their only realistic option to join family members in the UK.
The report also warned that the uncertain situation is having a negative impact on the children's mental health, and often they end up risking their lives to cross illegally to the UK from Dunkirk even though they have ongoing legal processes.
One Kurdish boy told Unicef: "I'm regretful. It's been five months since I tried to cross. And my friends have all crossed. I'm waiting for my file, I have a lawyer, but I don't have any news".
Since the Dunkirk camp was destroyed by a large fire last Monday, people who had been living there have been transported in buses to temporary accommodation centres across France. But charities have warned that many of the unaccompanied minors who had been living in the camp have chosen not to board the buses and appear to be turning to people smugglers instead.
Michael McHugh, a volunteer for the Refugee Youth Service, told The Independent: "The exploitation of unaccompanied children is still at play now that the camp is gone – probably even more so.
"People were initially evacuated to local gymnasiums, but there was no accommodation designated for these minors. Buses have been taking people to centres, but many children have chosen not to get on them due to mistrust of the authorities.
Refugees welcome here: Protesters demand UK resettle more migrants in response to refugee crisis
Show all 7
"The fact is that those who believe they are unable to access official legal claims for asylum will resort to unofficial channels. Obviously, for the individuals within that camp who profited from smuggling people or enabling transfers, it's not really in their interest for people to go off to centres. There have been serious concerns about one child who was dissuaded from getting onto a bus or speaking to volunteers by the adults he was with.
"When kids have family in the UK but don't think the legal system will help them, and they have an adult who speaks their language or who you know has helped people cross over into the UK, they tend to listen to them rather than government authorities, security guards or riot police."
At the time of the Unicef research in March 2017, there were around 100 unaccompanied children in the camp. None of the boys interviewed who were going through the family reunion legal process had been given accommodation, nor were they able to explain what was happening in their legal cases, according to the report.
For a journey from Afghanistan or from Kurdish Iraq to France unaccompanied minors can be charged between €3,000 (£2,500) and €10,000 £8,400) and if the hope of being transferred legally to the UK does not work out they can end up paying smugglers/traffickers a further £3,000 to £12,000 to cross from France to the UK.
All the boys interviews mentioned that they would probably have to repay the money in full to the family member who lent it, and although all want to study, they risk economic exploitation when they arrive in the UK in order to pay their debts.
Commenting on the study, Unicef UK deputy executive director Lily Caprani said: "The stories that these children tell in our latest study are truly shocking. From being beaten in detention centres en route to living in fear of the gangs controlling Dunkirk, these are situations that no child should be in.
"The fire last week in the camp, although undoubtedly terrifying for those children living through it, is a distressing reminder that the UK's rules for helping children reach their families are broken. If the legal process worked, children may have never have found themselves in such a squalid, dangerous environment.
"The Government must fix the family reunion rules so that children can reach the safety of their family without ever having to face such a dangerous journey across Europe."
Olivier Peyroux, a sociologist and senior expert on migration and people trafficking, who helped draw up the report, accused the authorities of failing to put any provisions in place for vulnerable unaccompanied minors, saying their delicate mental state and the dangers they were facing at the hands of smugglers and traffickers were being "denied".
"The presence of minors hasn't really been taken into consideration. No provisions seem to have been put in place for them. Some of them have therefore left for Paris – notably Afghan minors – before probably attempting the crossing in a few weeks," Mr Peyroux told The Independent.
"Their declining psychological state and the dangers they face continue to be denied by the child protection authorities, despite both France and the UK being signatures of the UN Convention on the Rights of the Child."
Rabbi Janet Darley, spokesperson for Safe Passage, which was working with unaccompanied minors in Dunkirk to help establish safe routes to the UK or claim asylum in France, said in light of the report: "Safe Passage and partners identified 80 children in the Dunkirk camp who had every legal right to reunite with family members here in Britain.
"Instead, as this report highlights, they were ignored by both governments and left exposed to daily risk of exploitation and trafficking.
"Theresa May has rightly made tackling modern slavery a priority of her Government. With the Dunkirk camp now destroyed, she must demonstrate this commitment by urgently reuniting all eligible children with their families here in Britain, or risk many more disappearing into the hands of traffickers."
The report comes a year after Unicef's 2016 report, Neither Safe Nor Sound, which looked at conditions for children in refugee camps in northern France. Unicef described it as "alarming" that six months on, the situation on the ground has become no less dangerous for children.
Ms Caprani of Unicef added that following the fire in the Grande-Synthe camp, it was time that effective and prompt transfers were facilitated for unaccompanied minors.
World news in pictures
Show all 50
"The current situation gives us an opportunity to now focus on organising effective prompt transfers for those children who have relatives in the UK. Many of the children in the camp were in a legal process for family reunion in the UK, supported by Safe Passage," she said.
"Their family reunion cases must be facilitated to continue and the bureaucratic delays holding up their cases overcome. As this report indicates, many of the children who have a legal right to be living with family in the UK are beginning to question the choice they made of going through the official process to be reunited with their loved ones, as it is taking so long.
"We must learn from what happened in Calais, when the UK showed it could do what it takes to get children to safety in a crisis. Similar support must be given to children in Dunkirk currently facing an uncertain future, to prevent these children disappearing and falling into the hands of traffickers looking to exploit them."
Join our commenting forum
Join thought-provoking conversations, follow other Independent readers and see their replies