Trail of misery: Following child refugees through the streets of Paris
Much of the attention given to France's refugee crisis has focused on coastal camps. But The Independent found conditions were just as bad, and prospects just as bleak, for children fleeing persecution and abuse in the capital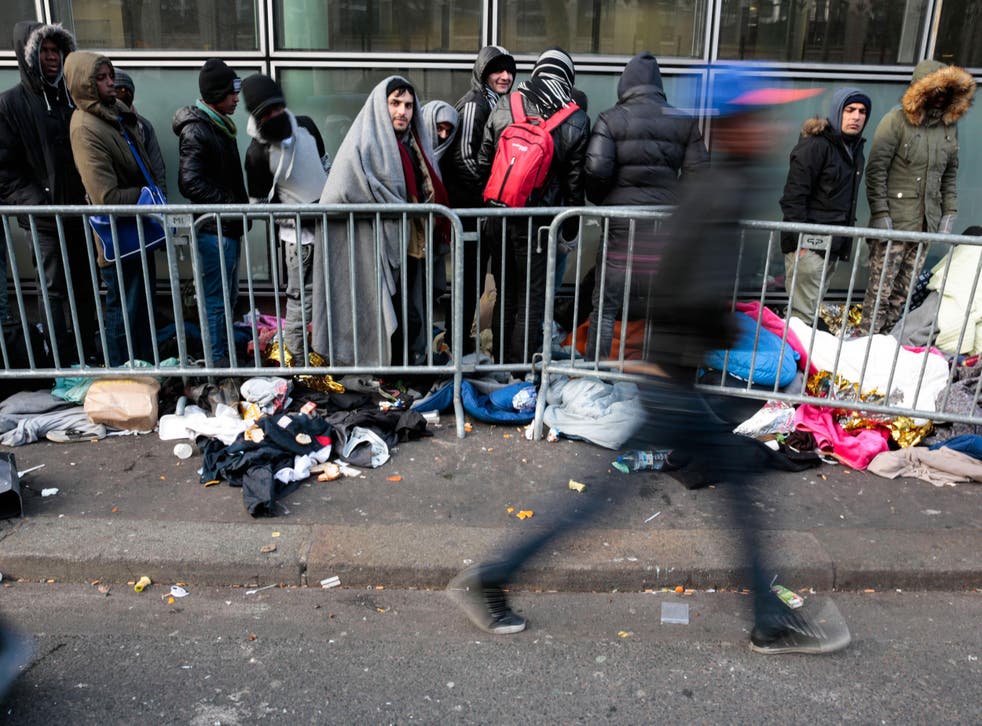 Child refugees in Paris live in conditions "as bad as the Jungle", one teenage veteran of the Calais camp tells The Independent. But rather than being concentrated in one squalid location, frequent police raids mean hundreds of children are spread throughout a web of ramshackle camps, dangerous squats and unsanitary hostels in the French capital.
They are less visible, more isolated and at the mercy of a bureaucracy that offers little or no protection as it demands often-impossible proof of age. The Independent followed their route through the boulevards of the City of Light.
The bulldozing of the Jungle is not the only factor driving children to Paris. A canary-yellow processing centre, known locally as "the Bubble", hosts a rolling total of around 400 adult asylum-seekers in a sparse industrial area north of the city centre. According to Marion le Bloa, a front-line volunteer with aid organisation Utopia56, "when the Bubble was created, the number of unaccompanied minors went crazy – it doubled".
Scores of would-be and failed asylum applicants live nearby, in bedraggled, ad-hoc camps built of tarpaulin and cannibalised building materials. Omar, an Afghani 17-year-old who fled the Taliban aged just 14, tells The Independent he arrived on the previous night after stowing away on a train.
Blaze reduces Dunkirk migrant camp to ashes
"I was in a camp in Norway for nearly two years," says the softly spoken, acne-flecked teen. "With only a bed, nothing else. There were fights every day. I heard Norway were giving negative [asylum decisions] to [almost] everyone from Afghanistan, so I left before the police came in the night."
Facing increasingly harsh treatment elsewhere in the continent, others have left Italy, Belgium or Eastern Europe. Around half of refugee children in Paris are trying to get to Britain: many speak English but no French, and have relatives working in the UK. Pierre Henry, the chief of major aid organisation France Terre d'Asile, says: "This is a problem for all European countries. We need to establish who is going to fund the determination process [and take] responsibility for these people."
Teenagers aren't actually allowed to stay in the Bubble – it's for single men only – and those who say they are not 18 are sent onward to face a battery of interrogation and bone tests, as the local government assesses their claims to be underage.
"They said you don't have any proof, and sent me outside," says newly arrived Siddiq, 16, outside the shabby Red Cross centre where child refugees must file their applications. He stands in neutral position, arms loose by his side and evidently unsure of his next move. The majority of arrivals are turned away outright, or told to submit to weeks of investigation. "I am alone," Siddiq says. "Where will I go now? Sleep in the road?"
Another Afghani 17-year-old, Rahman, enters the security gate but is immediately driven back by a trio of bulky security guards wearing Mairie de Paris insignia. "I've been coming every day for a month," he says. "Everybody is angry to us here, the security are very hard. For my first two weeks in Paris, I was sleeping under a bridge. The security [just] told me I'd be thrown out of my hostel if I didn't leave."
The centre has a reputation for harsh treatment of minors. The crucial bone tests are only accurate within "more or less two years", according to a radiologist's survey, rendering them effectively useless.
Marion of Utopia56 says many children are terrified of attending their interviews, while other volunteers claim translators misrepresent the stories of refugees as investigators aggressively pursue irrelevant details.
According to an activist named Sonia, "One boy said he was scared of being kidnapped by the Taliban… the translator said 'he wanted to be a terrorist'. It's directly the opposite."
Nor are children always provided with adequate housing during this process. "We have to leave every day with all our bags and move all the time," Rahman says. "They only give us food once a day." Other refugees and activists describe hostels without blankets, but full of fleas and bedbugs.
And Rahman is one of the lucky ones. There is not always room in the hostels, which are also closed to children appealing their decisions. So "at least hundreds" of unaccompanied children live on the streets, according to volunteer Agathe, making it even harder to access a fair hearing. Seventeen-year-old Guy tells The Independent he fled the Ivory Coast, leaving behind his mother in a Libyan jail, only to miss a crucial assessment because he was sleeping in a building site without a mobile phone.
A spokesman for the Paris city authority which operates the 'Bubble' said every effort was made to protect vulnerable refugees, but added that determining whether or not they were under 18 could be "complex".
He admitted that in the past few days makeshift camps had started to pop up around "the Bubble" because the state had not been quick enough to send people from the temporary centre to permanent structures around the country, and said the process was being speeded up.
"It is very rare that refugees and migrants travel without any form of documentation. Everything is put in place to ensure children are immediately taken care of," the spokesman said.
"But there should be a distinction between those who are minors and those who say they are but are not. The refugee process is made much easier if someone can prove they are under 18.
"Sometimes refugees continue to claim they are minors even if they have been found to be over 18 and they deny an existing situation. This is a complex problem."
In the face of constant police harassment, camps are transient and thinly spread across the city in metro stations, under flyovers and on the roadside.
"The people in Paris are nice; the police are not," says Omar, 16, a refugee from Darfur who spent a fortnight in the street.
Around 20 per cent of child rough sleepers have faced physical abuse from Paris police, and roughly 40 per cent have been hit with tear gas, according to the charity Refugee Rights.
Aid organisations are forced to operate outside the law, with the police frequently closing down soup kitchens and distribution projects. Volunteer Catherine says: "We come at night with tents and blankets, we throw them out of apartment windows. It's crazy."
Outside Jaures metro station, a scrappy line of cardboard abuts an office window. Through the smoked glass, workers can be seen tapping away on computers, apparently oblivious to the armed police moving on a gaggle of Afghanis who have been sleeping there for several days. Most are adults, but among their number is 17-year-old Qaher, who has been in the streets for 20 days since launching an appeal. "We live like animals," he says. "We've eaten once in 24 hours. The cold and the rain is normal for us. We don't have anything."
The streets around la Chapelle metro station provide a vision of the future for children like Qaher, who cannot prove their age. Undocumented adult migrants sell fake iPhone cases and weed in cigarette boxes: armed police search a young man for drugs: a paraplegic with flip-flops on his hands drags himself onto the metro to beg for change.
Though 96 per cent of child refugees arrive in Paris unaccompanied, those coming with family members are at risk too. Speaking near la Chapelle, Nasrat says his brothers, aged 14 and 11, rely on him for support. But though Nasrat was a translator for the American-led coalition in Afghanistan, his asylum application has been rejected.
"I take them to school and bring them back, I cook for them," says the 26-year-old. "Somebody from my family needs to be with them. They are always crying about what they saw on the way here. Sometimes I lie to them, [saying] we will stay here no problem. I don't have any other way. If I don't lie they will cry."
For unaccompanied minors, the only real support is provided by overstretched networks of grass-root organisations and private individuals. "Most of the people on the street are supported by small groups of people, working together… the big organisations aren't doing nearly enough," says Cecelia of Solidarithé, an organisation distributing tea and vital information outside the Bubble.
In pictures: A day of refugee rescues in the Mediterranean Sea

Show all 7
Groups praised by child refugees themselves include Utopia56, support network BAAM, and a Facebook group offering direct phone credit top-ups to help refugees contact their families and attend vital appointments.
Individual volunteers have taken in scores of teenagers ignored or abandoned by the authorities to sleep and in their apartments. Fourteen-year-old David fled domestic abuse in Guinea, and lost half his body-weight as he crossed the Sahara, filtering filthy drinking water through his shirt. "It was a little dangerous," he says quietly.
After two weeks on the street in Paris, he was taken in by Catherine, who is called "mama" by the half-a-dozen teens from Francophone Africa gathered in her small apartment. They play West African R&B, Mr Bean and the Marseillaise through her laptop.
Most move on to try their luck in other cities or countries when their applications are rejected or a hostel space opens up. Some have secured temporary 6-month leave to remain. All those still in Paris come back to Catherine for showers, hot meals and company. "I'm a single mom with two kids, I don't have a big house. If I can do it anyone can," says fellow volunteer host Avril.
This highly informal network cannot help everyone, though. "Sometimes I have to say 'there's no room,'" says hosting coordinator Sonia, who turned away a 15-year-old only yesterday. Only one child spoken to by The Independent has managed to access the French education system.
As the police come closer, Qaher and the other Afghan refugees outside Jaures metro station gather together their few belongings. "We're not allowed here any more," he explains. "We have to go." Then he trudges off into the drizzle, doubled over below his rucksack and blanket.
Names have been changed to protect the identities of child refugees
Join our new commenting forum
Join thought-provoking conversations, follow other Independent readers and see their replies