Christine Lagarde convicted: IMF head found guilty of criminal charges over massive government payout
But former French finance minister, who faced potentially one year in jail, will not face any punishment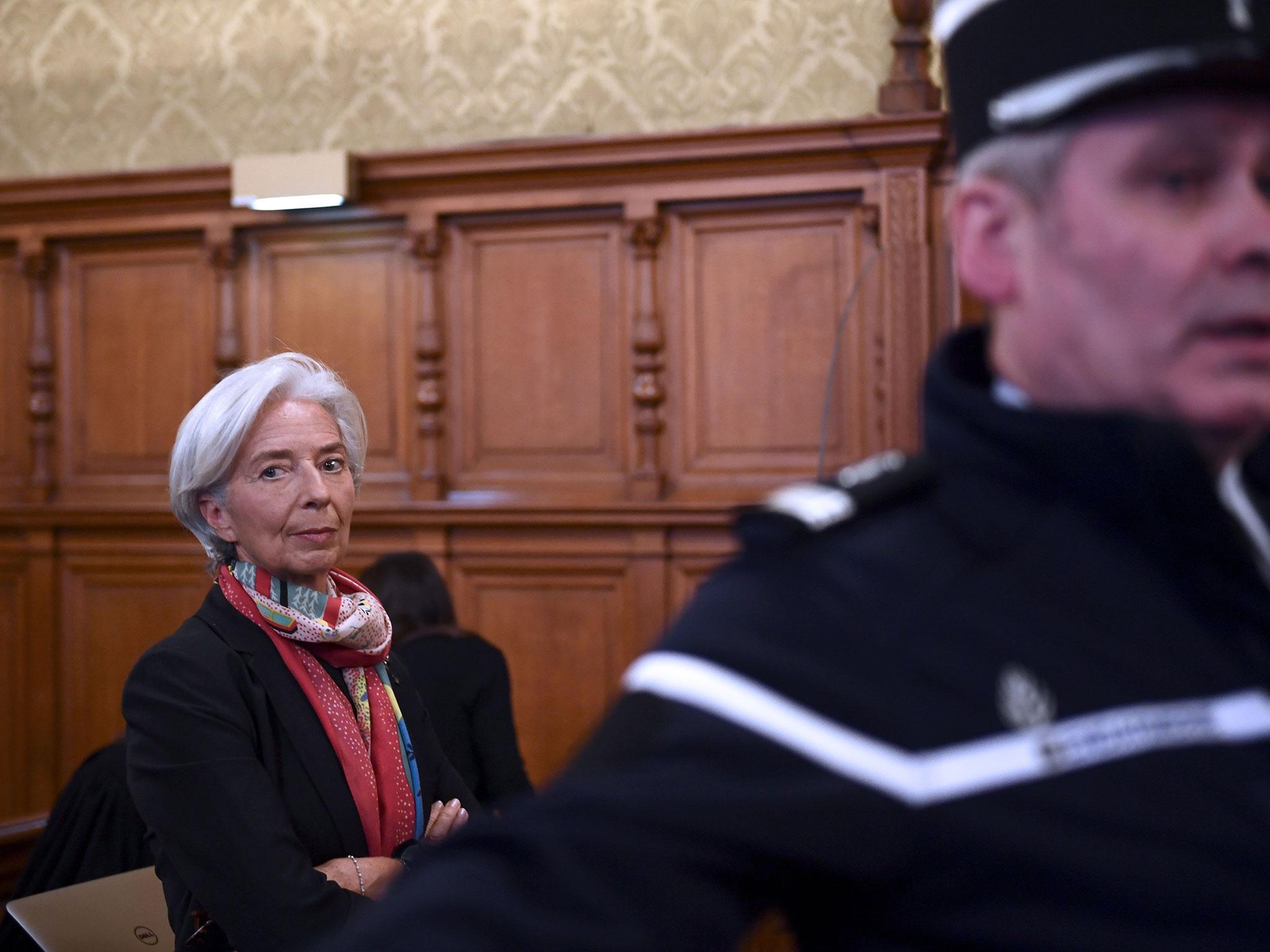 International Monetary Fund chief Christine Lagarde has been convicted over her role in a controversial €400m (£355m) payment to a businessman.
French judges found Ms Lagarde guilty of negligence for failing to challenge the state arbitration payout to the friend of former French President Nicolas Sarkozy.
The 60-year-old, following a week-long trial in Paris, was not given any sentence and will not be punished.
The Court of Justice of the Republic, a special tribunal for ministers, could have given Ms Lagarde up to one-year in prison and a €13,000 fine.
The ruling, however, risks triggering a new leadership crisis at the IMF after Ms Lagarde's predecessor Dominique Strauss-Kahn resigned in 2011 over a sex assault scandal.
Ms Lagarde, who was French finance minister at the time of the payment in 2008, has denied the negligence charges.
Sarkozy uses state visit to praise Britain
Show all 15
Her lawyer said immediately after the ruling that his team would look into appealing the decision.
On Friday she told the court: "These five days [of trial] put an end to a five-year ordeal for my partner, my sons, my brothers, who are here in this courtroom.
"In this case, like in all the other cases, I acted with trust and with a clear conscience with the only intention of defending the public interest."
The case surrounded the decision to allow a dispute over Bernard Tapie's sale of Adidas to Crédit Lyonnais bank to be resolved by a rarely-used private arbitration panel – instead of the courts.
IMF Chief Lagarde on Brexit
Investigators suspected the payment to 73-year-old Mr Tapie was the result of a behind closed doors agreement with then-President Mr Sarkozy in return for election support.
IMF managing director Ms Lagarde was suspected of rubber stamping a deal to effectively buy off the business magnate with taxpayers' money.
Civil courts have since quashed the unusually generous award, declared the arbitration process and deal fraudulent, and ordered Mr Tapie to pay the money back.
Today's result was unexpected.
World news in pictures
Show all 50
Even the trial's chief prosecutor Jean-Claude Marin said the accusation was "very weak" and warned of confusion between "criminal negligence" and a "bad political decision".
At the start of proceedings, the £355,000-a-year boss, of the global Washington-based institution, said: "I would like to show you that I am in no way guilty of negligence, but rather that I acted in good faith with only the public interest in mind.
"Was I negligent? No. And I will strive to convince you allegation by allegation."
Her lawyer Patrick Maisonneuve said on Europe-1 radio that Ms Lagarde was just following instructions from her administration and did not have time to read all 15 years of legal files on the case.
Ms Lagarde was only the fifth to be held before the Cour de Justice de la République since its inception in 1993.
IMF spokesman Gerry Rice said after Monday's verdict that its executive board would meet soon "to consider the most recent developments".
Another former IMF head, Rodrigo Rato of Spain, is standing trial on charges of misusing funds when he was boss of the Spanish lender Bankia.