Church should not fear change, says Pope after synod backlash against softening of stance towards homosexuality
Michael Day
Monday 20 October 2014 14:03 Comments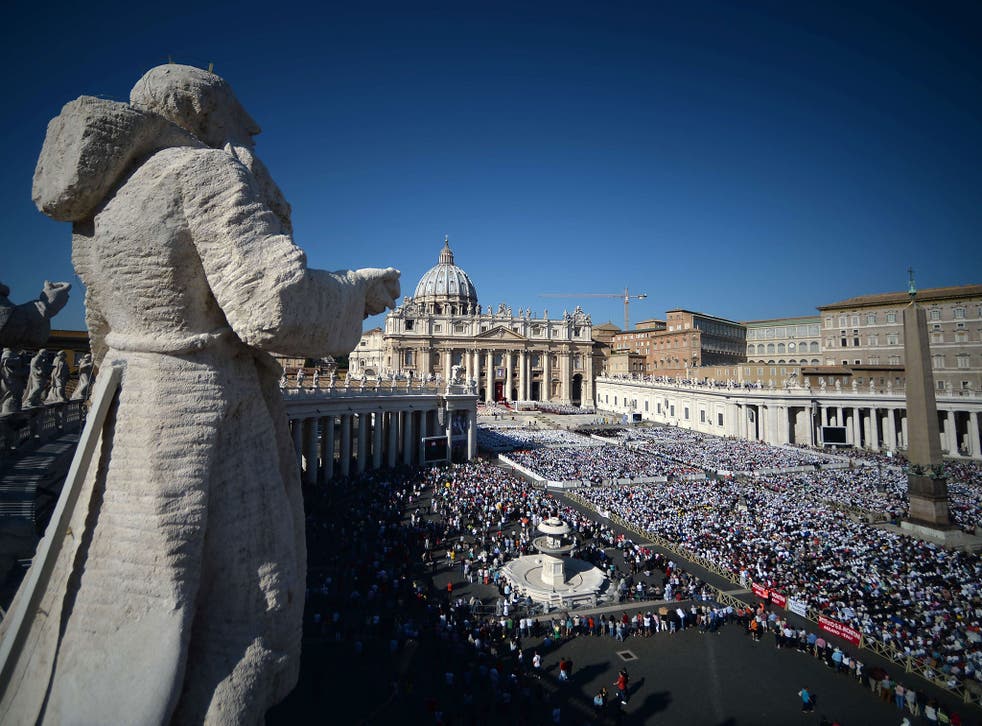 For a synod on family issues that started so positively, the end came amid division over the issues of homosexuality and divorce – with Pope Francis stating that the Catholic Church should not be afraid of change.
After its interim report last Monday declared that gay people had "gifts and qualities to offer", a fierce backlash by conservatives meant that the remarkably liberal – by Vatican standards – declarations at the international meeting of bishops was watered down drastically by the time the final version was reached on Saturday night.
Closing the two-week meeting on Sunday, Pope Francis said: "God is not afraid of new things. That is why he is continuously surprising us, opening our hearts and guiding us in unexpected ways," adding that the Church had to "respond courageously to whatever new challenges come our way".
Experts and the faithful are now scrambling to make sense of a synod that demonstrated the gulf between conservative and liberal wings of the Catholic Church more starkly than ever. "If a same-sex couple has been in a relationship for 30 years, I can't call that nothing," said Mgr Georges Pontier, President of the French Bishops' Conference. "Exclusion is not the language of the Church," said Cardinal Reinhard Marx, Archbishop of Munich. "You cannot tell Catholics living in irregular family situations, 'you are a second-rate Christians'."
In pictures: 'The many popes of Pope Francis'

Show all 12
Some senior conservatives disagree. There were reports yesterday suggesting a possible attempt, seemingly rebuffed, by conservative cardinals to rope in Pope Emeritus Benedict XVI on their campaign to steer the Church away from more liberal terrain.
Pope Francis, who also beatified Pope Paul VI at the Mass yesterday, has put a brave face on the week's events. "Personally, I'd be very worried and saddened if there weren't these temptations and these animated discussions and this spirited debate [and if instead] everyone was agreed or quiet in false silence," he said. But, he also added that the Church must "waste no time in seeking to bind up open wounds and to rekindle hope in so many people who have lost hope".
La Repubblica's Vatican expert, Marco Ansaldo, is in no doubt, however, that the honeymoon period for Pope Francis is at an end. The Pontiff was, he noted: "For the first time seeing a serious build-up of signs of dissent and ill will."
Voting tallies released by the Vatican showed that three controversial articles, including the final version of one concerning gays, won an absolute majority but failed to get the two-thirds vote needed for a broad consensus – but some believe the door has been opened. One leading Vatican watcher, John Thavis, said: "This was not the day the music died. The ideas and proposals launched at this synod will be coming back."
The articles were kept in the final document and will be discussed locally before next October when the synod meets again in Rome. After these talks, Francis will issue his "apostolic exhortation" – an authoritative document – on these contentious issues.
Register for free to continue reading
Registration is a free and easy way to support our truly independent journalism
By registering, you will also enjoy limited access to Premium articles, exclusive newsletters, commenting, and virtual events with our leading journalists
Already have an account? sign in
Join our new commenting forum
Join thought-provoking conversations, follow other Independent readers and see their replies