Circus elephant falls into audience in Germany, prompting calls to ban animal performances worldwide
Spectators flee as two giant animals push a third to edge of ring, forcing her to crash to ground
Jane Dalton
Sunday 08 July 2018 00:07 Comments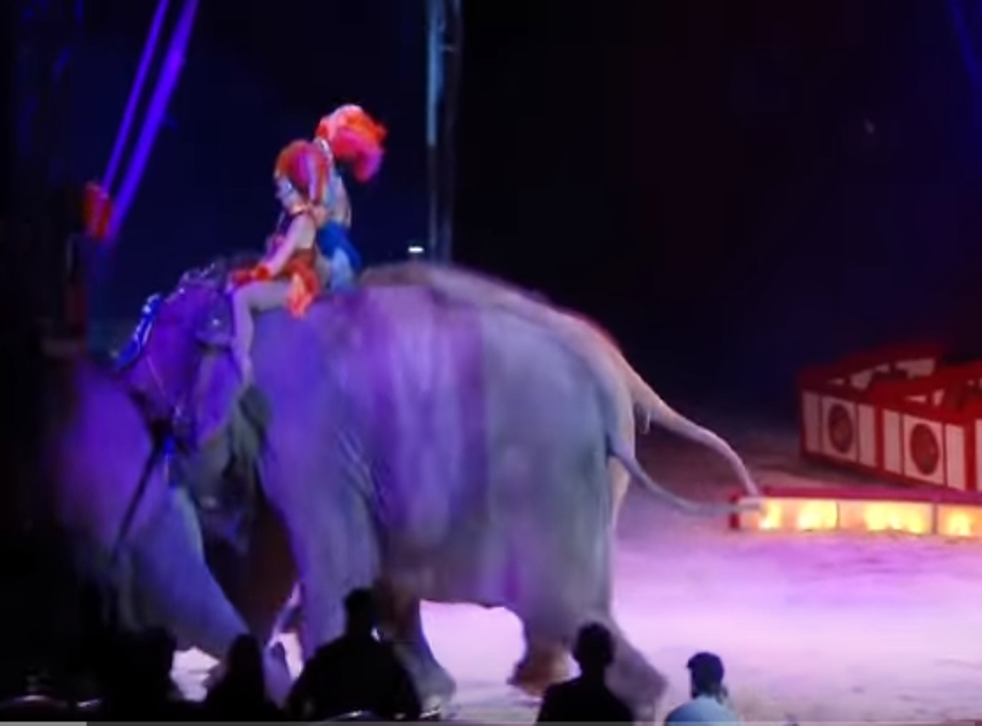 Arguments over using wild animals in circuses have been reignited after an elephant fell into an audience in Germany.
Video footage of a performance in Osnabrück shows two elephants in the ring suddenly turning on a third, pushing her towards the edge.
There she crashes to the ground at the edge of the crowd.
Spectators quickly fled their seats to escape the danger. Nobody was seriously hurt, but circus chiefs later said one man in the audience suffered cuts on his leg.
Circus staff can be seen controlling the elephants with bullhooks and a chair.
Once the elephant, Tompteusen, was back on her feet, the show resumed.
Last month an elephant called Kenia escaped from the same circus, Circus Krone, wandering the streets for several minutes before being recaptured.
According to animal-rights group Peta, Tompteusen's leg was swollen. Peta called on the country's MPs to outlaw the keeping of wild animals for circuses, saying that being forced to perform under the threat of physical punishment adds to the frustration of the unnatural environment.
The UK government has pledged to end the use of wild animals in circuses, which is due to take effect in 2020.
But yesterday a fresh attempt to bring in a ban sooner than that date was blocked again by Conservative MP Sir Christopher Chope. Sir Christopher has on several previous occasions brought down such legislation – in Private Members' Bills and Ten-Minute Rule Bills - in the Commons.
Animal Defenders International (ADI) called on governments worldwide to end the use of wild animals for entertainment on public safety and animal welfare grounds.
ADI president Jan Creamer said: "Using wild animals in circuses is a recipe for disaster, putting animals and the public in harm's way."
The group said keeping stressed, large and dangerous wild animals close to the public in lightweight, temporary enclosures, and with inadequate or no safety barriers, has "proven disastrous".
Workers and members of the public have been killed, it said, adding that animals are confined in small spaces, deprived of physical and social needs, spending excessive amounts of time shut in transporters. "These animals are often seen behaving abnormally; rocking, swaying and pacing, all indicating that they are in distress. Video evidence has shown how these animals are forced to perform tricks through physical violence, fear and intimidation."
Register for free to continue reading
Registration is a free and easy way to support our truly independent journalism
By registering, you will also enjoy limited access to Premium articles, exclusive newsletters, commenting, and virtual events with our leading journalists
Already have an account? sign in
Join our new commenting forum
Join thought-provoking conversations, follow other Independent readers and see their replies