Coalition of international figures urge IOC to strip Russia of Winter Olympics unless homophobic laws are repealed
Sportsmen, actors and politicians condemn Russian authorities for stoking up gay hatred as Stephen Fry likens Sochi Games to those held in Berlin under Nazi Germany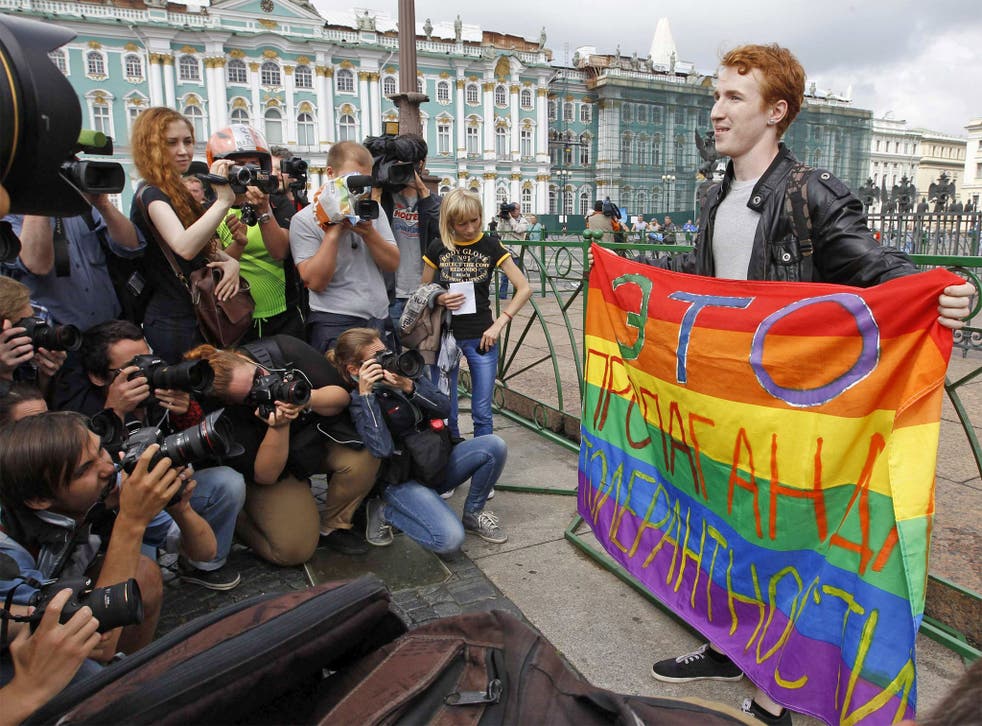 The International Olympic Committee has been urged to strip Russia of the right to hold next year's Winter Games unless President Putin repeals homophobic laws that have led to a wave of attacks on young gay men across the country.
A coalition of international figures including sportsmen, actors and politicians have condemned the Russian authorities for stoking up gay hatred that is alleged to have led to the murder of at least one man.
The actor Stephen Fry went further writing to the head of International Olympic Committee Jacques Rogge, David Cameron and Lord Coe asking them to back a ban on Russia holding the 2014 Winter Games in Sochi.
"The IOC must take a firm stance on behalf of the shared humanity it is supposed to represent against the barbaric, fascist law that Putin has pushed through," he wrote.
"An absolute ban on the Russian Winter Olympics of 2014 on Sochi is simply essential. Putin cannot be seen to have the approval of the civilised world."
Mr Fry likened the Sochi Games to those held in Berlin under Nazi Germany.
"The 1936 Berlin Olympics proceeded under the exultant aegis of a tyrant who had passed into law an act which singled out for special persecution a minority whose only crime was the accident of their birth.
"Putin is eerily repeating this insane crime, only this time against gay Russians.
"I am gay. I am a Jew. My mother lost over a dozen of her family to Hitler's anti-Semitism. I for one, weep at seeing history repeat itself."
Mr Fry was backed by Labour peer and businessman Lord Alli who helped mastermind the recent successful gay marriage law in the UK.
"I am completely supportive of Stephen's letter," he said.
"The thought that the Olympic spirit should be sullied by the homophobic values of the current Russian leadership should be offensive to all of us.
"I hope this country will take a lead in convincing President Putin to reject the brutal treatment of gay men and women and treat people equally which should be at the heart of modern Russian culture."
In America President Obama, while not backing a boycott of the Games, warned any attempt to stop athletes showing their support for gay rights would be unacceptable to Washington.
Russia's sports minister Vitaly Mutk has previously suggested that any athlete who starts to "propagandize" will be "held accountable".
"I think Putin and Russia have a big stake in making sure the Olympics work, and I think they understand that for most of the countries that participate in the Olympics, we wouldn't tolerate gays and lesbians being treated differently," said Mr Obama.
"I have no patience for countries that try to treat gays or lesbians or transgender persons in ways that intimidate them or are harmful to them."
A Downing Street spokesman said the Government remained "greatly concerned" about the growing restrictions of gay freedoms in Russia and said Mr Cameron had raised the issue directly with President Putin.
"We are working closely with the IOC and the British Olympic Association to ensure that the Games take place in the spirit of the Olympic Charter and are free from discrimination," said a spokesman.
The international concern over gay rights in Russia has comes after politicians in Russia's lower house of parliament, the Duma, passed a law imposing heavy fines for anyone providing information about homosexuality to people under 18.
Since then there have been a number of reports of young gay men being lured on social media into meeting strangers and then being attacked or publicly humiliated.
Videos are often circulated of the victims being made to come out as gay, with a view to parents, schools, or friends finding out about their sexuality.
One young man who was pictured on Russian social media being stripped and humiliated by a group of men was allegedly later tortured and died from his injuries.
Gay rights groups claim police have turned a blind eye to the attacks.
Other celebrities to have condemned the discrimination include Lady Gaga, Sir Ian McKellen and Billy Bragg.
Some sportsmen and women have said they a sympathetic to the idea of a ban on Russia holding the Olympics while others have argued that the sport should not be brought into wider politics.
Baroness Tanni Grey-Thompson, who won 11 gold medals for Britain at the Paralympics, praised Mr Fry for raising the issue.
She told The Independent: "I am not massively a fan of boycotts…But in this instance we see the anti-gay legislation and it is really scary. Any athlete going who is openly gay must feel in an extremely difficult position. It is disappointing for me that Russia has pushed that legislation through when it goes against what is happening in the rest of the world.
"Stephen Fry has raised this issue to a whole new level."
But the American gay professional figure skater Johnny Weir said any attempt to boycott or remove the Games from Russia would be counter-productive.
He told the BBC: "To attack Russia is silly... we aren't attacking the public of Russia... its not Russia's public's fault that their government is so bigoted and creating so many problems for a minority group."
Darryl Seibel, a spokesperson for the British Olympic Association said: "We are monitoring the situation closely. Some of the recent comments from officials in Russia have been contradictory, so we are relying upon the IOC to provide us with the factual information we need in our preparation for the Games. We know this is a priority for the IOC."
Register for free to continue reading
Registration is a free and easy way to support our truly independent journalism
By registering, you will also enjoy limited access to Premium articles, exclusive newsletters, commenting, and virtual events with our leading journalists
Already have an account? sign in
Register for free to continue reading
Registration is a free and easy way to support our truly independent journalism
By registering, you will also enjoy limited access to Premium articles, exclusive newsletters, commenting, and virtual events with our leading journalists
Already have an account? sign in
Join our new commenting forum
Join thought-provoking conversations, follow other Independent readers and see their replies