Cologne rally: As many as 10,000 Muslims to protest Islamic extremism
One of the largest Muslim associations in Germany has refused to take part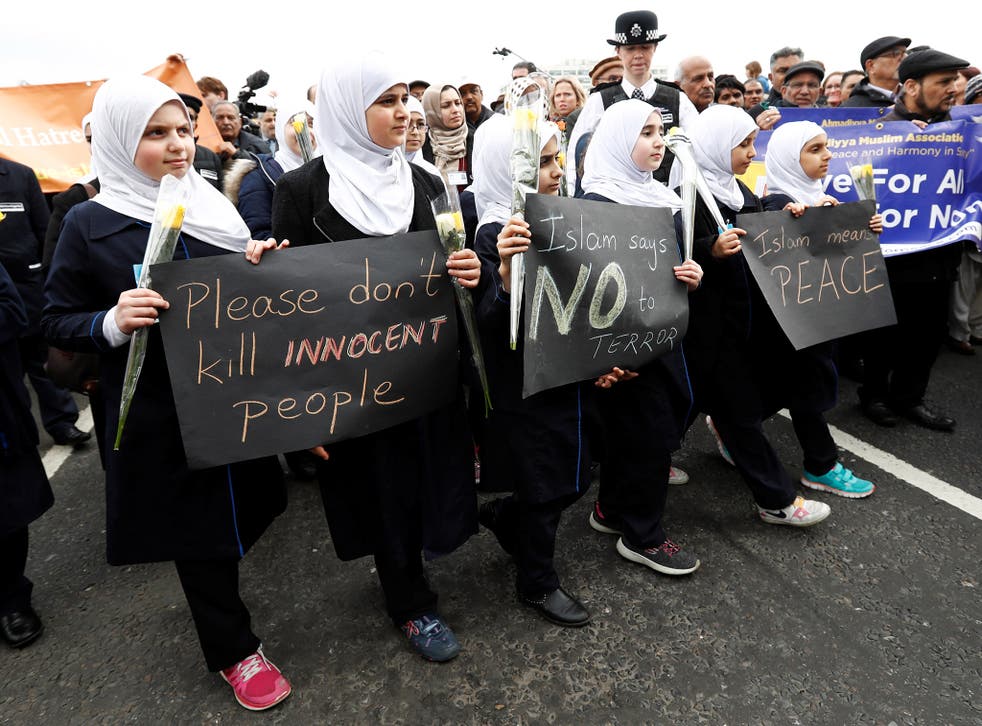 As many as 10,000 Muslims are set to protest in a rally against extremism in Cologne on Saturday.
The protest comes in the wake of recent terror attacks in the UK and around the world.
"The attacks by people who justify their acts by invoking Islam, without justification, are becoming more frequent," protest organisers write on a website for the rally called NichtMitUns, or Not With Us.
Thousands of roses handed out by British Muslims at London Bridge
"Our faith is being abused, defiled, insulted and distorted into something unrecognisable by this. Let us put a powerful sign against violence and terror."
Dozens of organisations have backed the protest. However, one of the largest Muslim associations in Germany has refused to take part.
The Turkish-Islamic Union for Religious Affairs (Ditib), which represents more than 900 Muslim communities across the country, rejected the event in a statement accusing organisers of "stigmatising" Muslims during the holy month of Ramadan.
"Calls for 'Muslim' anti-terror demos fall short, stigmatise Muslims, and confine international terrorism to being just among them and within their communities and mosques," Ditib said.
It also suggested the event was "not well thought through", saying it was unreasonable for organisers to expect fasting Muslims to march through Cologne on a day that's expected to see temperatures of 25°C.
Instead, Ditib said it would be collecting signatures under a joint petition against terrorism and for peace during a Friday prayer.
Rally organiser Lamya Kaddor criticised the Turkish-Islamic union's decision, writing on Twitter that the organisation has "missed a great opportunity" and has played into the hands of "Islam's enemies".
"Now more than ever. I appeal to everyone at DITIB to #NichtMitUns to come and take responsibility," she added.
A number of politicians have thrown their support behind the rally, including Armin Laschet of Angela Merkel's CDU and SPD politician Heiko Maas.
Earlier this week, around 300 imams in Austria signed a declaration calling Isis the "black sheep" of the Islamic faith.
The declaration signed by the Islamic Religious Community of Austria (IGGÖ) in Vienna condemns extremism, quoting a passage from the Quaran, which states: "When a man kills a man, it is as if he had killed all mankind."
Muslim man comforts elderly Jewish woman in symbol of Manchester unity

Show all 4
The Not With Us rally is expected to take place in the German city on Saturday, 17 June, a day the group says it chose specifically because it is "an important day in German history and a day in the middle of Ramadan".
"Ramadan is the holy month in Islam. A month of peace, solidarity with the poor ... Perversely, the terrorists use this time again and again for especially many of their abominable acts.
"That's why the month is particularly appropriate to go out into the streets and cry out to them ... 'Not with us!' 'You are not one of them!' 'You are not us, and we are not you!'"
Isis has claimed responsibility for a string of terror attacks since it called on its followers to wage "all-out war" on the West at the start of the Muslim holy month.
The terrorist group renews its call for attacks each year at the start of Ramadan, which sees 30 days of fasting and prayer.
Join our new commenting forum
Join thought-provoking conversations, follow other Independent readers and see their replies