Hungary election: Concerns as neo-Nazi Jobbik party wins 20% of vote
Results showed that far-right Jobbik, which wants detention camps for Roma 'deviants', had upped its share of support by five per cent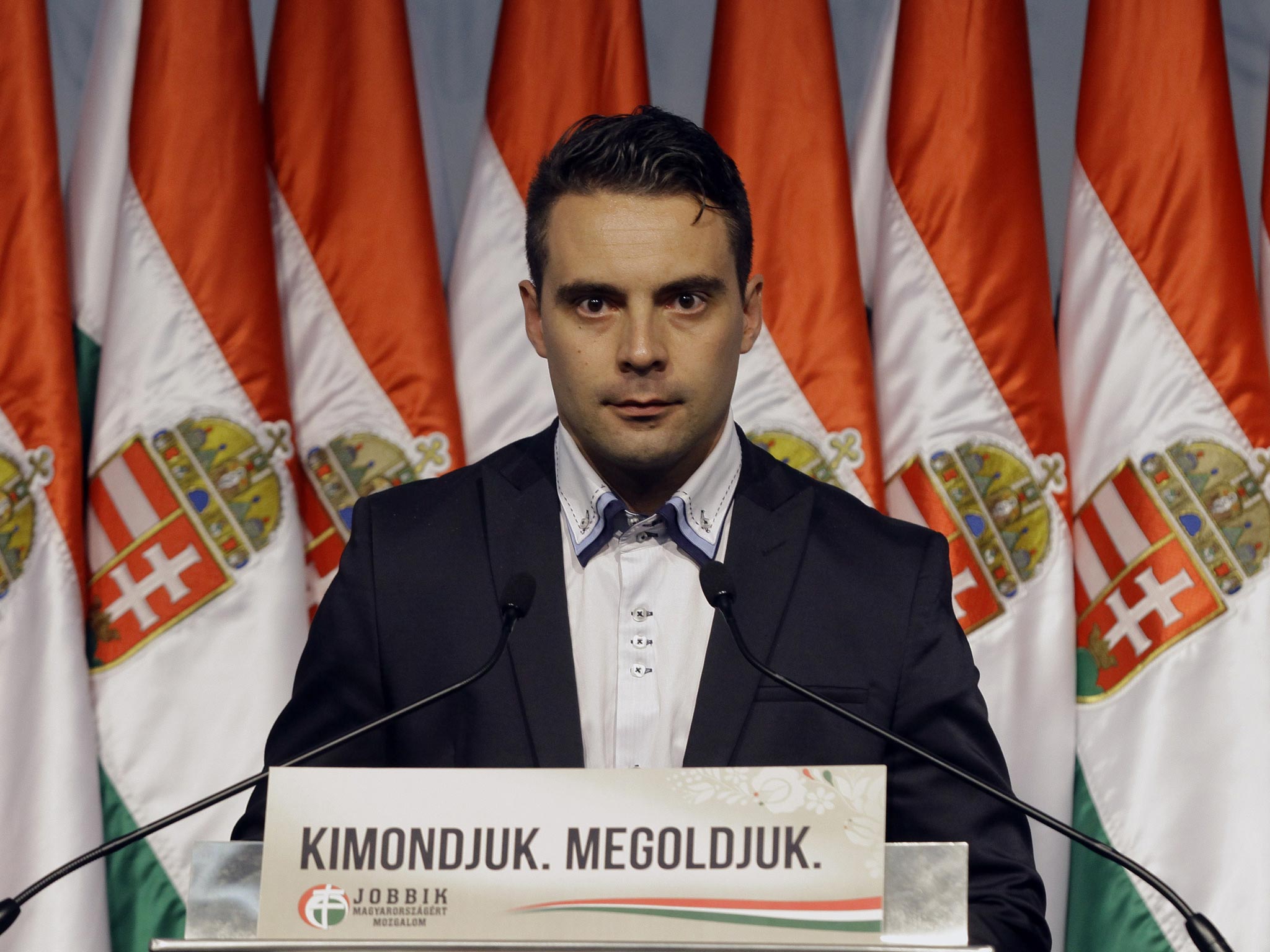 Sweeping gains by Hungary's neo-Nazi Jobbik party provoked concern across Europe after the anti-Semitic organisation won one in five votes in a general election which returned the maverick right-wing Prime Minister, Viktor Orban, to power.
Results showed that far-right Jobbik, which wants detention camps for Roma "deviants" and has argued that Jews are a "national security risk", had upped its share of support by five per cent and had secured 20.86 per cent of the vote in Sunday's election.
The party's leader, Gabor Vona, said the result allowed Jobbik to claim the title of "strongest national radical party" in the EU, and Hungary's second largest political party. "Jobbik continuously increases it popularity and ahead of the European parliament elections it is important to make this clear," he said.
However, its success at the polls caused alarm in much of Europe. Moshe Kantor, the president of the European Jewish Congress, described Jobbik as an "unashamedly neo-Nazi party" and said its electoral success should serve as a "wake up call". "This is a party that feeds on hate," he said.
Despite Jobbik's gains, Mr Vona said he and his supporters were disillusioned with the result. "We outperformed pollsters' expectations, but we were not able to achieve the goal we set for ourselves of winning the elections," he added.
Gordon Bajnai, one of the leaders of Hungary's opposition socialist-liberal Five Party Alliance, described the result as a "crushing defeat" and as a "great disappointment" for those Hungarians who had wanted change.
The election handed a clear victory to Viktor Orban, Hungary's controversial right-wing, neo-liberal Fidesz Party leader, who celebrated the result in the capital Budapest with thousands of jubilant supporters on Sunday evening, claiming that the country was now on the threshold of a "new and wonderful epoch".
Although Mr Orban was certain to be returned to power, it was not clear whether he had secured enough votes regain the two-thirds parliamentary majority he won together with his Christian Democrat People's Party coalition partners in Hungary's 2010 election. Some reports suggested that he was one vote short.
Brussels and Washington have already voiced concern about Mr Orban's previous policies, which have led to draconian curbs on media and artistic freedoms and shaken up both the judiciary and Hungary's central bank.
Critical theatre directors have been arbitrarily dismissed and replaced by figures with more pro-government views. The media is controlled by a new government watchdog body. Independent publications have been starved of advertising and state outlets have been merged.
Many of the new controls have been written into the constitution. Critics have pointed out that even if Hungary's opposition parties managed to oust Mr Orban's ruling alliance, they would need to obtain a two-thirds parliamentary majority to change the constitution. Hungary's Fidesz-led government has also clamped down on the homeless and unemployed: it is illegal to sleep on the streets and a harsh "workfare" scheme obliges the jobless to perform menial tasks for benefits.
The Budapest political scientist Laszlo Keri said the result had dire implications for Hungarian democracy. "Mr Orban is interpreting the result as proof that voters have no criticisms regarding his policies, no matter how controversial they are," he told Germany's Der Spiegel magazine, "This is a very sad prospect for all those who had hoped for some form of change."
Join our commenting forum
Join thought-provoking conversations, follow other Independent readers and see their replies