Copenhagen shootings: Part of city evacuated after 'suspect package' found outside attack cafe
The package was found outside the cafe where Omar El-Hussein opened fire
Lizzie Dearden
Tuesday 17 February 2015 10:00 Comments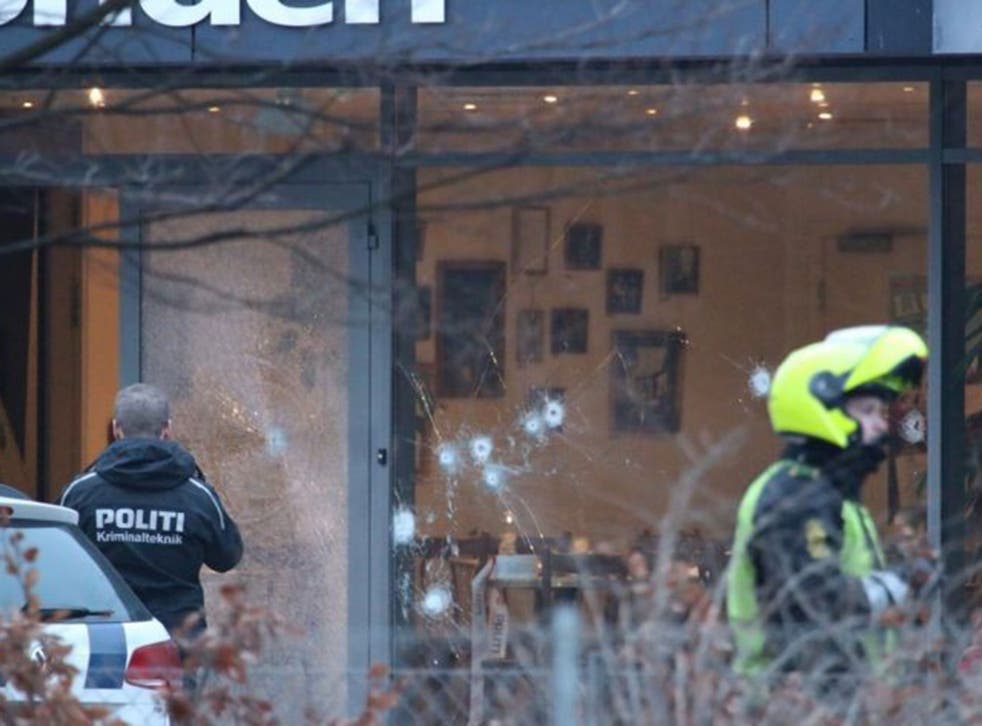 Part of Copenhagen was evacuated this morning when a suspect package was found outside the cafe where a gunman opened fire during an event on free speech on Saturday.
Sniffer dogs and up to 30 police officers surrounded the Krudttonden café, sealing off the area until a bomb squad confirmed that there were no explosives inside.
Authorities have been on high alert in the Danish capital since the shootings that killed two people, shocking the nation. Tens of thousands of people gathered in vigils across the country last night to pay tribute to the victims.
The 22-year-old suspect was shot dead by a SWAT team early on Sunday morning in Norrebro during a gun battle hours after he allegedly opened fire during a seminar on free speech in the wake of the Paris attacks.
A cartoonist who had drawn caricatures of the Prophet Mohamed was speaking there who had previously received death threats.
Lars Vilks, 68, said he believed he was the intended target after depicting the Muslim Prophet as a dog in 2007 and has since gone into hiding.
Shooting at Copenhagen blasphemy event

Show all 12
Agnieszka Kolek, another panellist, said she heard shouts of "Allahu Akbar" - "God is great" in Arabic.
A Danish film-maker, Finn Noergaard, was killed in that attack and nine hours later, volunteer security guard Dan Uzan, 27, was gunned down outside a bat mitzvah near a synagogue. Five police officers were wounded in the rampage.
Police have still not named the shooter but media outlets have widely reported that he was Omar Abdel Hamid El-Hussein, a son of Palestinian immigrants known to the police due to his weapons violations, an assault conviction and gang connections.
On Monday, police confirmed that the gunman visited an internet cafe where they later arrested the two men accused of helping him.
Jens Madsen, head of the Danish intelligence agency PET, said the suspect was motivated by the Charlie Hebdo massacre and Isis propaganda.
He "could have been inspired by the events in Paris", Mr Madsen added. "He could also have been inspired by material sent out by Isis and others."
Additional reporting by Reuters
Register for free to continue reading
Registration is a free and easy way to support our truly independent journalism
By registering, you will also enjoy limited access to Premium articles, exclusive newsletters, commenting, and virtual events with our leading journalists
Already have an account? sign in
Join our new commenting forum
Join thought-provoking conversations, follow other Independent readers and see their replies