Copenhagen Zoo kills 'surplus' young giraffe Marius despite online petition
Thousands of people had signed online petitions in an attempt to save the male animal who was destroyed because he resulted from in-breeding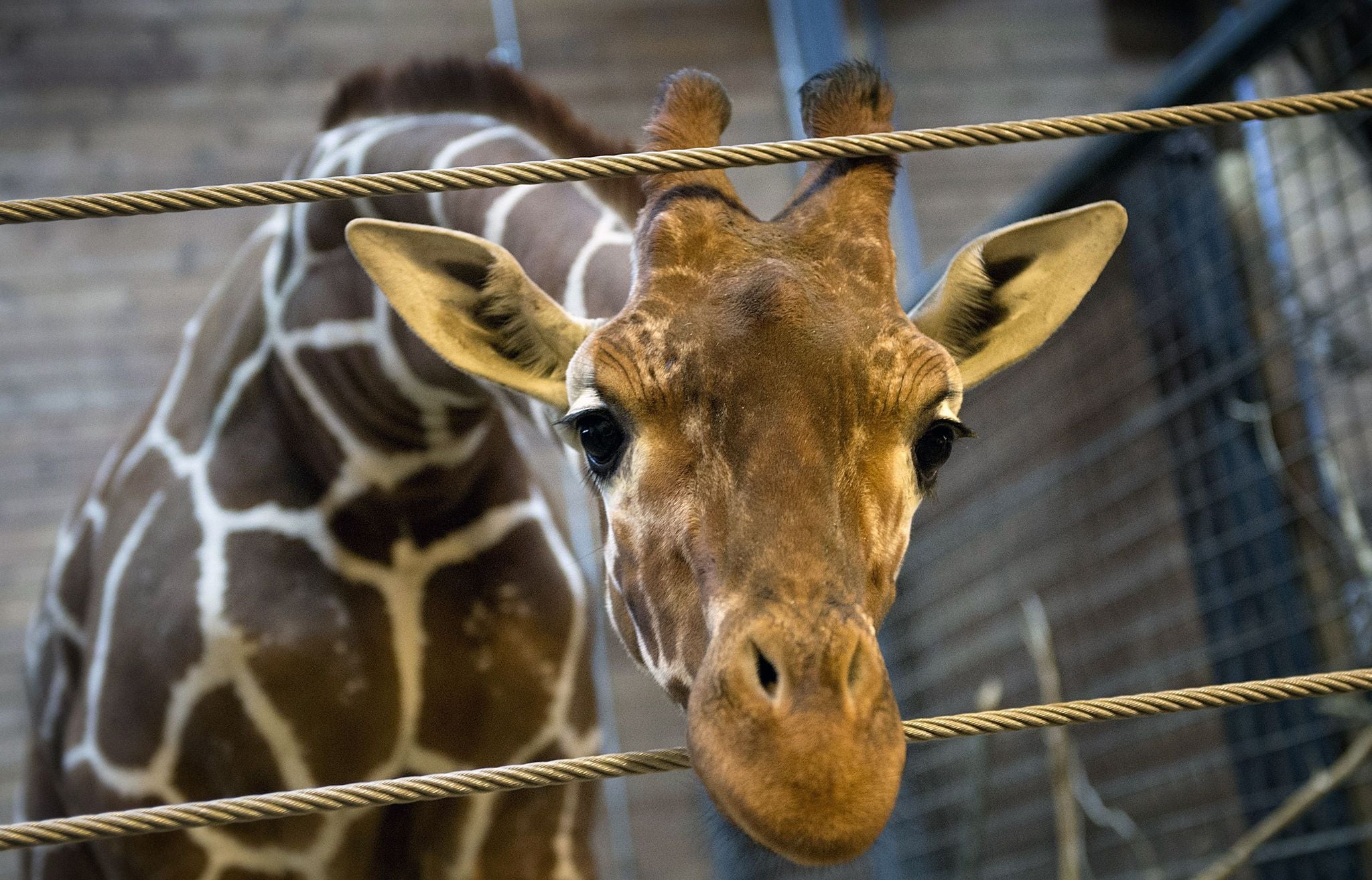 Ignoring thousands of pleas for clemency, at least two wildlife parks that wanted to re-home him and an offer of £415,000 from a wealthy benefactor, Copenhagen Zoo went ahead with the killing of Marius the giraffe on Sunday morning.
After a bolt gun to the head, he was dissected publicly in front of a crowd of children then fed to the lions.
It was a bold statement of just how confident the zoo was in its decision to kill a perfectly healthy animal after less than two years of life.
The reason — his genes were too similar to other giraffes in a breeding programme run by the European Association of Zoos and Aquaria (EAZA) – failed to convince furious animal rights campaigners and the zoo was deluged with complaints on social media.
Copenhagen Zoo noted on its Facebook page that there was " massive debate…about one of our giraffes".
Its scientific director, Bengt Holst, said the zoo was working to maintain "a healthy giraffe population in European zoos".
In pictures: Marius the giraffe skinned and fed to lions as children watch on (Warning: graphic images)
Show all 8
"This is done by constantly ensuring that only unrelated giraffes breed so that inbreeding is avoided. If an animal's genes are well represented in a population further breeding with that particular animal is unwanted," he said in a statement.
Marius the giraffe (Warning: graphic images)
Marius' genes were "well represented" and there was "no place" for him in the zoo's herd, so it had been decided in conjunction with EAZA officials that he had to go.
"When breeding success increases, it is sometimes necessary to euthanize," Mr Holst added.
The reaction to the death of Marius was swift.
Stine Jensen, of Denmark's Organisation Against the Suffering of Animals, said the giraffe had been treated like a "waste product", while Animal Rights Sweden said: "The only way to stop this is to not visit zoos."
Yorkshire Wildlife Park said it was "saddened" to hear of his death, expressing disappointment that its last minute offer to house Marius in its "state-of-the-art giraffe house" alongside four other males, including one from Copenhagen Zoo, had been ignored. A Dutch wildlife park had also offered to re-home him.
Thousands took to social media to voice their opposition.
"There were so many better options than to murder that young giraffe. What's worse, you made it a public spectacle, and set an appalling example," said one message on the zoo's Facebook site.
"Clearly you had a choice to be kind and not kill this magnificent animal. Shame on you for doing the wrong thing! All zoos are prisons...& you are nothing but executioners!" a poster said.
"Sick sick sick!!! Disgusting boycott all zoos!!" was another verdict.
Dr Lesley Dickie, executive director of EAZA, lamented that such strong feelings were not focused on conservation issues like the illegal trade in wildlife.
She also insisted most people would "see the bigger picture" once they were aware of all the facts.
It was "great that people care about giraffes", she said, but she stressed that maintaining the genetic diversity of the captive population was important, particularly if there were ever attempts to reintroduce captive giraffes to the wild.
Dr Dickie, former conservation manager of the Zoological Society of London, admitted that moving Marius somewhere else seemed like " a nice thing to do".
"But what that does is take up space for breeding herds. It does seem harsh, I know, but we have to manage it," she said.
"It would be brilliant if we had unlimited space, but unfortunately that's not the case.
"How many animals were euthanized for human consumption today? From my point of view, the welfare of any animal should be considered in the same way.
"Because it's a giraffe, people get very concerned."
Join our commenting forum
Join thought-provoking conversations, follow other Independent readers and see their replies