Coronavirus: Putin's spokesperson hospitalised with Covid-19
'We're under the supervision of doctors, and everything is fine,' says Dmitry Peskov's wife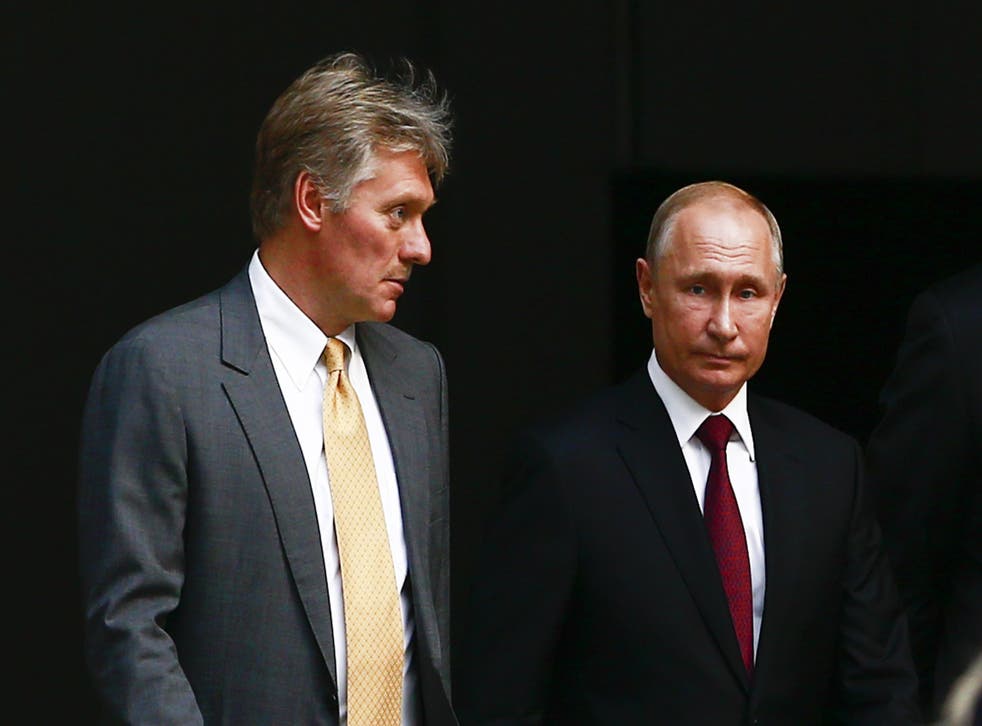 Vladimir Putin's press secretary Dmitry Peskov has tested positive for coronavirus, with news of his hospitalisation confirmed by state news agencies on Tuesday afternoon.
Mr Peskov's wife, the ice dancer Tatyana Navka, has also been hospitalised with the virus. Speaking with local media, she said the move was precautionary to shield family members from the risk of infection.
"We're under the supervision of doctors, and everything is fine," she said. "I'm practically back to normal... and Dmitry Sergeyevich is also under control. We're getting better."
Covid-19 has failed to spare the political class in its its increasingly confident march through Russia. On 30 April, prime minister Mikhail Mishustin was also hospitalised and has barely been seen since. Culture minister Olga Lyubimova and construction minister Vladimir Yakushev have also reported positive tests and are being treated at home.
The illness of one of the president's closest lieutenants will raise questions about Mr Putin's own Covid-19 status. The 67-year-old has spent the last month in his suburban residence and mostly hidden from public view. But in brief comments to the press, spokesman Peskov insisted he had not met his boss in over a month.
The news comes less than a day after Mr Putin signed off on an easing of nationwide restrictions and a limited return to work. Those changes came despite ugly epidemiological data suggesting the Russia's crisis was far from over.
On Tuesday, cases increased by another 10,899 diagnoses, taking the overall numbers to 232 243. On these measures, Russia is now second-worst affected country in the world.
Register for free to continue reading
Registration is a free and easy way to support our truly independent journalism
By registering, you will also enjoy limited access to Premium articles, exclusive newsletters, commenting, and virtual events with our leading journalists
Already have an account? sign in
Register for free to continue reading
Registration is a free and easy way to support our truly independent journalism
By registering, you will also enjoy limited access to Premium articles, exclusive newsletters, commenting, and virtual events with our leading journalists
Already have an account? sign in
Join our new commenting forum
Join thought-provoking conversations, follow other Independent readers and see their replies