Coronavirus: Anger in Ireland over video of man pouring drinks in people's mouths at Dublin bar
Video of revellers dancing and sharing drinks slammed as 'reckless' by health minister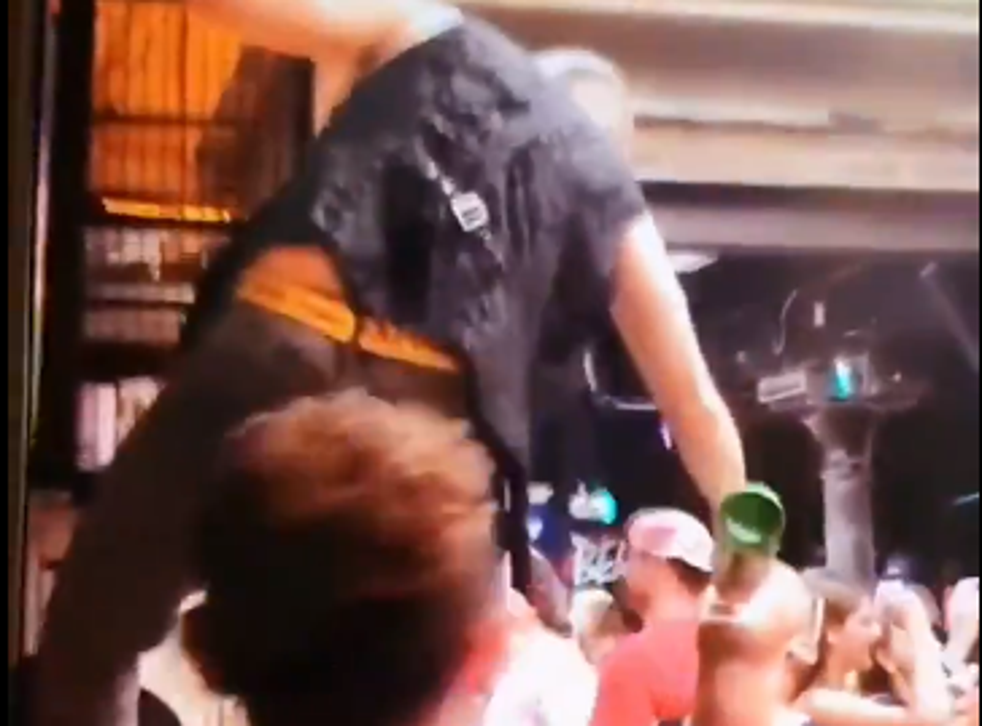 The Irish health minister has said a video of people pouring drinks into each other's mouths at a Dublin bar would "rightly sicken" people as the country's coronavirus cases surge.
Stephen Donnelly was reacting to a viral video taken at the Berlin D2 bar in Dublin on Saturday which showed dozens of revellers partying to loud music while a man standing on a bar pours drinks directly into their mouths.
"The vast majority of Irish people have sacrificed a huge amount to help suppress this virus," Mr Donnelly said on Twitter.
"They've shown huge solidarity. People are rightly sickened by these scenes. The reckless actions of a small few can have huge repercussions on everyone else."
The event at the bar was publicised online as a "very boozy Baked Brunch with your buds" and the €25 tickets included a free shot, with the party starting at 1pm.
According to the person who filmed the viral video, when he and his wife arrived at 3pm tables were spaced apart and food was being served directly to people, in line with the Irish government's social distancing guidelines.
But over the afternoon as the music got louder "social distancing disappeared" and "the atmosphere started to be crazy", he told RTE, prompting the couple to leave for fear of catching Covid-19.
The same day, 200 new cases of the virus were reported across Ireland, the largest daily increase since the start of May. A further 66 cases were reported on Sunday, and two-thirds of the new cases over the weekend were people aged under 45.
The acting chief medical officer Ronan Glynn is due to meet with the Taoiseach and other senior government ministers on Monday to discuss the situation and to consider re-imposing some lockdown restrictions.
"The phased reopening of the country has afforded people the opportunity to socialise with each other again," Dr Glynn said. "However, some are doing this recklessly and undermining the efforts of the majority of people around the country who are following public health advice.
"This cannot continue. This pandemic isn't over just because we are tired of living with it."
Restaurateur Jay Bourke, who is involved with running the Berlin D2 venue, told RTE he was "absolutely mortified" by the scenes on Saturday.
However, having checked CCTV, he said he was satisfied most customers were following the rules and the venue was observing Covid-19 rules, including running at 20 per cent capacity and maintaining social distancing.
But the chief executive of the Restaurants Association of Ireland, Adrian Cummins, said the video was a "slap in the face to front-line workers who are putting their life on the line during this pandemic". The police should intervene to stamp out this "deplorable and despicable" behaviour, he added.
Join our new commenting forum
Join thought-provoking conversations, follow other Independent readers and see their replies