Coronavirus: Italy allows bars, restaurants and hair salons to reopen from next week
Prime minister Giuseppe Conte lets regional leaders lift restrictions from 18 May
Adam Forrest
Tuesday 12 May 2020 20:50 Comments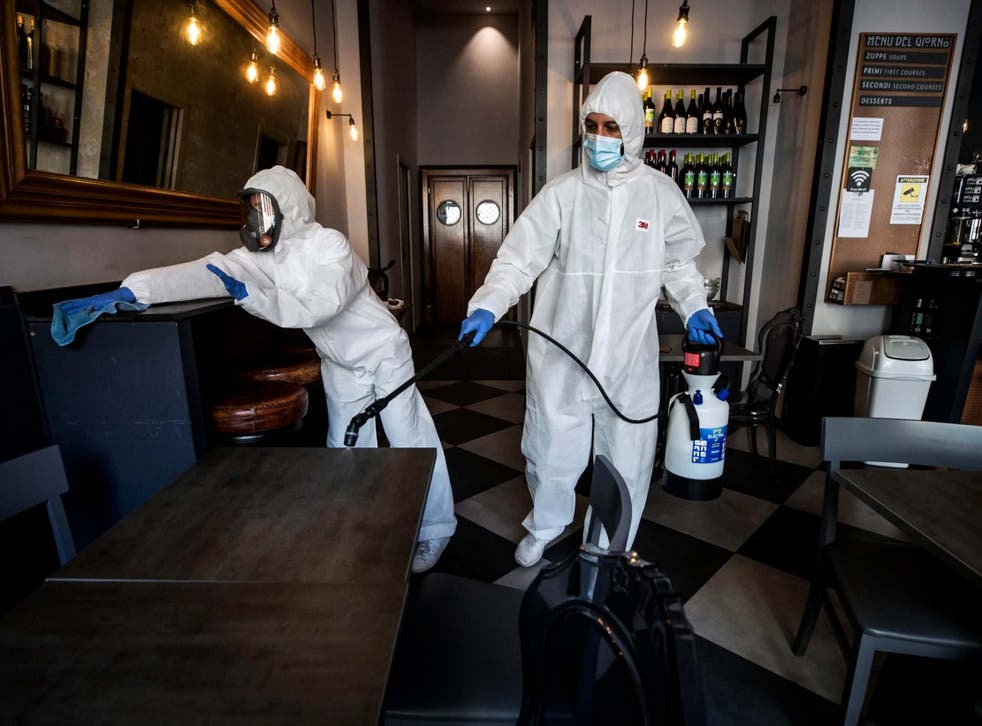 Italy's bars, restaurants, hairdressers and beauty salons will be able to reopen next week after the government announced new moves to relax lockdown measures during the coronavirus pandemic.
The country's regional authorities have been granted the power to lift restrictions on bars and other popular leisure businesses from 18 May.
It follows pressure from local government leaders for an easing of the rules, as the number of new Covid-19 cases reaches its lowest level in more than two months.
Under guidelines laid out by prime minister Giuseppe Conti, shops are due to reopen nationally on Monday, but bars, restaurants, hairdressers and salons were supposed to remain shut until at least 1 June.
After a meeting between ministers and local authorities on Monday, an agreement has been reached to allow Italy's 20 regions to re-open the leisure businesses two weeks early – defusing a growing rift among the country's political parties.
"We have always said that if the contagion data were encouraging, we would have brought forward the reopening," said foreign minister Luigi Di Maio of Italy's Five Star Movement, the party which currently forms a coalition government with the centre-left Democratic Party.
"The regions will (shortly) receive guidelines to open bars, restaurants, hairdressers and beauty clinics from May 18," he added on Twitter.
Almost 31,000 Italians have died of the coronavirus, the third-highest death toll in the world following the US and the UK.
But the outbreak is past its peak, and on Monday Italy registered just 744 new cases – the lowest daily increase since 4 March.
The contagion has hit some regions especially hard, such as the northern region of Lombardy, which has accounted for almost half of all deaths, while other regions have escaped largely unscathed.
That disparity has called into question the government's one-size-fits-all approach to easing restrictions and regional governors welcomed Monday's change of heart.
"Prime minister Conte has accepted our request for autonomy," said Giovanni Toti, the centre-right leader of the north-western region of Liguria.
"Moving forward using common sense, we will all start again together," he added.
The ruling coalition last week turned to the law courts to stop the southern region of Calabria from reopening outdoor bars and restaurants in the toe of Italy, arguing it was premature.
The pushback against curbs came largely from areas run by centre-right parties, which are in opposition in Rome but control a majority of the local regions. Centre-left regions interceded and persuaded the government to decentralise decision-making.
Italy's Serie A football clubs will also be allowed to start team training from 18 May, the government announced on Monday.
Additional reporting by agencies
Register for free to continue reading
Registration is a free and easy way to support our truly independent journalism
By registering, you will also enjoy limited access to Premium articles, exclusive newsletters, commenting, and virtual events with our leading journalists
Already have an account? sign in
Join our new commenting forum
Join thought-provoking conversations, follow other Independent readers and see their replies