Latvia unveils large statue honouring Covid-19 healthcare workers around world
Monument shows female medical professional in face mask and gloves with outstretched arms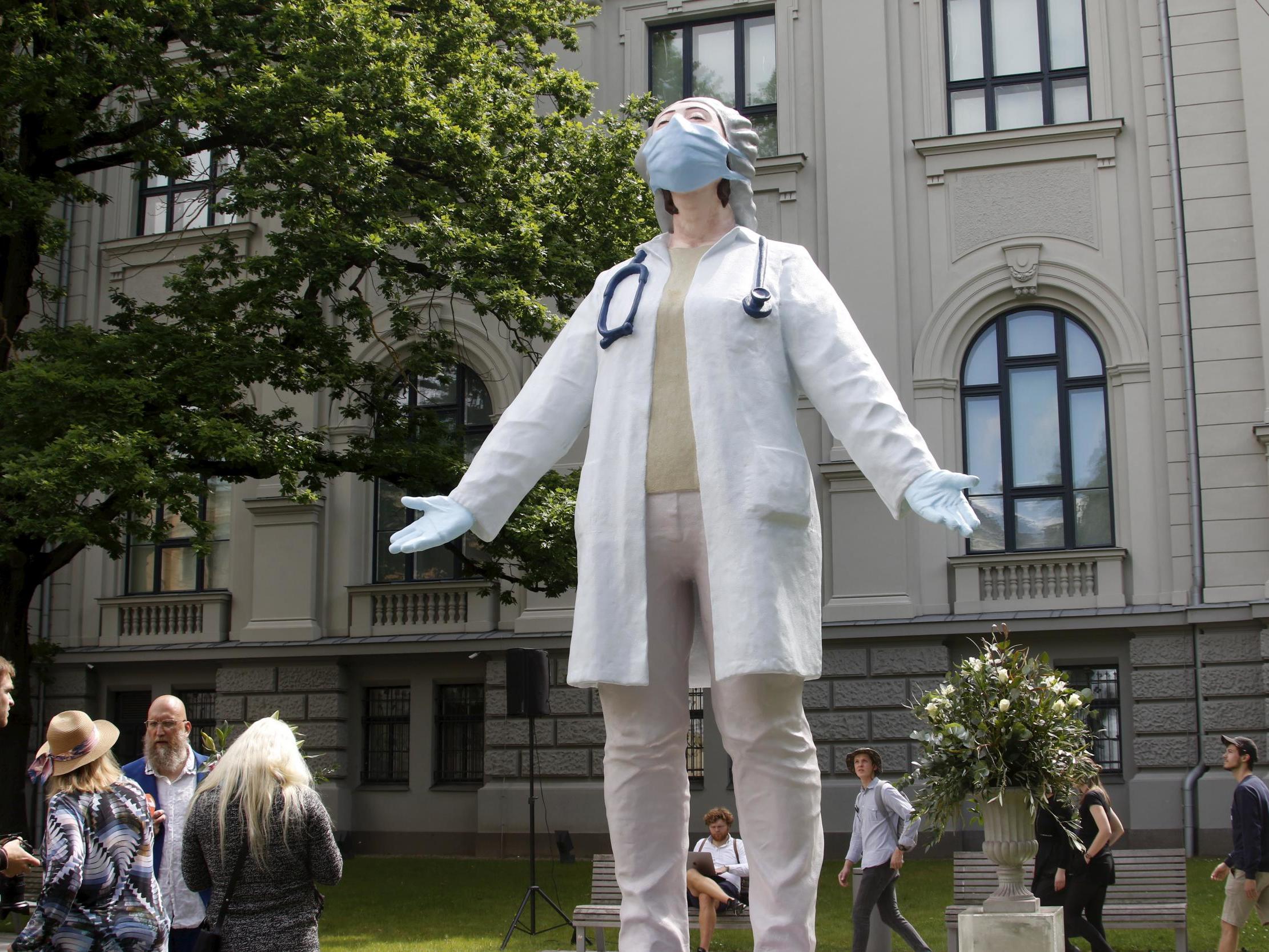 A large statue has been unveiled in Latvia's capital to honour healthcare workers battling the coronavirus pandemic on the front lines.
The 20-ft monument of a person wearing personal protective equipment (PPE) and a stethoscope around their neck was revealed in Riga earlier this week.
The statue looks up towards the sky with outstretched arms.
The figure of a female medical worker in a white coat, face mask and gloves was unveiled outside the Latvian National Art Museum in the capital on Tuesday, according to the Arts Academy of Latvia.
Sculptor Aigars Bikse, one of their professors, created the art work.
The statue "is dedicated to medics in Latvia and around the world, praising their selfless courage and care during the Covid-19 outbreak", the European League of Institutes of the Arts said.
"The three-month long lockdown period and fear for their lives has made the people change their perspective towards doctors, nurses and other medical staff," Mr Bikse said, according to a Latvian broadcaster.
"Many just now for the first time in their lives realised the vital importance of medical staff," he said, LSM.lv reported.
People across the world have found ways to celebrate healthcare workers during the pandemic, with some countries applauding key workers from their doorsteps or balconies during lockdowns.
A weekly clap for carers took place in the UK to honour those working on the frontline of the Covid-19 outbreak.
People in other countries – including France, Spain and Italy – have also clapped and cheered from their homes to show appreciation for key workers.
Similar scenes have taken place in Istanbul, with boats crossing the Bosphurus blowing their horns to join in.
Around 1,100 people have tested positive for coronavirus in Latvia – where the statue honouring healthcare workers was erected – as of Friday, according to a Reuters global count.
Meanwhile, 30 deaths have been recorded to date, figures show.
Join our commenting forum
Join thought-provoking conversations, follow other Independent readers and see their replies