Coronavirus: New statistics suggest thousands of unreported Covid-19 deaths in Moscow
Report points to 5,700 unexplained deaths at the peak of Russian capital's epidemic
Oliver Carroll
Moscow
Wednesday 10 June 2020 13:15 Comments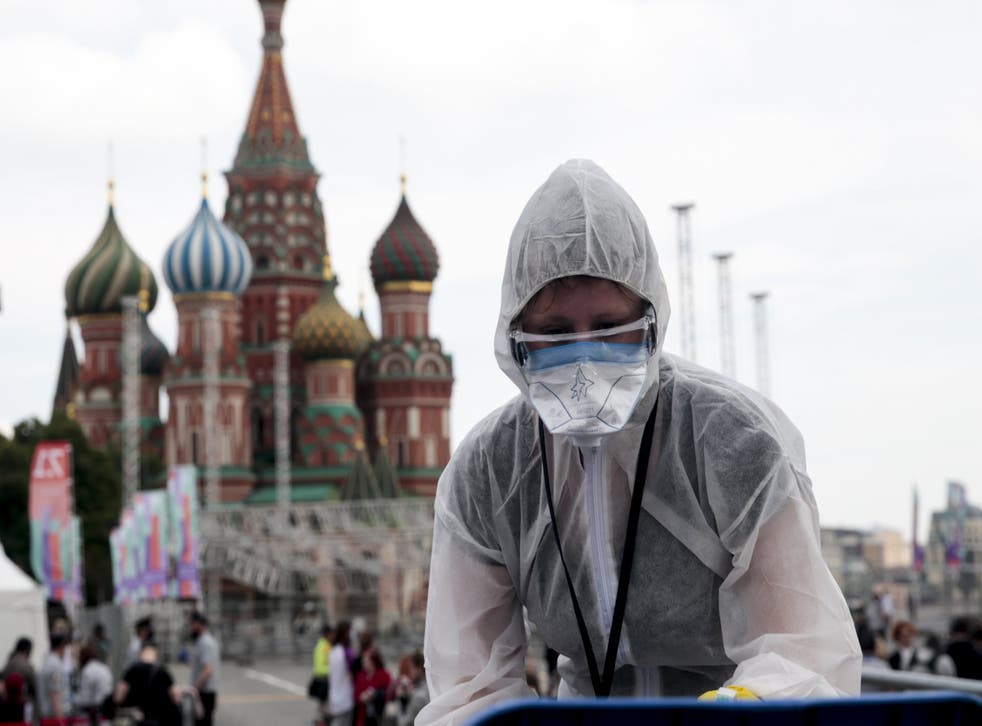 Nearly six thousand more people died in Moscow during May than average, a well-connected journalist reported on Tuesday — providing the fullest picture so far of the coronavirus epidemic at its peak in the Russian capital.
The preliminary death toll of 15,700, nearly 60 per cent up on three-year averages, was announced by Alexei Venediktov, editor of the liberal Echo of Moscow radio station. If true, the figure casts doubt over official statistics, which claimed just 1,704 Covid-19 deaths in May. It would also push Moscow towards the top of Europe's death leagues.
Moscow's new total excess death figure of 7836 (March-May 31) is comparable to the less-populated Madrid 8,700 (to May 12) and London, 9,200 (8 May) at similar points in their epidemics.
With the peak of Moscow's infections falling at the end of April, and a three to four week lag, most commentators expected a major increase in May. But the figures are at the high end of such expectations. The last time excess deaths of this order were registered was in 2010, when forest fires and smog led to a major uptick in respiratory illness in the city.
The potential for further upward growth also remains clear despite new infections dropping to 1,195, the lowest rate since the start of April. Thousands remain in intensive care, plugged into ventilators, and less than a quarter are expected to survive.
Russia has previously reacted angrily to claims official statistics might be underreporting the real number of coronavirus deaths. Earlier this week, in an interview with CNN, Kremlin spokesman said any discrepancy with world trends was down to the "effectiveness" of Russian medicine alone.
But authorities themselves recognised the incomplete nature of statistics at the end of May when they changed counting methods following widespread criticism.
The decision to include deaths where coronavirus was either a suspected or secondary cause saw Moscow's death rates double from 1.4 per cent to 2.8 per cent. As far as April's figures were concerned, the upwardly revised numbers (1,561) fell close to the approximate excess death figure of 1800.
Even with such quirks, Moscow's statistics are considered to be reasonably close to world standards. The picture further away from the capital is much murkier, with regional data showing several signs of manual manipulation.
On Tuesday, the official coronavirus crisis HQ in Altai District, Siberia, began its daily social media update with what appeared to be an unintended first sentence. "Dear Viktor Petrovich," it read, "sending information for your approval: 71 new cases registered overnight, no lethal outcomes"
Vikor Petrovich, aka Vikor Petrovich Tomenko, is the name of Altai District's governor.
Register for free to continue reading
Registration is a free and easy way to support our truly independent journalism
By registering, you will also enjoy limited access to Premium articles, exclusive newsletters, commenting, and virtual events with our leading journalists
Already have an account? sign in
Join our new commenting forum
Join thought-provoking conversations, follow other Independent readers and see their replies