Coronavirus: Police ban alcohol along Seine and clear huge crowds in Paris after lockdown eased
'The success of deconfinement requires everyone's prudence and civility,' says minister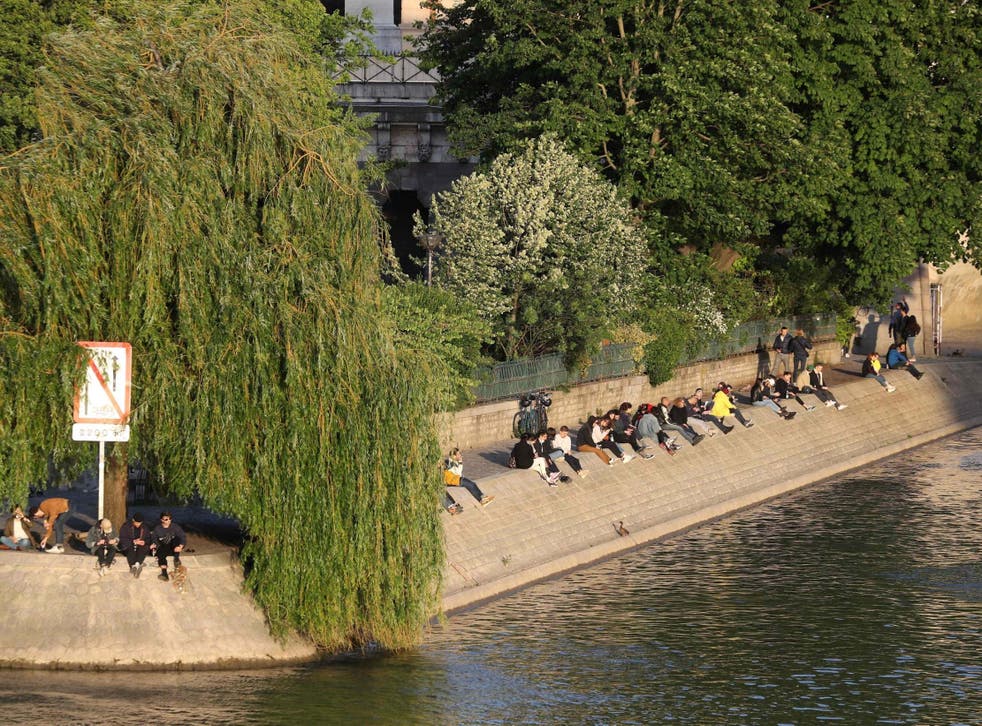 Parisians have been banned from drinking alcohol along the Seine river's walkways after police dispersed massive crowds on the first day of the nation's coronavirus lockdown easing.
Hundreds of people were seen sitting and basking in the sun along the river and the city's canal banks on Monday, after 55 days under lockdown.
Non-essential businesses, including hairdressers, nail salons, and florists were also allowed to reopen, causing crowds to build up in the Champs Elysee. Subway stations and platforms were quickly packed with people returning to work.
The French people were permitted to travel outside their homes, no further than 60 miles away, for the first time since 15 March. Those using public transport during rush hour must procure a letter from their employer explaining their need to be there.
Under new guidance, gatherings of under 10 people are also allowed. People have been urged to wear face masks and observe social distancing.
But the masses of people relaxing by the Seine drew anger from French authorities. Christophe Castaner, the interior minister, condemned footage of the crowds in a tweet on Monday night, saying: "The success of deconfinement requires everyone's prudence and civility.
"Faced with the irresponsibility of certain behaviours, I asked the Paris Prefecture de Police to prohibit the consumption of alcohol along the Saint-Martin canal and the waterways on the banks."
The Paris police chief announced the ban, effective from 12 May, on Monday evening. He said he "deplored" having to take action to ensure people comply with social distancing measures on the first day of de-confinement.
French health minister Olivier Veran rejected the Paris mayor's request to allow parks and gardens to reopen as long as people wear face masks, citing the scenes along the Seine river on Monday.
Mr Veran told reporters on Tuesday: "It's not over. The virus continues to circulate… in view of yesterday's images you are referring to on the Seine river banks... one can understand but this can be dangerous.
"No, we will not re-open the parks and gardens in Paris, in the Ile-de-France, and in regions that are classified as red because it can be extremely tempting with the sun that we have today for people to regroup too much and not respect the 10 people limit as well as social distancing."
France has been split into "green zones" where the infection rate is low and "red zones", including the greater Paris region, where the rate is higher and tighter restrictions remain in place.
Additional reporting by agencies
Register for free to continue reading
Registration is a free and easy way to support our truly independent journalism
By registering, you will also enjoy limited access to Premium articles, exclusive newsletters, commenting, and virtual events with our leading journalists
Already have an account? sign in
Register for free to continue reading
Registration is a free and easy way to support our truly independent journalism
By registering, you will also enjoy limited access to Premium articles, exclusive newsletters, commenting, and virtual events with our leading journalists
Already have an account? sign in
Join our new commenting forum
Join thought-provoking conversations, follow other Independent readers and see their replies