Coronavirus: Priests give communion with shared spoon as Romania outbreak spreads
President Klaus Iohannis brings in travel restrictions and night-time curfew 
Rory Sullivan
Wednesday 25 March 2020 12:56 Comments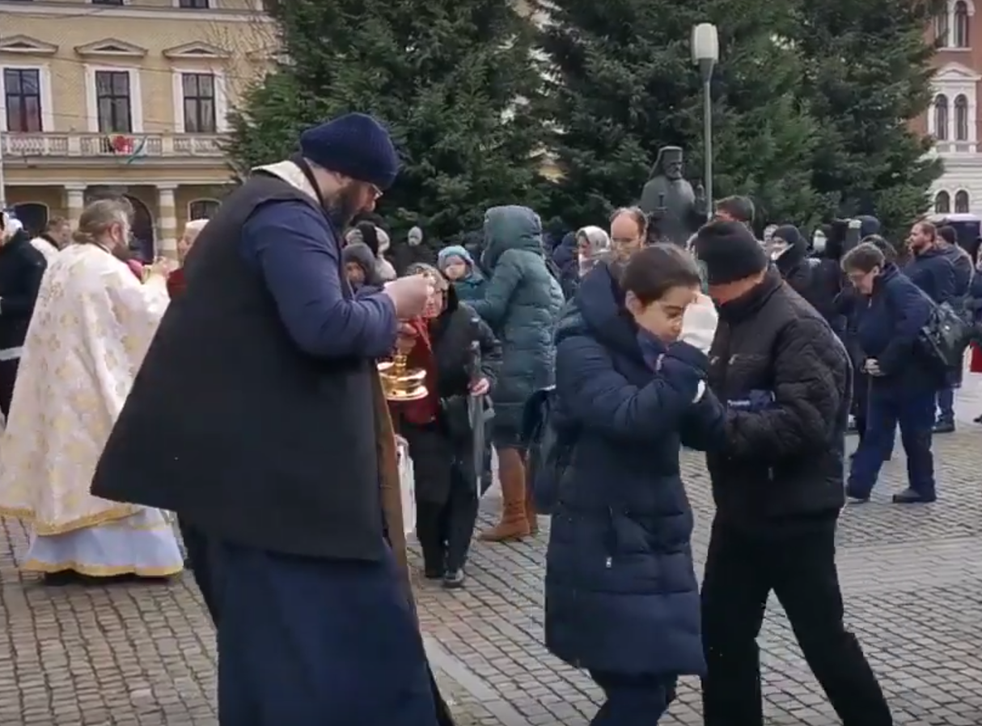 A video of priests in Romania giving communion with a shared spoon has emerged, as the coronavirus outbreak in the country worsens.
The footage, taken in the Romanian city of Cluj on Sunday, shows queues of worshippers lining up to receive the sacrament from Orthodox priests.
This came amid worries over the rising number of coronavirus infections in the country.
According to Euronews, Bogdan Tanase, head of Romania's Doctors' Alliance, responded by saying: "Many priests have not understood what this is about, and given the fact that they didn't have an order from the Patriarch they proceeded as usual.
"It will have an impact. If you have 100 people, the probability that one is infected is high."
As part of the "exceptional measures" it introduced in late February, the Romanian Orthodox Church had allowed worshippers to bring their own spoons to services.
However, using separate spoons was not mandatory.
Earlier this week, the church decided to stop the public gathering for services, instead choosing to stream them online and on television.
Klaus Iohannis, the Romanian president, has restricted people's movement during the day and has ordered people over the age of 65 to remain indoors.
These measures to slow the spread of the disease were announced on Tuesday and came into effect on Wednesday.
A countrywide night-time curfew began on Monday and is expected to remain through the month-long state of emergency.
As of Wednesday, Romania has confirmed 794 coronavirus cases and 12 deaths as a result of the illness.
Additional reporting from Reuters
Register for free to continue reading
Registration is a free and easy way to support our truly independent journalism
By registering, you will also enjoy limited access to Premium articles, exclusive newsletters, commenting, and virtual events with our leading journalists
Already have an account? sign in
Join our new commenting forum
Join thought-provoking conversations, follow other Independent readers and see their replies