Coronavirus: Six people 'fined for trying to take part in far-right protest' in Rome during lockdown
'There will be Easter in Rome on Sunday,' Forza Nuova tweets before march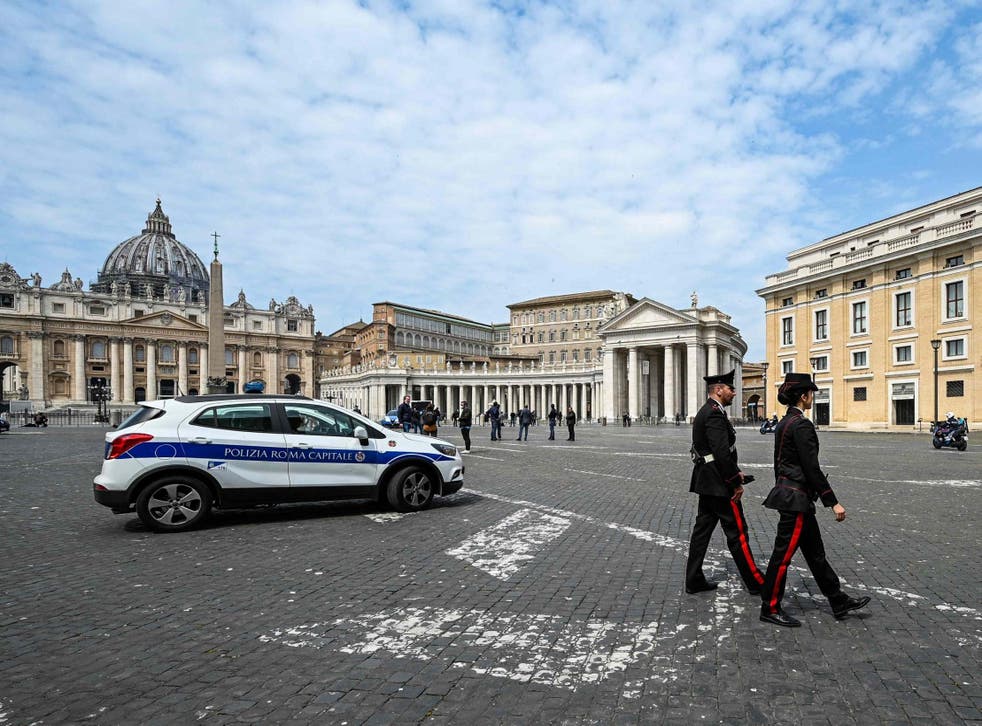 Six people have been fined for breaking lockdown rules after trying to take part in a protest organised by a far-right group in Rome, according to reports.
Forza Nuova, a neo-fascist Italian party, had decided to march in the capital on Easter Sunday against restrictions aimed at curbing the spread of coronavirus, local media said.
Police reportedly stopped half a dozen people heading towards a cathedral in the city as part of the planned protest.
They were all fined for violating measures taken to contain Covid-19 in the country, according to Italian news agency ANSA.
All public events have been banned in Italy and people have been ordered to stay at home unless it is essential – for example, to go to work or buy groceries – while the nation battles the pandemic.
Forza Nuova had announced the march on Sunday to protest the lockdown measures, according to Italian media.
The far-right party said they wanted to demonstrate "against the mass arrests, against quarantine, against the bans", according to Italian newspaper Il Messaggero.
"We are mobilising for freedom, for the return to work, for celebrating Mass again, for living again."
"There will be Easter in Rome on Sunday," the neo-fascist group tweeted last week.
The leader of the group's Rome branch, Giuliano Castellino, was reportedly among one of those fined. ​
Authorities had announced beefed-up patrols over the long Easter weekend, when Italians generally head to summer homes or to lunches with friends and family.
More than 26,000 people were sanctioned by police for ignoring the restrictions aimed at tackling Covid-19 on Saturday and Sunday, according to interior ministry figures.
The measures allow people to move around for work, health reasons or anything else deemed essential, such as grocery shopping or walking the dog.
Anyone outside must carry a certificate explaining their movements, and fines can range up to €3,000 (£2,600)
More than 156,000 people have been infected with Covid-19 in Italy as of Monday, while around 19,800 patients have died to date, according to official figures.
Forza Nuova have been approached for comment.
Additional reporting by Associated Press
Join our new commenting forum
Join thought-provoking conversations, follow other Independent readers and see their replies