'Free our children': Spain to allow children outside after six weeks of confinement under strict coronavirus lockdown
PM concedes he will grant under-12s 'a small relief' from strictest measures in Europe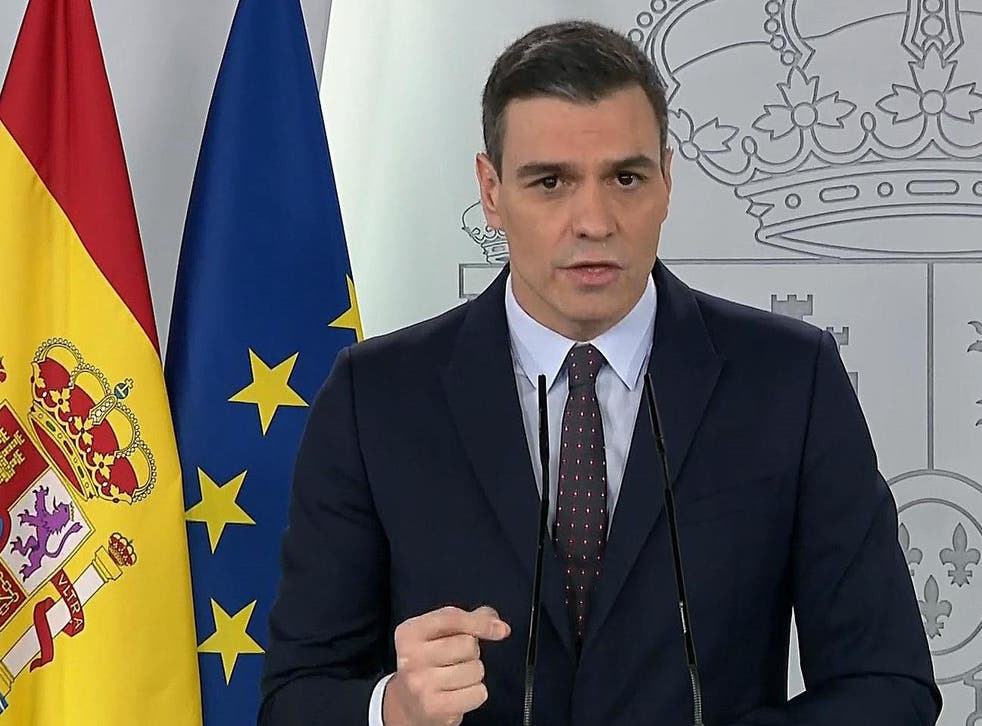 The Spanish government will allow children to go outside after six weeks of confinement during the country's coronavirus lockdown, bowing to pressure from an emotive campaign to "free our children".
It began with a Facebook post by Barcelona's mayor, Ada Colau – a mother of two children she described as "fighting more with each other, week after week" amid "attacks of sadness, of rage".
Her sign off – "Wait no longer: free our children!" – has since been echoed by hundreds of politicians, medical professionals and citizens.
Spain has the harshest lockdown conditions for children of any country in the world, according to a report by the Spanish Children's Rights Coalition, cited by El Pais.
While adults have been permitted to leave the house to shop for essentials or walk their dogs, the majority of Spain's 8.3 million children have been confined to their homes since 14 March.
But as the country tentatively eased its lockdown last week following a decline in new fatalities – allowing some non-essential workers to return to construction and manufacturing roles – there is mounting pressure for children to be permitted back outside.
In addition to Barcelona's mayor, the singer Shakira and footballer Gerard Piqué were among those to call for children to be allowed outside, with opposition leader Pablo Casado writing on Twitter: "These little heroes are already climbing the walls and need some respite."
More than 55,000 people have signed a petition calling on the government to recognise children's unique needs in its emergency legislation, as it does for domestic animals, or else risk incurring "as a society, a crime of neglect and abuse".
As the death toll surpassed 20,000 on Saturday, prime minister Pedro Sanchez addressed the nation to announce he would be seeking a further two-week extension to emergency measures, which were due to expire.
But he conceded that children may be allowed to go outside for "a little fresh air" as of 27 April, in what he described as "a small relief".
While local reports suggest this will only apply to children under 12 years old, Mr Sanchez said he had not yet decided how this would happen, insisting any such measures would need to be "limited and subject to conditions to avoid contagion".
He said he would present a report of paediatricians' recommendations to regional leaders on Sunday, when the details would be discussed further.
The advice favours allowing children outside for 30 minutes in the company of a responsible adult, El Pais reported.
It also states children should be forbidden to use swings and street furniture, and should wear a mask at all times, according to the Spanish daily paper.
The vast majority of families in Spain are said to live in apartment blocks, many without balconies.
Charities such as the Spanish Children's Rights Coalition has warned of mental and physical health problems for children as a result of lockdown measures.
Ms Colau highlighted this fear for many parents, writing: "Like many fathers and mothers, what worries us most is the psychological and emotional health of our boys and girls.
"We are tired of being told we are soldiers and this is a war, instead of talking about how to take care of life and take care of each other.
"If anything I wish we could extract from this terrible crisis is that the resulting new world is more feminist, puts people at the centre and educates in love and co-responsibility instead of individualism, fear and war."
Register for free to continue reading
Registration is a free and easy way to support our truly independent journalism
By registering, you will also enjoy limited access to Premium articles, exclusive newsletters, commenting, and virtual events with our leading journalists
Already have an account? sign in
Register for free to continue reading
Registration is a free and easy way to support our truly independent journalism
By registering, you will also enjoy limited access to Premium articles, exclusive newsletters, commenting, and virtual events with our leading journalists
Already have an account? sign in
Join our new commenting forum
Join thought-provoking conversations, follow other Independent readers and see their replies