Church leader who said coronavirus was God's punishment for gay marriage tests positive for Covid-19
Patriarch Filaret told TV channel pandemic was result of 'sinfulness of humanity… first of all, I mean same-sex marriage'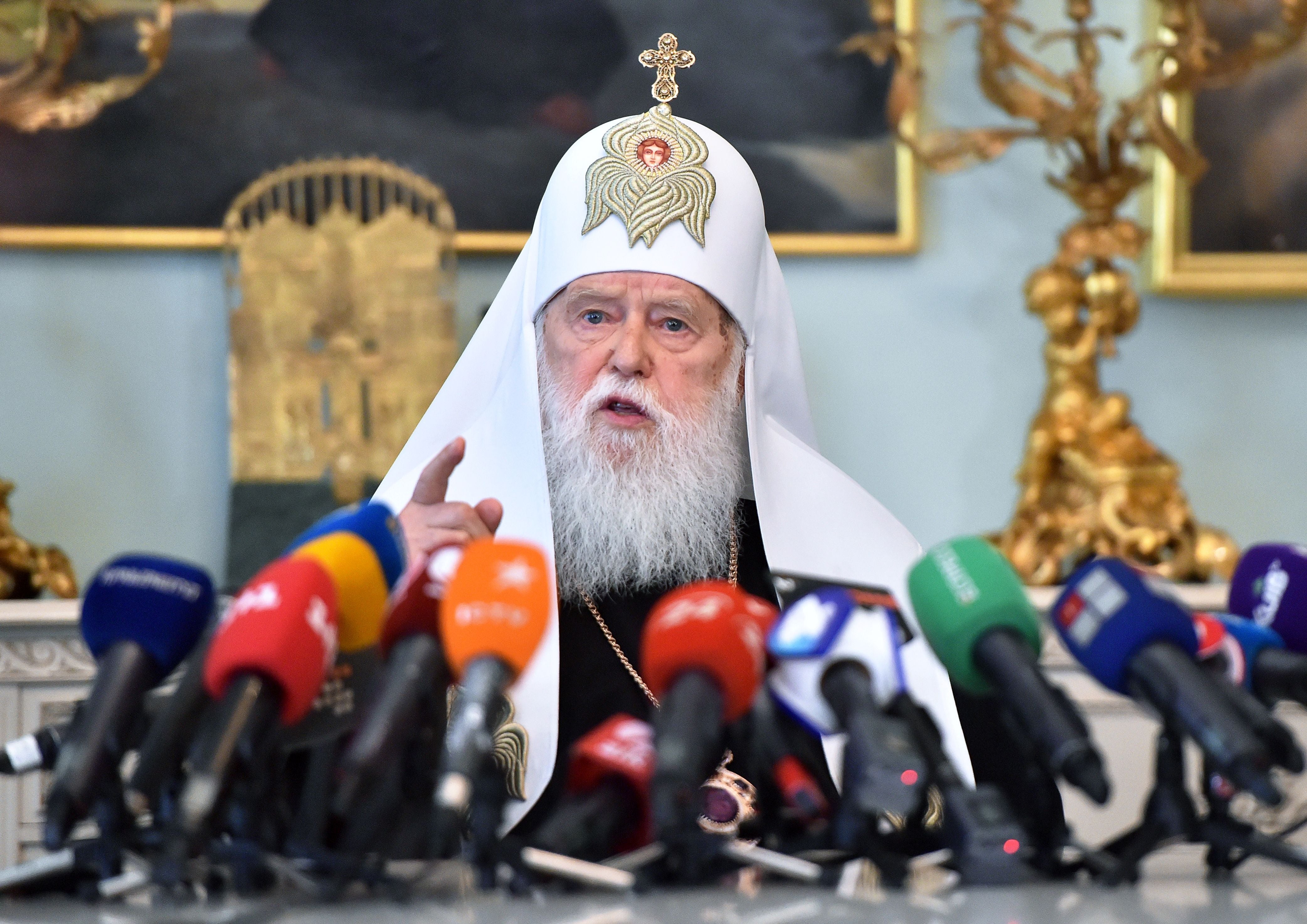 A controversial Ukrainian Orthodox religious leader who said coronavirus was God's punishment for same-sex marriage has himself tested positive for Covid-19.  
Patriarch Filaret, who leads one of the largest denominations of Christians in Ukraine, is reported to be in a stable condition in hospital.
He sparked controversy in March when he told a Ukrainian TV channel the pandemic was God's punishment for the "sinfulness of humanity; first of all, I mean same-sex marriage".  
Now, the 91-year-old has been confirmed as having caught Covid-19 during regular testing.  
In a statement online, Patriarch Filaret's church said: "We inform you that His Holiness Patriarch Filaret of Kyiv and All Rus-Ukraine tested positive for Covid-19 during planned testing.  
World news in pictures
Show all 50
"Now His Holiness Patriarch is undergoing treatment at a hospital. The Patriarch's state of health is satisfactory."
Shortly after Patriarch Filaret gave the TV interview linking coronavirus with gay marriage, a Ukrainian LGBT+ rights group announced it would sue the high-profile Christian leader for discrimination and promoting hatred.  
"Our aim is to show people that there is no longer place for such statements from church leaders in Ukraine," Olena Shevchenko, the head of the pro-LGBT+ group Insight, told the Thomson Reuters Foundation.
Amnesty International in Ukraine also condemned the remarks, warning they could lead to a surge in violence and discrimination against minority groups.  
But the church's press service claimed in a statement Patriarch Filaret's comments were not against the law.
"As the head of the church and as a man, the Patriarch has the freedom to express his views, which are based on morality." 
The church also threatened to bring its own legal proceedings against groups which sought to encroach on Ukrainian traditional family values through the courts.
Same-sex unions are not legally permissible in Ukraine and there remains much hostility towards gay people, often led by the Orthodox churches, but a survey in 2017 found 56 per cent of Ukrainians agreed LGBT+ people should have equal rights, a significant rise from previous polling.  
Patriarch Filaret, who leads the Ukrainian Orthodox Church – Kiev Patriarchate, has been a high profile and contentious figure in the Eastern European nation for decades.  
In the 1990s he led efforts to separate out Ukraine's Orthodox parishes from the control of the Moscow Patriarchate, which ultimately led to a unified Orthodox Church of Ukraine being established last year.  
However, the prickly Patriarch Filaret was sidelined as the leader of the new church in favour of one of his younger proteges who was deemed less confrontational. 
Within months, the older man had fallen out with his successor and split away from the newly unified church to re-establish his old Kiev Patriarchate.  
Join our commenting forum
Join thought-provoking conversations, follow other Independent readers and see their replies