Costa Concordia: Cruise ship towing delayed by final checks and rough seas, say officials
The ship has been degrading off the coast of an Italian island since January 2012
Kashmira Gander
Wednesday 23 July 2014 09:51 Comments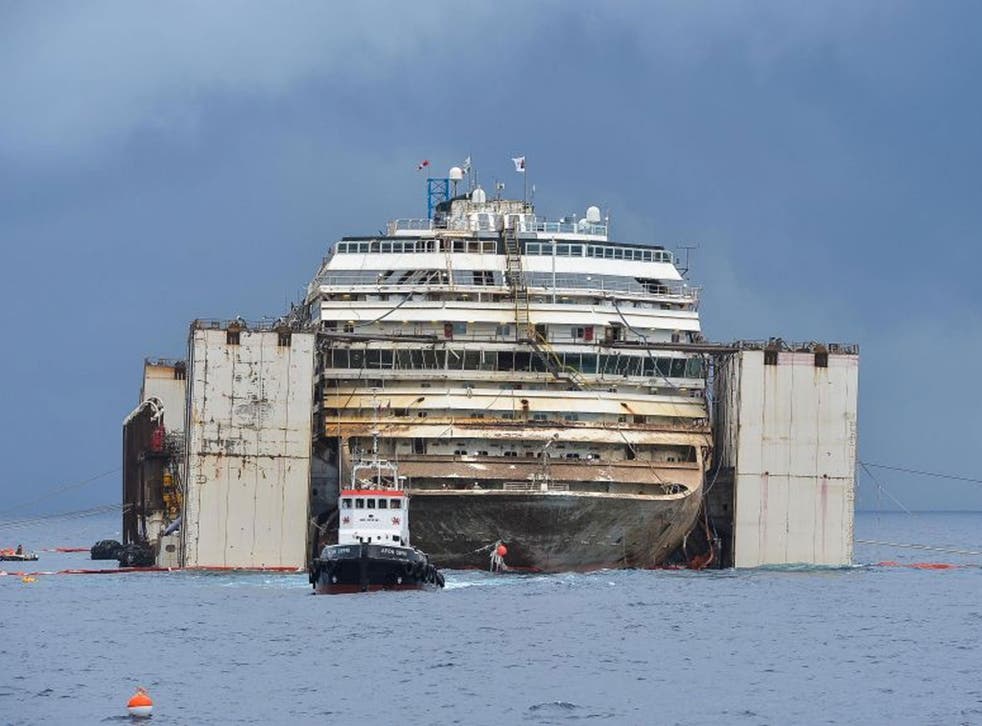 Plans to tow the 290-metre wreckage of the Costa Concordia from the coast of the Italian island it struck two-and-a-half-years ago, were delayed on Sunday by forecasts of rough seas and final checks to the deteriorated cruise liner, according to officials.
32 people died on board the cruise liner when it struck the Tuscan island of Giglio in January 2012. The body of Russel Rebello, an Indian waiter, has still not been found.
As part of one of the biggest maritime salvage operations in history, the ship was brought upright in September. Since last Monday, salvage workers have gradually lifted the 114,500-tonne luxury cruise ship from the sea floor, by pumping air into 30 large metal boxes attached to the hull, known as sponsons.
Franco Porcellacchia, the engineer in charge of the operation, explained that by forcing water out of the sponsons, the 13-deck cruise liner had largely been lifted off the undersea platform where it had been resting. But on Monday, there were still 2.5 metres to go, Sergio Girotto, a lead engineer, told the Guardian.
Costa Concordia: Inside the sunken cruise ship

Show all 6
When the rusted ship is ready, a convoy of 14 vessels led by the Blizzard tug boat will tow the Concordia to a port near Genoa, north-west Italy, where it will be turned into scrap.
The ship's captain, Francesco Schettino, is on trial, facing charges of manslaughter, causing a shipwreck by sailing too close to the shore to "salute the port", and abandoning the ship. He denies the charges.
The president of the French Concordia survivors group Anne Decre, who is on the island of Giglio, told reporters on Sunday that the departure of the ship will be an important symbolic moment for those who were aboard the night the ship capsized.
"It gives us the opportunity to try and collect ourselves and move forward," she said, adding that the liner will take the same route to Genoa it should have taken more than two years ago to complete its ill-fated cruise.
"We hope that we will also be able to return to our route," she said.
Paying for the disaster, including breaking up the vessel and repairing the damage to Giglio, is likely to cost the ship's owner and operator Costa Crociere, a unit of Carnival Corp , more than €1.5 billion (£1.2 billion), the company's chief executive has said.
Additional reporting by Reuters
Register for free to continue reading
Registration is a free and easy way to support our truly independent journalism
By registering, you will also enjoy limited access to Premium articles, exclusive newsletters, commenting, and virtual events with our leading journalists
Already have an account? sign in
Join our new commenting forum
Join thought-provoking conversations, follow other Independent readers and see their replies