Crimeans overwhelmingly vote to leave Ukraine and join Russia in contentious referendum
Country faces a decidedly uncertain future as polls close in peninsula seeking Russian annexation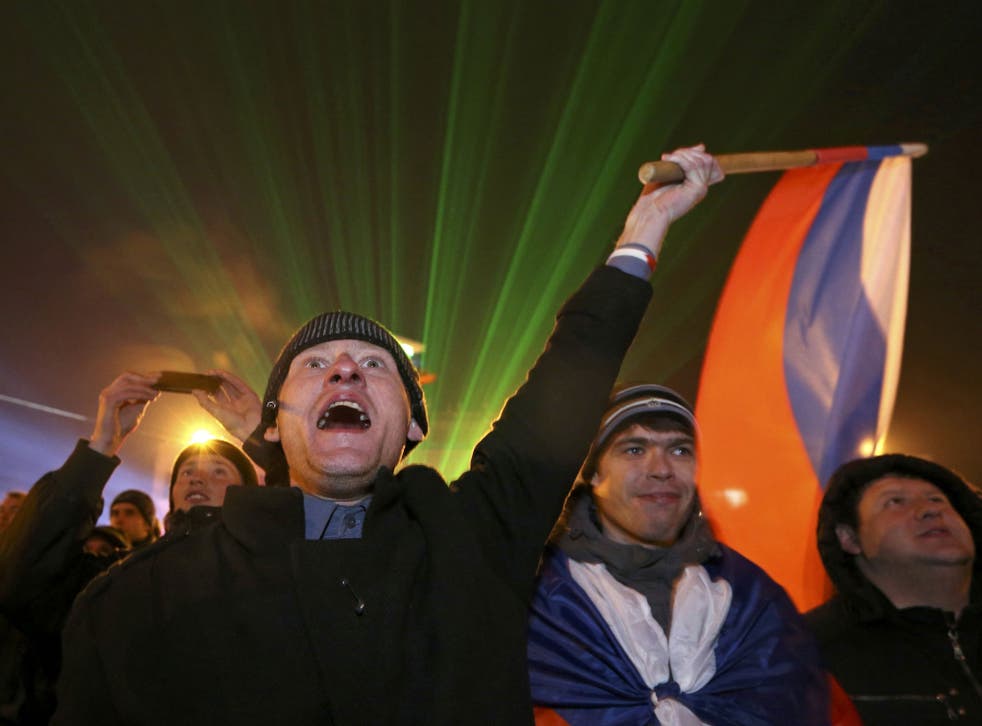 Fireworks exploded and Russian flags fluttered above jubilant crowds on Sunday after residents in Crimea voted overwhelmingly to secede from Ukraine and join Russia. The United States and Europe condemned the ballot as illegal and destabilizing and were expected to slap sanctions on Russia for it.
Ukraine's new government in Kiev called the referendum a "circus" directed at gunpoint by Moscow — referring to the thousands of Russian troops now in the strategic Black Sea peninsula after seizing it two weeks ago.

But after the polls closed late on Sunday, crowds of ethnic Russians in the regional Crimean capital of Simferopol erupted with jubilant chants in the main square, overjoyed at the prospect of once again becoming part of Russia.

The Crimea referendum offered voters the choice of seeking annexation with Russia or remaining in Ukraine with greater autonomy. After 50 per cent of the ballots were counted, Mikhail Malishev, head of the referendum committee, said more than 95 per cent of voters had approved joining Russia.

Crimea referendum and independence

Show all 14
A written statement from the White House calls Russia's actions in Ukraine "dangerous and destabilizing."
The US is urging other nations to "take concrete steps to impose costs" against Russia.
Polls opened at 8am local time, but with Crimea made up of an ethnic Russian majority and many anti-Moscow supporters boycotting the vote, the announcement of preliminary results later today will be little more than a formality.
Ukraine's acting defence minister today hit out at what he said was the continued build-up of Russian military personnel in Crimea, meaning the referendum is now taking place under the careful watch of around 22,000 occupying troops.
The path that has led Ukraine to this point can be traced to the fact that the ousted President Viktor Yanukovych had two powerful bases of support: Russia, and the pro-Russian regions of the country's east and south-east.
The eventually bloody protests which led to his deposition began when Yanukovych derailed a long-expected political and economic agreement with the EU in favour of closer ties with Russia.
A peace deal between the government and opposition was overseen by EU diplomats, but that arrangement was overtaken within days when protesters took control of the capital, Kiev, and police abandoned posts. Parliament voted to remove the president from power and soon appointed a replacement.
In pictures: Ukraine crisis

Show all 12
Russia declared the change a coup d'état, and heavily-armed troops apparently under command from Moscow began securing key positions in Crimea.
The referendum was then announced, despite heavy criticism from the EU and US, with a ballot featuring two options: One, to grant Crimea greater autonomy within Ukraine. The other, which is widely expected to secure the bulk of support, envisions annexation by Russia.
What little actual campaigning there's been in Crimea has taken place under the often menacing gaze of local militia forces, as well as the seemingly Russian military. In the face of overwhelming evidence, Russia denies it has deployed any troops.
The pro-annexation message has been crude but effective, and is aimed at instilling alarm over the new Ukrainian government's purported design to marginalize the country's ethnic Russian population.
One billboard showed two maps of Crimea: one emblazoned in the tricolor of the Russian flag - the same colours as the Crimean one. The other showed it against a crimson background and stamped with a swastika.
If those who vote in Crimea decide to break away from Ukraine and seek annexation by Russia, the final decision will be up to Moscow. It has said it won't comment until after the referendum.
The Russian legislative process that would be required to annex Crimea may already be underway. But Crimea's Russia-backed leader Sergei Aksyonov has said the full annexation process could take a year.
Another factor will be what steps the EU and the US take with sanctions to punish Russia for what they regard as an illegal referendum.
The US has already threatened to cut off Russian corporations from the Western financial system. Russia and the EU are big trading partners, and if they begin imposing sanctions on one another that could sharply affect international markets, which already have been rattled by the political chaos in Ukraine and Crimea.
Crimean authorities say if Ukrainian soldiers resolutely occupying their garrisons don't surrender after Sunday's vote, they will be considered "illegal".
Leaders of the mainly Muslim Crimean Tatar minority, who make up more than one-tenth of the region's population, insist they want to remain part of Ukraine and worry about what fate awaits them in a country they have no desire to join.
Once Crimea's pro-Russian leadership seals some vague semblance of legitimacy through the referendum, attention will likely swing to eastern Ukraine, another heavily Russian-populated area in which the central government is struggling to stamp its authority.
The government in Kiev reported last night that Russian forces had moved across the border to occupy a strategic location in the Kherson region.
A national presidential election set for 25 May is seen by the interim authorities as an opportunity to restore democratic processes in a country currently run by an interim post-revolutionary Cabinet. However, perceptions of an uncertain security situation could undermine confidence in what that vote produces.
Additional reporting by AP and PA
Register for free to continue reading
Registration is a free and easy way to support our truly independent journalism
By registering, you will also enjoy limited access to Premium articles, exclusive newsletters, commenting, and virtual events with our leading journalists
Already have an account? sign in
Register for free to continue reading
Registration is a free and easy way to support our truly independent journalism
By registering, you will also enjoy limited access to Premium articles, exclusive newsletters, commenting, and virtual events with our leading journalists
Already have an account? sign in
Join our new commenting forum
Join thought-provoking conversations, follow other Independent readers and see their replies