Bikes outnumber cars in Copenhagen for the first time
Number of journeys taken by bicycle has jumped by 68 per cent in the past 20 years
Caroline Mortimer
Thursday 01 December 2016 19:31 Comments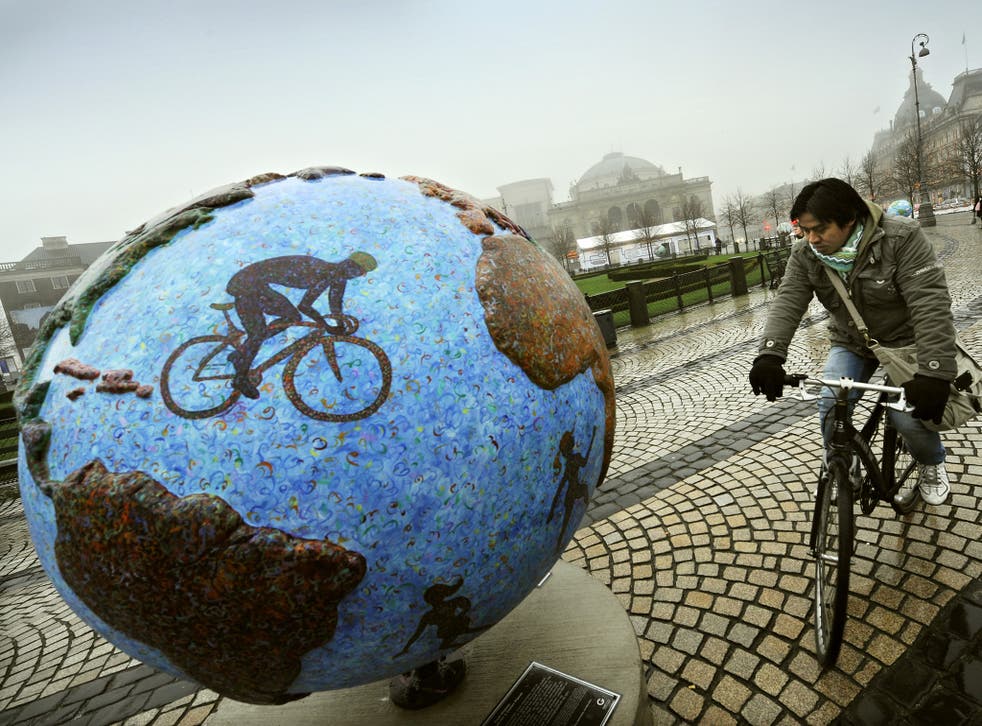 There are now more bicycles on the road than cars in Copenhagen, according to official estimates.
Bicycle sensors in the Danish city recorded an increase of 35,080 more bikes on the roads over the past year which brings the daily total up to 265,700 – compared with only 252,600 cars.
This is a massive jump from when the survey was first conducted in 1970 where there were 340,000 cars and 100,000 bicycles on the road.
According to the Copenhagen City Council figures, 41 per cent of all journeys are now made by bike in the city and cyclists cover a total of 1.36 million kilometres every day, Road CC reported.
Copenhagen has been at the forefront of the drive to convert roads to make them more cycling friendly and as a result bicycle traffic has increased by 68 per cent in the past 20 years.
Since 2005, the Danish government has invested 1bn kroner (£115m) in cycling infrastructure such as segregated lanes for bike and car traffic.
Speaking about the news, Copenhagen Mayor for Technology and the Environment, Morten Kabell told Danish newspaper Politiken: "I'm really glad that for the first time we are experiencing more bikes than cars.
The 20 best cities to live in the world for quality of life

Show all 12
"It shows that the investments we have made work. But it is clear that it is a challenge for the capacity of the cycle lanes. They must be able to cope with the volume of traffic.
"We have to make some hard choices about space and this means are more places in Copenhagen where how the road is designed must be changed".
He said he was in favour of taking more space from car lanes to make wider bicycle paths.
London is also seeing a similar boom in the number of people switching to two wheels – between 2004 and 2014 the number of bikes entering the city during rush hour more than doubled while the number of cars making the same journey fell by 22,000.
If this trend continues there will be more bikes than cars in central London during rush hour by 2019.
The capital's cycling boom was helped by the intervention of former Mayor of London Boris Johnson who approved several major cycling lanes across the city and introduced the popular cycle hire scheme.
But over the past few years, cycling campaigners have repeatedly called for Mr Johnson, and his successor Sadiq Khan, to do more to protect cyclists on London's streets.
Last month, activists staged a "die-in" outside City Hall following the death of Italian prince, Filippo Corsini, who became the eigth cyclist to die in London this year when he was dragged 30 yards across a box junction by a lorry in Knightsbridge on 2 November.
Register for free to continue reading
Registration is a free and easy way to support our truly independent journalism
By registering, you will also enjoy limited access to Premium articles, exclusive newsletters, commenting, and virtual events with our leading journalists
Already have an account? sign in
Join our new commenting forum
Join thought-provoking conversations, follow other Independent readers and see their replies