British woman jailed for falsifying gang rape allegations 'traumatised' by authorities in Cyprus, lawyer says
'It seems that the Cypriot police have jumped to an incorrect conclusion before investigating ... they have treated the victim of this terrible crime as a suspect,' says Michael Pollak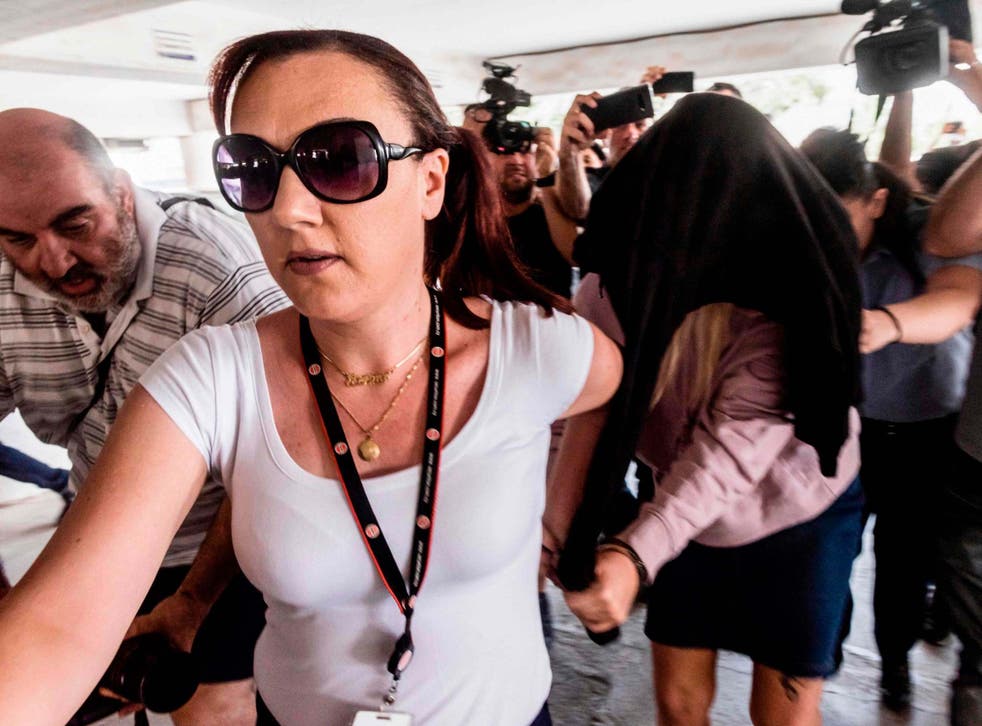 Authorities have added to the trauma of a British woman accused of falsifying gang rape allegations in Cyprus by locking her up in a prison criticised for degrading treatment and then forcing her to stay on the island away from her family, a lawyer supporting her has said.
The 19-year-old woman, who claims she was gang-raped by 12 Israelis in the Cypriot party resort of Ayia Napa in July, has said she was forced into signing a confession withdrawing the criminal complaint.
The teen, who has pleaded not guilty in court to charges of making up the accusation, is facing prison after being charged with "public mischief" – an offence which carries a jail sentence of up to a year.
She was imprisoned for nearly two months in a jail which has been criticised for overcrowding and degrading treatment in the Mediterranean island's capital of Nicosia but was released on bail at the end of August.
The woman, who is due to stand trial in the capital on Wednesday, was not able to return to the UK due to her surrendering travel documents to police and having to appear at a Nicosia police station three times every week. Her identity cannot be revealed unless she is found guilty.
World news in pictures

Show all 50
Michael Pollak, a human rights lawyer from Justice Abroad, a legal aid group providing help to the teen's family, told The Independent she has been in the women's section of Nicosia prison where nine inmates are placed in one cell.
Mr Pollak said: "Being imprisoned after she was the victim of such a serious crime added to the impact on her. It is amazing that in 2019 nothing is recorded in police stations in somewhere like Cyprus, which is part of Europe and a developed country. There have been clear failings in regards to the investigation of the rape allegations.
"Things should have been done differently and properly. It seems that the Cypriot police have jumped to an incorrect conclusion before investigating and considering the evidence in this case and in doing so they have treated the victim of this terrible crime as a suspect. The effect of the Cypriot authorities prejudging this matter is they are now unable to investigate the serious allegations against the Israeli youths for rape.
"The process by which they obtained a retraction statement from a vulnerable and young girl who had obviously suffered a lot was very worrying. She was kept in the police station for a long time overnight without access to a lawyer or without any other support. This goes against what one would expect the protocols to be in regards to sexual offences. This ordeal has been very difficult for their family because they thought their daughter was coming somewhere safe where she would be protected if anything happened. It has been difficult for her having suffered such a terrible experience to remain here away from her family."
Mr Pollak said the young woman was keen to "clear her name" – adding he hoped she will have a "fair trial" where the court examines all the necessary evidence and treats her justly.
Mr Pollak said the trial would see police officers involved in getting her to retract the rape claim cross-examined by local Cypriot lawyers representing her.
The lawyers have been appointed by Justice Abroad in an attempt to work out whether the police proceedings were carried out correctly under Cypriot and European law.
He said he doubted a decision would be made on Wednesday – adding the court was instead likely to give a date for the trial to continue.
Mr Polak has previously claimed none of the proceedings carried out by Cypriot police were recorded.
Justice Abroad said the young woman did not voluntarily withdraw the rape allegation, while her defence lawyers said investigators used "oppression" to make her rescind the rape allegation.
The woman made a criminal complaint to police officers and the group of Israeli men were arrested on 17 July, but she was detained on 28 July after police said she retracted the gang-rape allegation.
Her alleged assailants, who are aged 15 to 18 and were on holiday in Cyprus, have denied any allegation of assault and are now back in Israel after they were detained and later released without charge.
In a statement in August, Mr Pollak said: "After providing a further written statement, the police officer told her that he believed that she was lying about the allegations and that he wanted to help her. He told her to write a confession and that if she did not do so he would arrest her friends in Cyprus for conspiracy."
The barrister said the apparent confession was then dictated to her and investigators made it obvious she would be arrested if she declined to sign it but would be allowed to return to her hotel if she obeyed their instructions.
Cypriot authorities have vehemently denied the allegation – claiming the young woman voluntarily admitted in writing to falsely accusing the Israelis.
Support free-thinking journalism and attend Independent events
The teen's parents have launched a GoFundMe page to raise funds for her legal fees which has so far received more than £28,000 in donations, but they are still in need of more money as Justice Abroad says her trial is likely to drag on.
Join our new commenting forum
Join thought-provoking conversations, follow other Independent readers and see their replies