Russian officials investigating why the waters of the Daldykan river have dramatically turned red
The region is one of the most polluted in Russia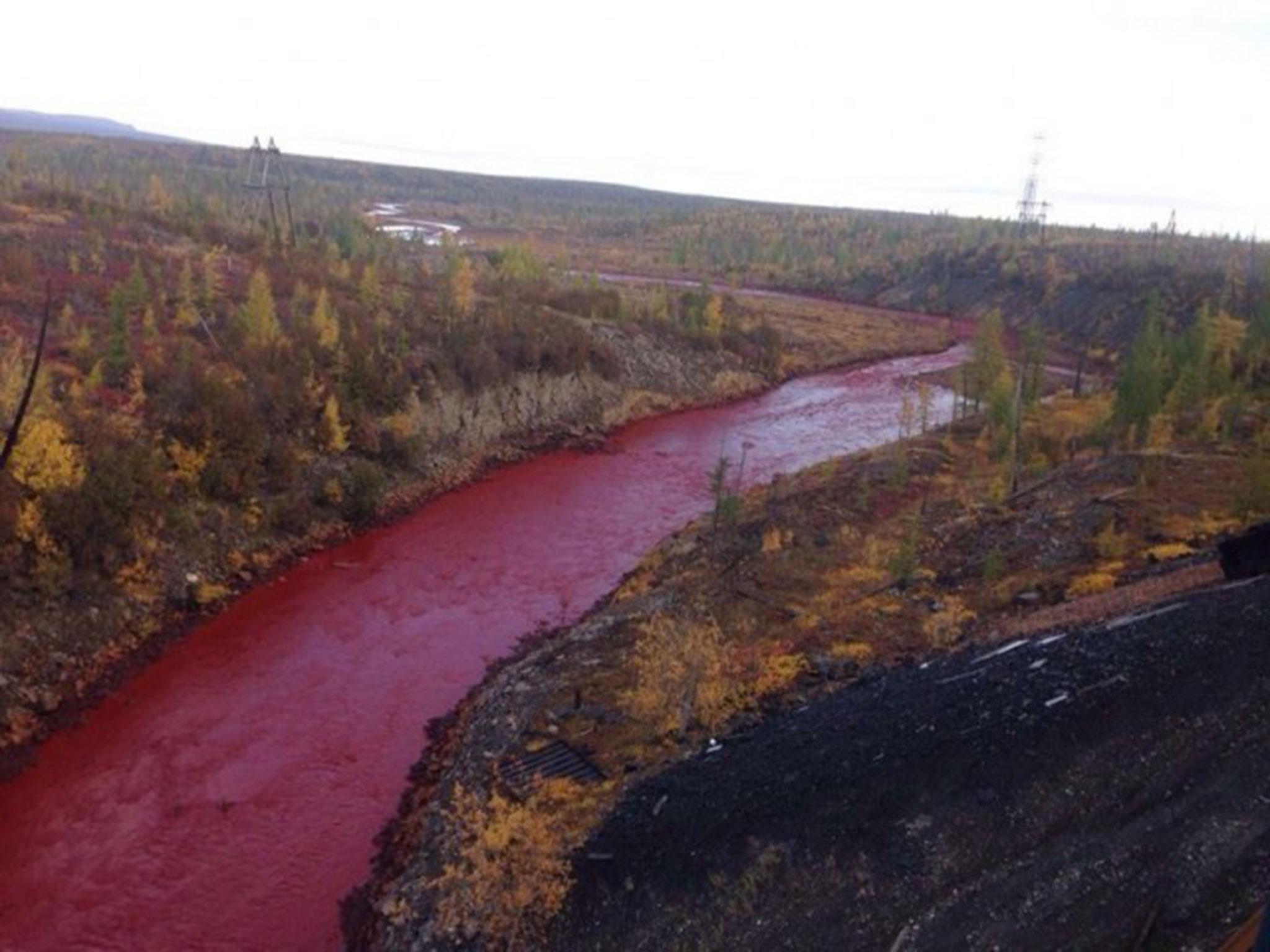 An investigation has been launched by environmental authorities in Russia after a river in Siberia turned blood red.
The Daldykan River lies near Norilsk, an industrial centre and one of the most polluted cities in Russia.
While a scientific reason for the change in water colour has yet to be pinpointed, many have blamed the phenomenon on waste from a nearby factory.
Metallurgical plants, owned by regional conglomerate Norilsk Nikel, have been cited by locals on social media as the probable source of the red dye.
A statement released by Sergey Donskoy, head of Russia's Ministry of Natural Resources, said that according to preliminary information, a possible cause of the pollution was a "breakthrough slurry pipeline" at a Norilsk Nikel plant.
The company responded by denying the pollution was due to an "accidental discharge" at its Nadezhinskogo metallurgical facility but said it is "monitoring the state of the environment in the vicinity of the river".
Mr Donskoy has ordered the river be checked and for the situation to be brought under the "personal control" of Artem Sidorov, head of the Federal Supervisory Natural Resources Management Service.
Science news in pictures
Show all 20
David Chambers, president of the Centre for Science in Public Participation and a mining expert, studied the photographs and told The Verge: "That's a very typical colour for mine waste."
Mr Chambers told the publication the colouration was probably caused by oxidised iron content within industrial run-off.
Iron oxide can be produced by sulphide minerals undergoing high temperature or pressure oxidation treatments, Mr Chambers said.
Scientists advised that the river waters are potentially toxic, pose a threat to local residents and are unsafe to drink – for both livestock and humans – or use in irrigation.
Locals have reported the river also changed colour in June, when the water turned a darker shade of red, an incident that received far less attention.
The world's biggest heavy smelting industry is situated in Norilsk, according to Time, annually releasing four million tonnes of cadmium, copper, lead, nickel, arsenic, selenium and zinc into the atmosphere. Death rates from respiratory diseases in the city are reportedly far higher than the Russian average.
Join our commenting forum
Join thought-provoking conversations, follow other Independent readers and see their replies