Danish minister sparks furious backlash after celebrating tougher immigration laws with cake
Inger Støjberg is no stranger to controversy - she was also involved in the heavily criticised 'jewellery law''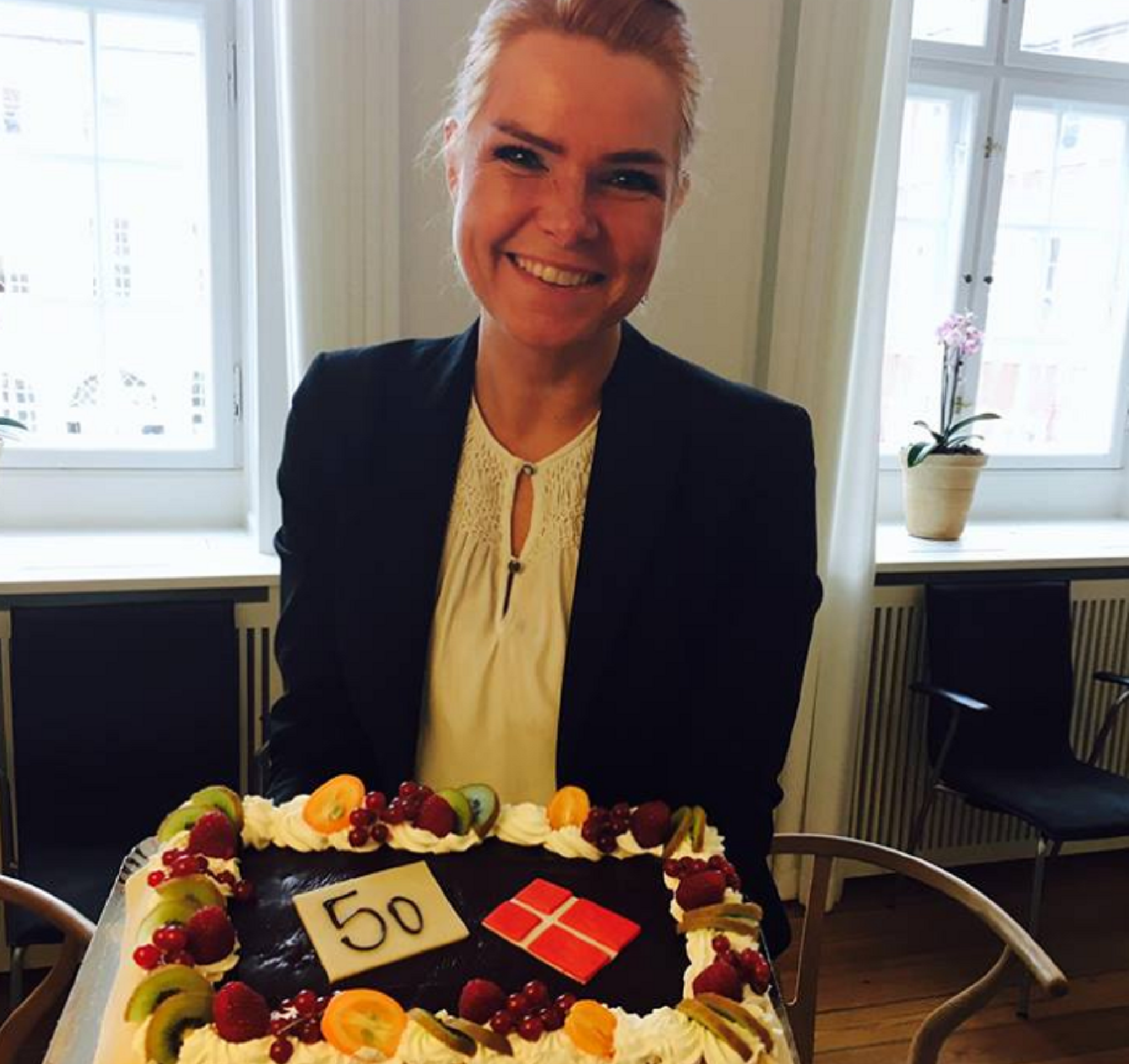 A Danish minister has sparked a furious backlash after she shared a photo celebrating increased immigration controls.
Integration minister Inger Støjberg posted the photograph of a celebration cake to social media after her 50th amendment to tighten immigration controls was ratified earlier this week.
The minister is seen holding a cake featuring the number 50 and a Danish flag.
"Today I got the 50th amendment to tighten immigration controls ratified," she wrote. "This needs celebrating!"
The minister is no stranger to controversy. She has been embroiled in a number of anti-immigration scandals in the past, including telling a story about a daycare centre banning pork in a bid to warn about the dangers of immigration, which was later proven to be false.
Ms Støjberg was also heavily involved in Denmark's "Jewellery law" which received widespread criticism.
Under the legislation, which has been labelled "vindictive" by Human Rights Watch, asylum seekers arriving in the country are allowed to keep up to 10,000 kroner (£1,000) in cash and valuables but anything above that will be seized to pay for their stay.
Social media users were quick to condemn her post on Facebook, which received 5,000 reactions and 600 comments within the first hour of being posted, according to the Politiken newspaper.
"There is something seriously wrong when it's good advertising in itself to make life harder for refugees and immigrants," one user, Jakob Ruggaard, commented.
"Apparently it's gone so far that you bake a cake and write 50 on it instead of explaining what the contents of the law is. Not that it would make the situation better, but it would seem more like a real democracy."
Another user, Klaus Brandt, wrote: "I could understand a celebration with cake if you had made 50 steps towards better integration."
Ms Støjberg defended her decision telling newspaper Jyllands-Posten that it is "not so unnatural to celebrate political victories".
Asked by Jyllands-Posten whether she understood why the post had provoked such a backlash, she said: "No, I find that very hard to understand. The restrictions mean that we can send a billion [kroner] to a number of developing countries in the region [closest to refugee source countries]. So I think there's a very good reason to celebrate it."
The Independent has contacted Ms Støjberg for comment, but none had arrived at the time of publication.
Join our commenting forum
Join thought-provoking conversations, follow other Independent readers and see their replies