David Cameron to meet new French President François Hollande for first time at G8 summit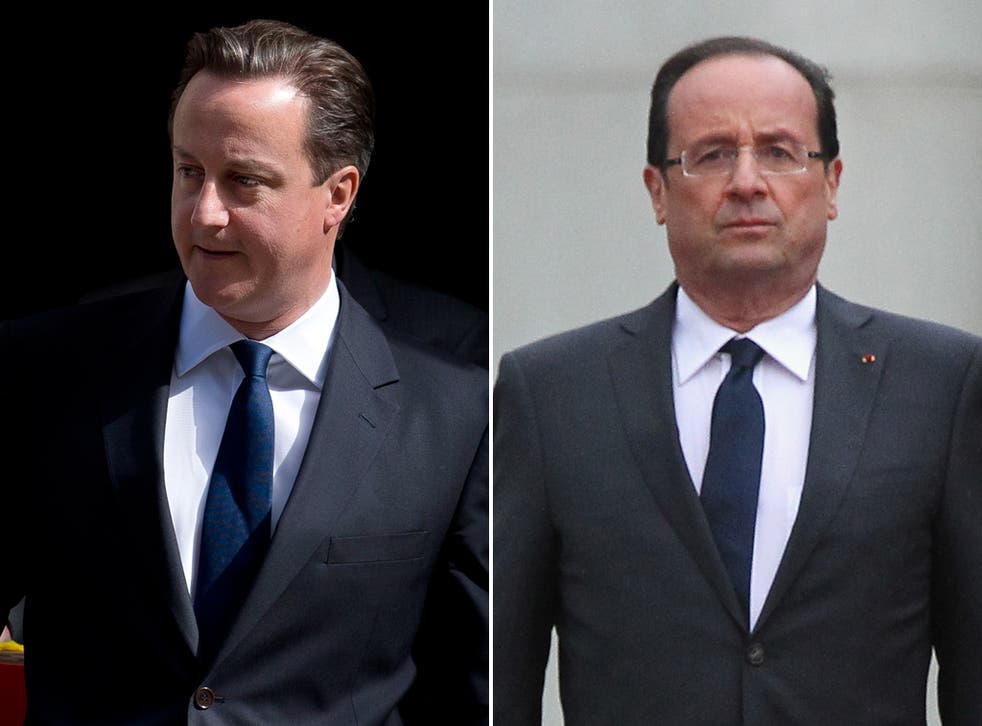 David Cameron will hold his first face-to-face talks with Francois Hollande today as they join world leaders in the US for a G8 summit set to be dominated by the eurozone crisis.
The Prime Minister has expressed confidence he will find "common ground" with the new socialist French president who swept to power on a promise of putting growth before austerity.
Mr Cameron has said that while he would do "whatever it takes" to shelter the UK from the fallout of the Greek debt crisis, the coalition's tough deficit-reduction strategy would stay.
But in an eve-of-summit article he put action to promote growth at the head of a wishlist of results from the gathering - and said he would push for new trade deals to achieve it.
Success at the G8 required "frank discussions on the issues that matter most for our security and prosperity" including "the resolve to return our own economies to strong and sustainable growth".
"We must renew our joint efforts to support growth, financial stability and energy security," he wrote on the Politics Home website amid mounting fears of a break-up of the single currency.
"And we must work together to give the world economy the one big stimulus that would really make a difference: an expansion of trade freedoms.
"So I will be pushing for progress on the trade deals that the EU is pursuing with three of our G8 partners: Japan, Canada and the US."
Measures agreed under the stymied Doha round of global trade talks to cut border red tape for goods should also be implemented and protectionist measures cracked down on, he is expected to say.
He mentioned the Greek crisis only in passing, noting that a "stable and successful eurozone is an essential part of supporting the global recovery".
Last night, he took part in what Downing Street said was a "constructive" conference call involving Mr Hollande, German chancellor Angela Merkel and Italian prime minister Mario Monti.
Number 10 said he used the call - also with European Council president Herman van Rompuy and EU Commission president Jose Manuel Barroso - to call for "decisive action" by the eurozone nations.
They are all attending the G8 summit hosted by US president Barack Obama at the Camp David retreat along with the leaders of Japan, Russia and Canada.
Mr Cameron will sit down with his French counterpart in Washington for talks ahead of the full-scale discussions on how to prevent the eurozone crisis spiralling into a global disaster.
On their agenda will also be Afghanistan - with the Prime Minister expected to press Mr Hollande about an election pledge to withdraw its 3,400 troops from the country this year.
That is two years ahead of the exit date agreed by Nato, whose own summit focused on the exit strategy will be attended by Mr Cameron in Chicago later in the weekend.
In his article, Mr Cameron said he was "looking for real political leadership" in the final stages of the campaign as well as more support from countries not part of the military alliance.
The Anglo-French talks - at the British ambassador's residence - will also focus on Iran, Syria, and defence co-operation.
Mr Cameron told MPs this week the French president was opposed to increased public spending as he sought to counter Labour claims his election was a boost to their calls for a change of course.
But Ed Miliband, who met Mr Hollande in London during the campaign while the PM backed Nicolas Sarkozy - scoffed at the prospect of the pair becoming allies.
The Opposition leader said that Mr Cameron was part of the problem, not part of the solution, and accused him of failing to show leadership.
"He is one of Europe's leaders, he should have been getting in there in the first place and getting these problems sorted out, and crucially he should have been saying to Europe's leaders 'We have failed over the last two years to sort out this problem. Unless we get a growth plan, unless we see Europe growing, it is not going to work'."
In his article Mr Cameron said he also wanted the G8 summit to show "real leadership and creativity" in supporting pro-democracy movements in the Arab world and elsewhere.
And he called for aid to be used to help poor countries "stimulate the private-sector to create jobs for their people and sustainable, equitable growth for their economies".
Fears of an exit from the single currency saw Greece's credit rating suffer a new downgrade last night - Fitch moving it from a B minus to a CCC.
Athens has an interim government pending fresh elections on June 17 after a poll saw huge gains for radical parties opposed to the international rescue package but failed to produce a coalition.
Shares were down across Europe and there were fresh fears surrounding the Spanish economy amid reports of a public rush to withdraw money from the recently-nationalised bank Bankia.
Credit rating agency Moody's downgraded 16 Spanish banks by between one and three notches last night - and pushed Santander UK down one notch to A2.
It gave reassurances over the UK operation however, noting that it was "systemically important" to the banking system here and was not exposed to the Spanish central or regional governments.
The Prime Minister said Mr Hollande was not proposing extra spending and actually wanted to balance the books quicker than the British government was planning.
"Even with the election of a Socialist president in France, he's actually said 'how am I going to stimulate the economy, I'm not going to do it through extra public spending, because actually we've got to cut back on that'," Mr Cameron told ITV1's Daybreak.
"His target for balancing his budget is actually a faster target than we have here in the UK."
Mr Cameron said that he listened to criticism of the Government's deficit reduction strategy, but insisted it was essential in order to promote growth.
"I listen to all the criticism, I listen to all the arguments, I'm not living in some sort of cut-off world, I absolutely do," he said.
"But the fundamental judgment is you need a plan to get on top of your debt and deficit to get your economy growing. I think this is a key point because a lot of people say there are two alternatives - you can have growth or you can have austerity - and I think that's wrong, you've got to have a deficit reduction plan as part of your growth plan, you need both."
The Prime Minister admitted that events in the eurozone were "truly worrying" for the UK.
"It is a very difficult economic time that we are in and what's happening in the eurozone is truly worrying," he said.
"Now Britain does have some advantages, because we've got our own currency, our own central bank, because we've got a strong government, a strong deficit reduction plan, our banks are strong.
"We do have those advantages but of course if things do go badly wrong in the eurozone that affects us, that's where 40% of our trade goes.
"That's why yesterday as well as saying I will keep Britain safe, I was saying we've got to do more to persuade the eurozone countries to take the really decisive action to deal with the problems that they've got."
PA
Register for free to continue reading
Registration is a free and easy way to support our truly independent journalism
By registering, you will also enjoy limited access to Premium articles, exclusive newsletters, commenting, and virtual events with our leading journalists
Already have an account? sign in
Register for free to continue reading
Registration is a free and easy way to support our truly independent journalism
By registering, you will also enjoy limited access to Premium articles, exclusive newsletters, commenting, and virtual events with our leading journalists
Already have an account? sign in
Join our new commenting forum
Join thought-provoking conversations, follow other Independent readers and see their replies