EU leadership: David Cameron warns UK could leave Union if Jean-Claude Juncker takes top job
Andrew Grice
,
Charlotte McDonald-Gibson
Friday 27 June 2014 11:47 Comments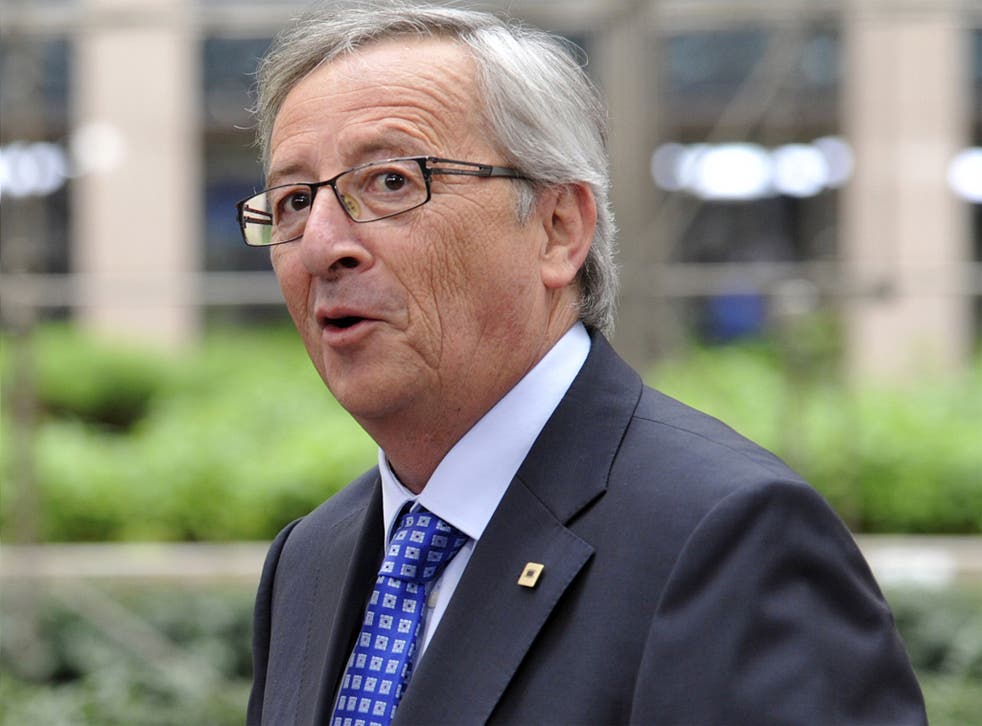 David Cameron warned other European leaders last night that the appointment of Jean-Claude Juncker to the top job in Brussels would make it more likely that the British public will vote to leave the EU.
As EU leaders gathered in Belgium ahead of a crunch summit today, Mr Cameron said there would be "consequences" if, as expected, the former Luxembourg prime minister is confirmed as president of the European Commission.
Further doubts about Mr Juncker's abilities surfaced as European diplomats admitted that some EU leaders had raised questions about his drinking. One diplomat said: "His alcohol consumption has been raised by a number of leaders since the European Parliament elections [last month]."
Mr Juncker has been dubbed "Junk the Drunk" by British tabloids but his supporters insist his habits never affected his ability to chair crisis meetings of Eurozone finance ministers when the currency was in danger of collapsing.
Video: Cameron opposed to Juncker
Amid a war of words, other EU nations hit back at Mr Cameron by warning that Britain could suffer a backlash and get a poorer deal from the EU because of his high-profile attempt to block Mr Juncker. One EU insider said: "He [Cameron] has alienated a lot of other countries. It will prove counterproductive. He will have to live with the consequences. He cannot expect any favours."
Mr Cameron rejected a last-minute olive branch from Angela Merkel, the German Chancellor, who tried to persuade him to accept Mr Juncker in return for a commitment to EU reform over the next five years.
The Prime Minister faces isolation at the Brussels summit. Hungary is the only one the EU's other 27 members backing his lonely campaign – and even that could change when Mr Cameron forces an unprecedented vote. Normally the Brussels post is decided by consensus.
Mr Cameron said he was "completely unapologetic" about his stance. Warning that the veteran federalist would "struggle to be voice of reform and change in Europe", he added: "Everything has consequences in life". British officials denied Mr Cameron was making threats, saying he was reflecting the reality that the appointment would have "an impact on the debate in Britain about our role in Europe".
The Prime Minister's warning raises the prospect that he might not recommend an "in" vote in the in/out referendum he has promised in 2017, as he has always intended. Eurosceptic Tories are urging him to declare he is prepared to urge people to leave the EU if he does not secure a good enough new deal for Britain.
Last night, he said he was taking "the opening step in a longer campaign to secure change in Europe".
The EU leaders discussed the EU's strategy for the next five years over dinner in Ypres, Flanders yesterday evening.
There was calm before the storm with a sombre memorial in Ypres to mark the centenary of the outbreak of World War One. The 28 leaders from once warring nations gathered at Flanders Field museum, and walked through streets bathed in afternoon sunshine to Menin Gate, where they stood side-by-side to remember those who lost their lives.
It was a poignant moment for Mr Cameron, who after the ceremony located the name of his great uncle, Captain John Geddes, carved into the gate along with thousands of others casualties of the Great War.
"We should remember those who served and why they fought... and we should recognise that the peace we have today is something we should cherish everyday," he said.
Register for free to continue reading
Registration is a free and easy way to support our truly independent journalism
By registering, you will also enjoy limited access to Premium articles, exclusive newsletters, commenting, and virtual events with our leading journalists
Already have an account? sign in
Join our new commenting forum
Join thought-provoking conversations, follow other Independent readers and see their replies