D-Day 70th anniversary: Putin appears isolated as Western leaders gather at Normandy
Mr Putin spoke with Ukraine's President-elect Petro Poroshenko in an eagerly anticipated exchange at the sidelines of the ceremonies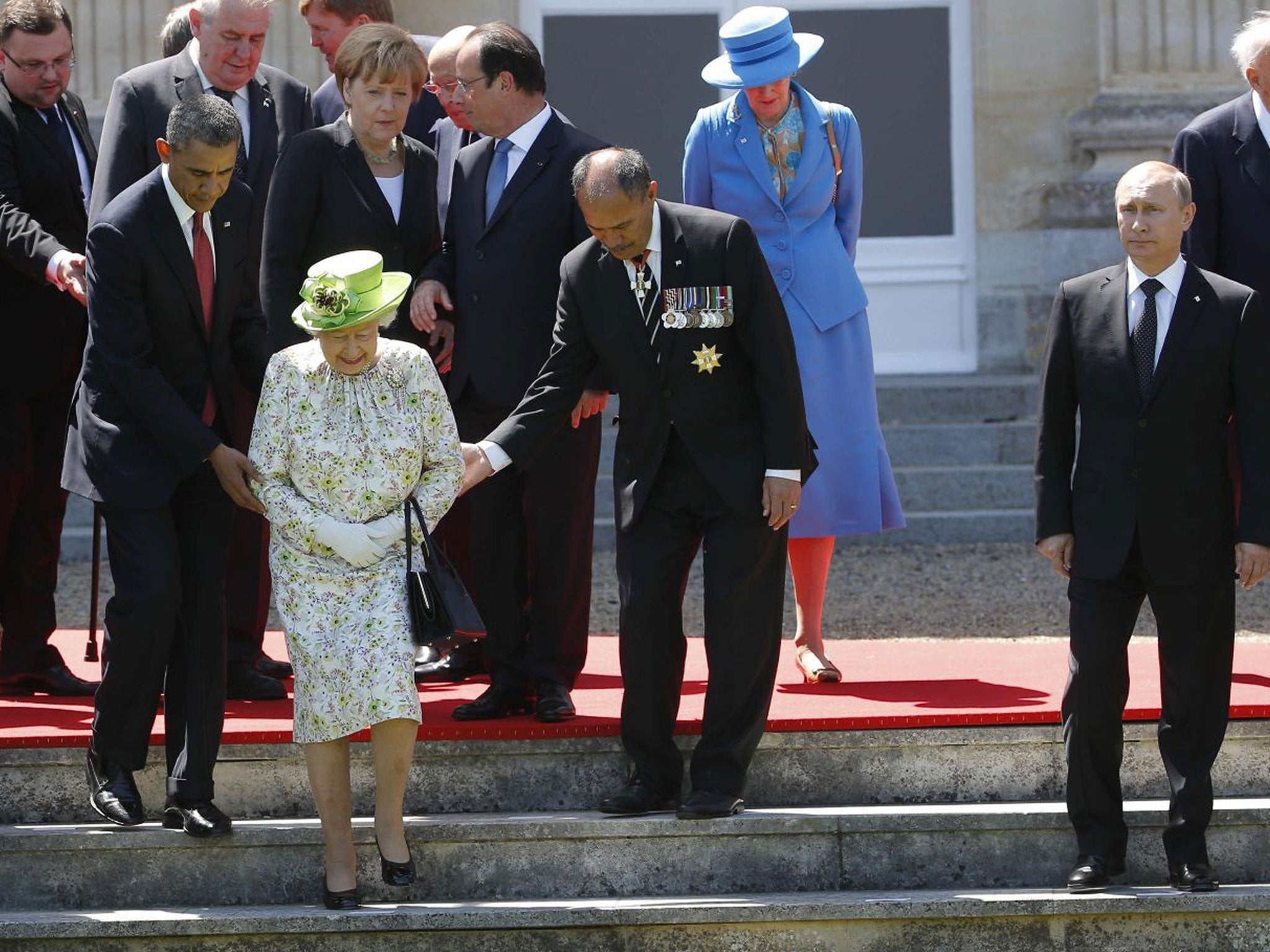 Telling pictures have emerged from the commemorations for the 70th anniversary of the D-Day landings, where a seemingly detached and isolated Vladimir Putin can be seen standing distanced from Western leaders at the ceremonies in Normandy.
A picture of the US President Barack Obama, the French President Francois Hollande and the German Chancellor Angela Merkel as they surround the Queen, while a nonchalant President Putin stands at a distance, appears to parallel the mounting tensions between Russia and the West over the Ukraine crisis.
In the background of one image Mr Hollande can be seen chatting with Ms Merkel, while Mr Obama diligently assists the Queen as she walks down the stairs. Mr Putin, in comparison, appears to have been left out in the cold as he stands to one side.
The exchange came a day after the Russian president was excluded from a meeting between leaders of the seven richest countries, the G7, which until Russia's exclusion had been called the G8.
In recent weeks, Ukrainian officials say more than 200 people have died in fighting between Ukrainian government troops and pro-Russian rebels.
D-Day landings 70th anniversary: 20 facts about 'Operation Overlord'
Show all 20
Once inside however, Mr Putin spoke briefly with Mr Obama during an informal conversation while leaders were eating lunch, in their first face-to-face exchange since the crisis began.
Mr Putin also spoke with his Ukrainian counterpart President-elect Petro Poroshenko, in their first eagerly anticipated meeting. They apparently discussed how Russia could recognise the Ukrainian elections, and a possible cease-fire in the interaction, in a conversation which reports say lasted just minutes.
In a statement, the Kremlin said Mr Putin and Mr Poroshenko called for a quick end to the bloodshed in Ukraine.
Mr Putin's spokesman Dmitry Peskov said Mr Putin and Mr Poroshenko expressed the need for a "soonest end to bloodshed in southeastern Ukraine and combat action by both parties, the Ukrainian armed forces and supporters of the federalisation of Ukraine."
Billionaire confectionery magnate Mr Poroshenko, who is to be sworn in as Ukraine's next president on Saturday, has promised a comprehensive plan to put an end to the hostilities in the east as soon as he assumes office.
Additional reporting by agencies
Join our commenting forum
Join thought-provoking conversations, follow other Independent readers and see their replies