Death of Venice: 'Visitors are killing our city'
Resident population now a third of what it was in 1945, and locals are finding life impossible in a 'theme park'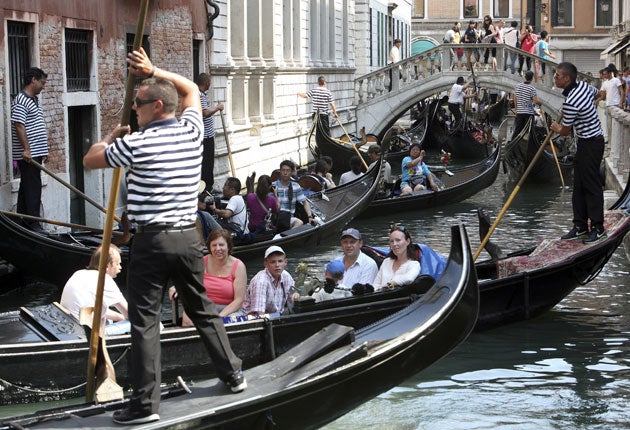 Lidia Fersuoch remembers growing up in Venice's San Samuele neighbourhood. There were two butchers, several grocery stores, two bakeries, a sewing goods shop and even a cobbler. "Alas, they're all gone now," said Ms Fersuoch, the director of the Venice branch of the national conservation group Italia Nostra (Our Italy).
Venice's resident population has shrunk to a little over 59,000, down from about 175,000 at the end of the Second World War. Residents are finding it ever more difficult to live normal lives as the city's infrastructure and shops increasingly cater mainly to tourists.
Any attentive visitors who leave the well-worn tourist path and ventures through the meandering alleys to the city's seductive but eerily silent squares will ask themselves: where are all the real Venetians?
"This is not a normal place any more," Ms Fersuoch said. "Some people have to take a vaporetto [water bus] if they want to buy fresh vegetables, but they can buy a $2,000 watch or a $400 carnival mask within metres of their home," she said.
Venice's majestic palaces and churches are built on low-lying islands, mud piles and stilts, and while plenty of time and money have been spent on plans to protect the Unesco World Heritage Site from water, many residents say the issues that are eroding their way of life have been neglected. One variation of a joke making the rounds among Venetians is about a tourist who asks where she can buy a litre of milk for her child and is told: "Go past the Gucci store, take a right at the Fendi store, go straight over the bridge at the Dolce & Gabbana boutique and I think there is still a grocery store there – if the guy hasn't died."
Ms Fersuoch made headlines with an intentional provocation in July when she urged the United Nations to put Venice on its endangered cities list. Mass tourism, environmental neglect and plans for new construction are sounding the death knell for the lagoon city, she said.
As many as 130,000 tourists descend on Venice on some peak days in summer – more than double the resident population. Calls by groups such as Italia Nostra to limit the number of tourists, for example through reservations for large groups such as those coming off huge cruise ships – what Italians call "intelligent tourism" – have fallen on deaf ears.
"No one denies that tourism is the engine that drives the Venetian economy and that people in the tourism sector work very hard. But by basing so much on tourism, the city has lost its social fabric," Ms Fersuoch said.
Residents' associations have expressed alarm about proposals to build a satellite city on the mainland that would be linked to the historic centre by a sub-lagoon metro system. They say it would disgorge even more tourists.
Ordinary Venetians have also seen their city become prohibitively expensive, particularly for the elderly. Getting daily foodstuffs to shops in the car-free city is a strategic enterprise involving trans-boarding goods on to progressively smaller boats and eventually on to handcarts to get to those shops that do not have canal frontage. Each layer of transport adds a layer of cost.
Venice has also moved into a somewhat surreal realm of what could be defined as a sort of "absentee gentrification", because many of those who have bought property are rarely there. Many residents now leave and rent out their apartments as short lets to tourists at much higher prices than they would get renting long-term to students, workers or families.
Those who sell often do so to well-heeled outsiders from as far away as the US or Australia seeking the prestige or personal gratification of owning a second home with a view of the Grand Canal, even if they only use it for weeks, or even days, a year.
"Venice has become a theme park. Sometimes it reminds me of a sad Disneyland," said the Venetian writer Caterina Falomo, editor of When There Were Venetians, a book of recollections and reflections by Venetians on how daily life in their city has changed over the years.
"The role of politicians is to protect the city in all its aspects," she said. "Their first duty is to defend the daily life of residents, not the whims of tourists. The only way to deal with this is to just say 'stop'. The flow of tourism has to be controlled. With every new luxury hotel, every new bed and breakfast or new holiday apartment, a bit of the city dies."
And although Venice is synonymous with film because of its annual festival, there are only two cinemas in the city. "A world-famous city with only two cinemas for people who live there is not normal," Ms Falomo said.
The Morelli family, which has been running a pharmacy near the Rialto Bridge for 105 years, keeps an electronic "population counter" of residents in its shop window. On a recent September day, the count stood at 59,254. "I would love to see the number go up," said Andrea Morelli, grandson of the pharmacy's founder. "But I don't see any sign of that happening any time soon."
Join our commenting forum
Join thought-provoking conversations, follow other Independent readers and see their replies