Deborah de Robertis interview: Performance artist who stripped in Paris gallery on 'prudish' attitudes to nudity
The Luxembourg artist spent two days in police custody last weekend after taking off all her clothes in the Musée d'Orsay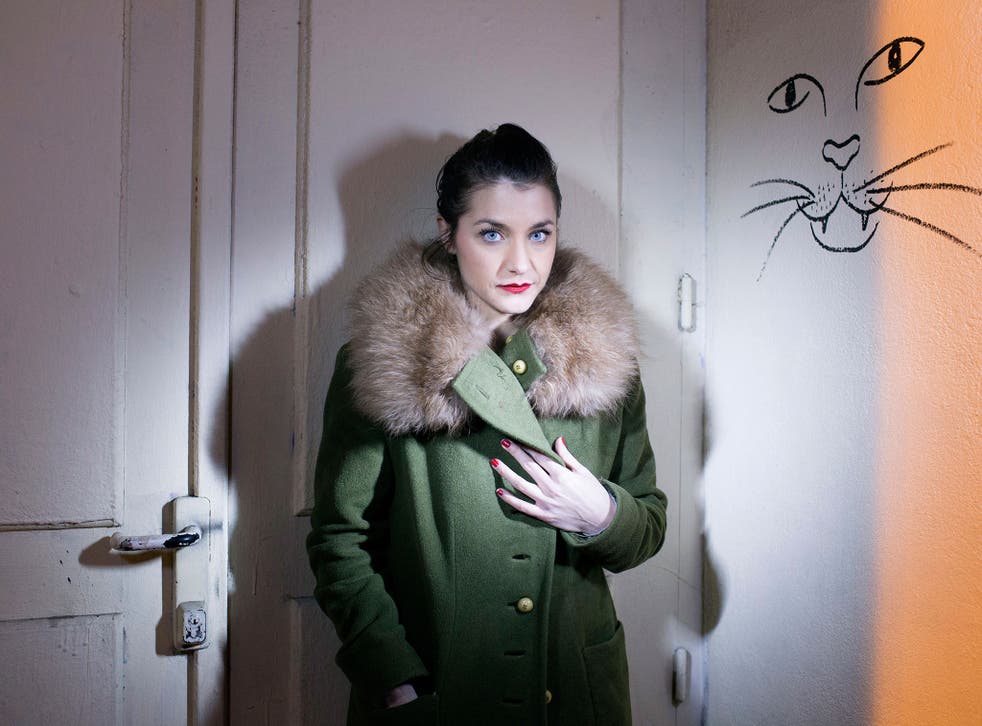 You might think that the world has seen as much of Deborah de Robertis as it possible to see.
The nude performance artist from Luxembourg disagrees. She has more revelations to make – and maybe a surprise or two up her sleeve (if she happens to be wearing one).
Ms de Robertis, 31, spent two days in police custody in Paris last weekend after taking off all her clothes in the Musée d'Orsay. She lay on the museum floor in front of Edouard Manet's celebrated painting Olympia and adopted the same confident, staring pose as the reclining nude in the 1865 Impressionist portrait.
Unlike the woman in Manet's painting, she wore a GoPro miniature film camera on her head.
Eighteen months ago, also in the Musée d'Orsay, De Robertis sat in front of Gustave Courbet's far more revealing canvas, The Origin of the World. Like the woman in the portrait, she exposed herself. Unlike Courbet's model, she placed a camera between her legs.
"My art is to alter the usual roles. I make the models in the paintings active and no longer passive. I reverse the usual relationship between the models and the public," De Robertis told The Independent on Sunday.
"Manet's Olympia, after being stared at for one and a half centuries, came alive last weekend and made a film of the people who were looking at her."
Deborah De Robertis in the flesh – or rather wrapped in a warm coat in a Paris café on a cold night – is an intelligent, pixie-like woman with piercing blue eyes and a rich giggle. In the standard media image from her first Musée d'Orsay "performance" in 2014, she looks angry and humourless. She hates that image. "Actually, I'm quite a funny person," she said.
Naked performance art, exhibitions and protests

Show all 5
De Robertis is a photographer and film-maker as well as a performance artist. She trained in Brussels in art and drama. She is a little coy about how she makes her living as an artist. "Just say that I am looking for a sponsor or a patron or an investor," she said.
Apart from her two performances at the Musée d'Orsay, De Robertis has made a dozen or so less-publicised nude appearances at art galleries in Luxembourg and Brussels. On each occasion, she takes photographs or makes films of herself appearing nude in front of paintings of nudes.
Her performance last weekend, which lasted for about 20 minutes, was her most elaborate to date. Fifteen friends and fellow artists accompanied her.
They gave the management of the museum 20 minutes notice of her unscheduled appearance on the final day of an exhibition about the treatment of prostitution in late 19th-century French art.
"The public were completely on my side," she said. "Anyone who objected could just have left the room, but no one did. The museum security guards ordered me to get dressed and, when I refused, they called the police."
Ms de Robertis has edited her footage of the event into a 10-minute film, which she intends to post on the internet.
"To me, it is funny. Me lying there, like Olympia, with a GoPro camera on my head, I think that is quite humorous. But I am also making a serious statement or rather asking a serious question," she said.
"I am reversing the relationship between the artist and the model, or between the public and the model, or between the power structure of the art world and the model. In my work, the model becomes not just the subject but active – an artist in her own right."
Ms de Robertis says that her performances are not – or not simply – a commentary on the prevalence of female nudity in art. She adores Manet's Olympia and has no problem with the art and prostitution exhibition at the Musée d'Orsay, which has been a great success.
"The only hypocrisy that I pointed out," she said, "was that the museum attracts people by organising exhibitions with sexual themes and lots of female nudity but then comes over all prudish if a female artist like me wants to perform in the nude."
The museum made a formal complaint against Deborah de Robertis for "indecent exposure". She was detained from Saturday until Monday but then released without charge. The Paris state prosecutor's office gave her a "caution" and reminded her that public nudity is illegal – even in France, even in an exhibition full of images of nude women.
What next?
De Robertis and a Moroccan artist friend, Rim Battal, are working on a "more political" project. She declines to say what this will involve. "Nudity is a large part of my work but it is not the whole of my work," she said.
The name of the project is, intriguingly, Je Suis Presidente – or "I Am a Woman President".
Register for free to continue reading
Registration is a free and easy way to support our truly independent journalism
By registering, you will also enjoy limited access to Premium articles, exclusive newsletters, commenting, and virtual events with our leading journalists
Already have an account? sign in
Register for free to continue reading
Registration is a free and easy way to support our truly independent journalism
By registering, you will also enjoy limited access to Premium articles, exclusive newsletters, commenting, and virtual events with our leading journalists
Already have an account? sign in
Join our new commenting forum
Join thought-provoking conversations, follow other Independent readers and see their replies