Defamation case opened against racist Italian senator Roberto Calderoli as abuse of black minister continues
Local councillor receives suspended sentence for 'should be raped' comments and immigration minister Cecile Kyenge is met with noose protests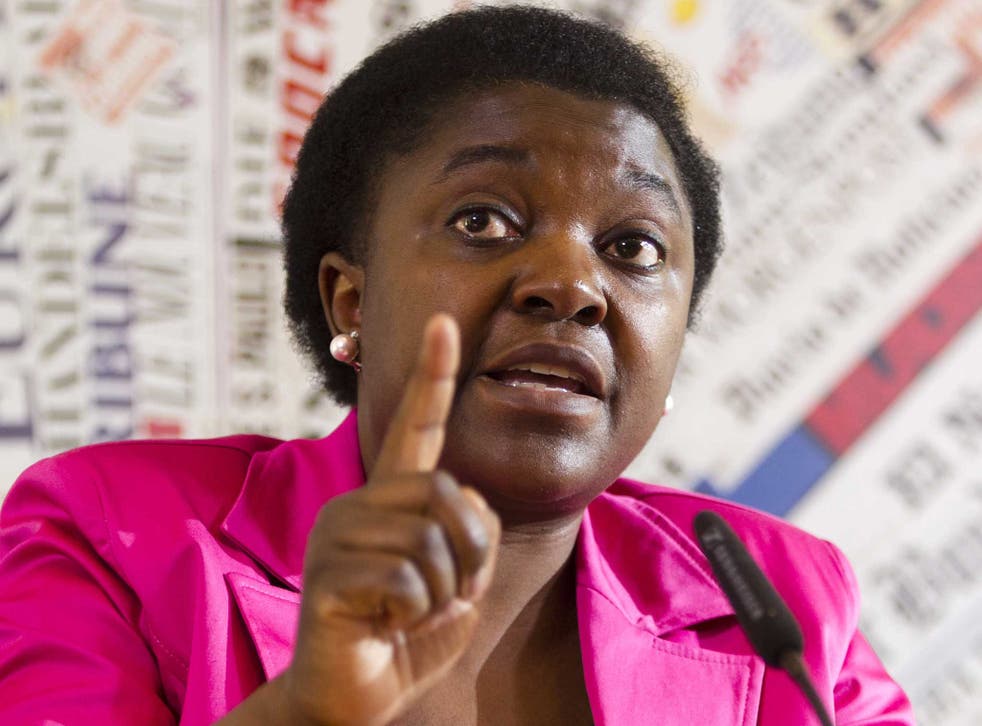 The Italian senator who compared the country's first black minister to an orangutan is being investigated for defamation by prosecutors, as he rejects calls to resign.
Judicial sources at a court in the northern city of Bergamo confirmed a file had been opened looking into the comments, made by Roberto Calderoli, a prominent leader of the anti-immigration Northern League.
Mr Calderoli has faced calls to resign after he said seeing immigration minister Cecile Kyenge made him think of a "resemblance to an orangutan". But he told the Senate that they should judge him on his behaviour there, rather than at the political rally where the racial slur was committed.
He said that Ms Kyenge had accepted his apology, that he would send her a bouquet of flowers, and added: "I said something foolish and I recognise that."
Meanwhile a local councillor for the Northern League was given a 13-month suspended sentence and banned from public office for three years yesterday because she suggested Ms Kyenge should be raped.
Dolores Valandro was found guilty by a court in Padua of inciting sexual violence for racial reasons, after she posted a comment on an article about an attempted rape by an African: "Why doesn't anyone rape her [Ms Kyenge], that way she will understand the experience of the victim of this bloody crime? Shame!"
While the Northern League expelled Ms Valandro after she made the comment, many of its members have taken Mr Calderoli's cue to scale up abuse of Ms Kyenge, who has been described as a "lightning rod" for discussions of race in Italy since her appointment as a minister in 2010.
On Monday, just two days after the senator made his "orangutan" comparison, Ms Kyenge was greeted on a visit to a conference in the northern city of Pescara by nooses hung from lampposts, and posters with slogans like: "Immigration, the noose of the people!" and: "Everyone should live in their own country", according to reports by news agency AFP.
The leading Democratic Party continued to call for Mr Calderola's resignation, and Prime Minister Enrico Letta warned the League to put an end to the "shameful chapter" in Italy's history, or else risk a political confrontation.
Join our new commenting forum
Join thought-provoking conversations, follow other Independent readers and see their replies