Defence Secretary meets Uzbek dictator
Human rights activists outraged at visit to discuss military co-operation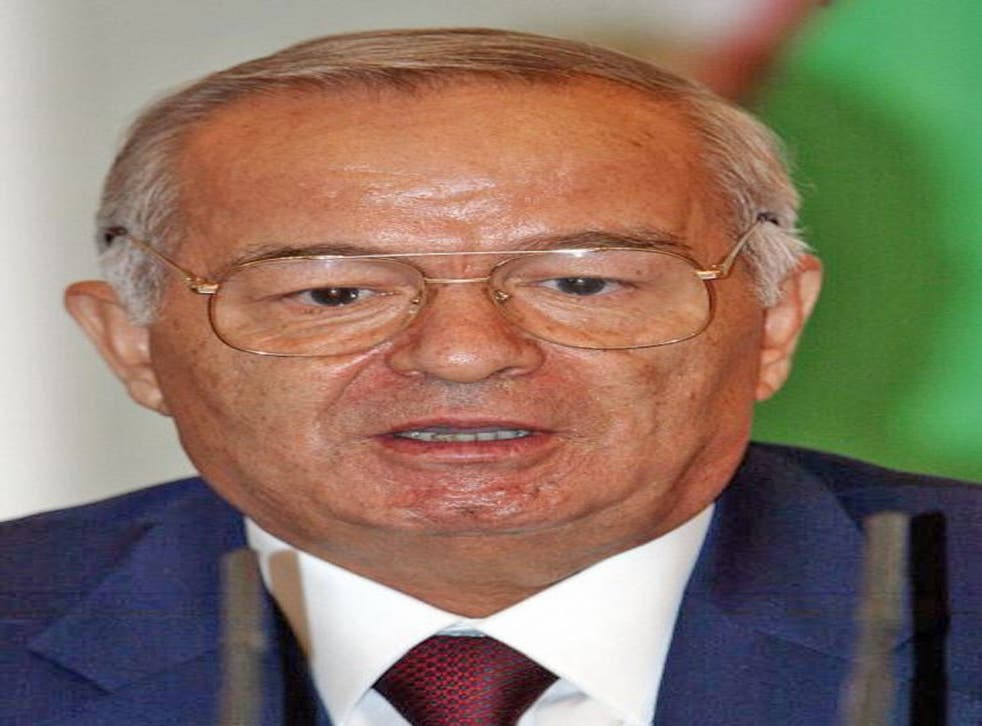 The British Defence Secretary Philip Hammond has met with Islam Karimov, the President of Uzbekistan and one of the world's most ruthless dictators, in Tashkent to discuss closer military co-operation.
Mr Hammond made no public mention of widespread human rights abuses during his trip to the country earlier this week, but found time to lay flowers at an official monument and was received in Mr Karimov's personal residence.
Between them, Mr Hammond and the Armed Forces Minister Nick Harvey are visiting all five Central Asian "Stans" this week, in visits aimed at seeking agreement on transit routes for the withdrawal of British forces from Afghanistan. All five countries have major human rights issues, but Uzbekistan is usually singled out for particular criticism.
Mr Hammond met with Mr Karimov on Tuesday. The Uzbek President's office said that a wide range of issues had been discussed during the "sincere meeting", including "furthering bilateral military and military-technical cooperation". Uzbek security forces are believed to have killed hundreds when they opened fire on demonstrators in the city of Andijan in 2005, but have refused an international investigation into the events.
"As the British Government steps up its engagement with the Uzbek government on the withdrawal from Afghanistan, it must not abdicate a responsibility to address the abysmal human rights situation inside Uzbekistan," said Steve Swerdlow, researcher at Human Rights Watch. "Torture is widespread in detention facilities, numerous activists remain behind bars, and media outlets and NGOs have been barred from the country."
A Ministry of Defence spokesperson denied yesterday that the human rights concerns were brushed under the carpet during the trip. "Our defence engagement with Uzbekistan absolutely does not change our stance on human rights, which will remain an essential component of our work," said the spokesperson."This includes when necessary raising our human rights concerns with the Uzbek Government, which we do robustly."
Mr Harvey is still on his trip to Central Asia and is expected to meet with heads of state in Turkmenistan, Tajikistan and Kyrgyzstan. In Turkmenistan, President Gurbanguly Berdymukhammedov has just been re-elected with 97 percent of the vote. He is the subject of one of the world's most surreal personality cults, and recently announced that an "era of supreme happiness" is underway in the country. There is no free media or any opposition politicians in the country.
Islam Karimov: Enemy of dissent
Uzbekistan is one of the world's most vicious dictatorships with no dissent tolerated. On the one occasion, in the city of Andijan in 2005, Mr Karimov's security forces opened fire on the protesters, killing hundreds. The Uzbek regime refused to allow an independent investigation. Children are taken out of school for weeks at a time to pick cotton and Western journalists are mostly barred from entering the country.
Register for free to continue reading
Registration is a free and easy way to support our truly independent journalism
By registering, you will also enjoy limited access to Premium articles, exclusive newsletters, commenting, and virtual events with our leading journalists
Already have an account? sign in
Register for free to continue reading
Registration is a free and easy way to support our truly independent journalism
By registering, you will also enjoy limited access to Premium articles, exclusive newsletters, commenting, and virtual events with our leading journalists
Already have an account? sign in
Join our new commenting forum
Join thought-provoking conversations, follow other Independent readers and see their replies