Defend Europe: Anti-immigrant ship trying to block refugees from crossing Mediterranean has funding cancelled
US crowd funding website Patreon shut down a profile page linked to the group after saying their goal was 'likely to cause loss of life'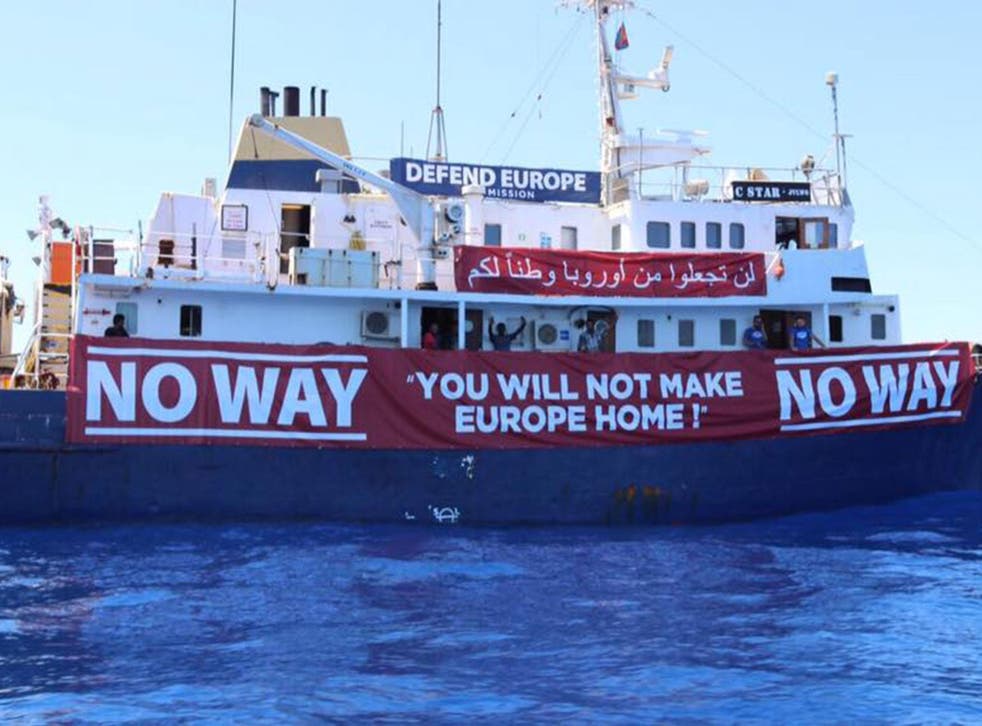 A right-wing group that set sail on the Mediterranean to stop refugees reaching Europe is facing a cash crisis after a crowd-funding company cancelled their account.
Defend Europe had raised tens of thousands of dolalrs on payment website Patreon to fund their mission to obstruct NGO vessels from rescuing migrants who had set sail from North Africa.
But owners of the tech firm shut down the profile page for the right-wing activists amid a lobbying campaign, saying their venture was "likely to cause loss of life".
Figures show more than 2,300 refugees drowned in the Mediterranean last year, often setting out in makeshift or crowded vessels, in their bid to reach the shores of EU countries including Italy.
The financial blow to Defend Europe's campaign comes just days after their C-Star ship went adrift in the Mediterranean when its engine shut down, forcing nearby vessels to answer a distress call.
The group had raised $17,000 on the Patreon online payment website through three personal accounts belonging to members of Defend Europe and a page named "European Identity".
Canadian right-wing commentator Lauren Southern set up the profile page which raised the funds for Defend Europe to set sail last month in their mission to stop refugee boats from leaving the coast of Libya.
The activist and self-styled independent journalist had promoted the organisation's Generation Identity fundraising campaign mission through a YouTube video.
A statement by Patreon to Ms Southern read: "It appears that you are currently raising funds in order to take part in activities that are likely to cause loss of life. We have therefore decided to remove your page from Patreon, and paid out your final balance of $95.00 to you."
It added: "We understand that this will come as a disappointment. Please know that we have come to this decision after a long review process and will not consider an appeal."
Executives at the crowd-funding platform investigated Ms Southern's profile after a lobbying campaign by groups including Hope for Hate.
Ms Southern claimed money she had raised through Patreon was related to her independent journalism work and no funds were diverted to the Defend Europe cause.
Patreon executives did not immediately reply to a query when contacted to comment further over its decision to shut down the activist's profile page.
World news in pictures

Show all 50
A separate crowdfunding webpage for Defend Europe on the platform WeSearchr remains active and has raised more than $200,000 through donations from some 3,000 contributors.
The right-wing group states on its profile page: "It's a mission to save Europe, to stop illegal immigration, and end the dying on the sea."
The California-based website which hosts their profile page insisted it would not remove it despite the activists' pledge to block migrants from seeking refuge in the EU.
Company founder Charles Johnson told The Independent: "No, we will not. What Patreon did is illegal under California law. You can't discriminate politically against your customers."
Join our new commenting forum
Join thought-provoking conversations, follow other Independent readers and see their replies