Nicolas Sarkozy comes out fighting against 'grave' corruption charges
Former French President uses TV and radio to protest innocence after release from custody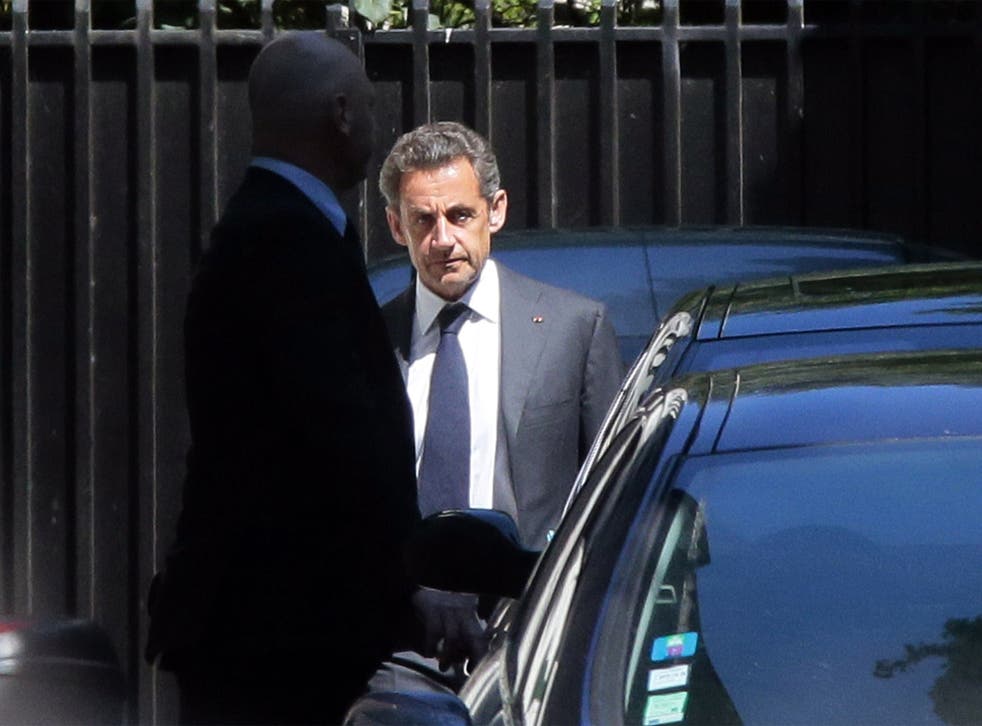 Nicolas Sarkozy has lost no time in challenging damaging corruption charges as the former French President fought for his political life.
Mr Sarkozy, who was subjected to the humiliation of being the first ex-head of state to be detained by police on Tuesday, appeared on television and radio tonight to denounce what he sees as an orchestrated politically-motivated campaign to destroy his reputation.
He said: "I would like to say to those listening that I have never betrayed their trust. I have never committed an act against the principles of the Republic or the rule of law."
Accusing the magistrates' trade union of seeking to destroy him, he said: "Everything is being done to give me a reputation that is not true."
His interview with TF1 and Europe1 radio came less than 24 hours after he was placed under investigation by a judge for active corruption, which carries a 10-year jail term, after more than 15 hours of questioning. He was also placed under investigation – the equivalent of being charged – for influence peddling and violating judicial secrecy.
Prime Minister Manuel Valls, a Socialist, said the charges against the centre-right former leader were "grave", but insisted that the judiciary was "independent."
The timing is critical for Mr Sarkozy. He appeared poised to launch a political comeback this summer, possibly returning to lead his crisis-hit UMP party, after announcing that he would withdraw from public life following his electoral defeat two years ago.
He faces a series of criminal investigations, mainly linked to campaign spending in 2007 and 2012. However he has so far escaped conviction, and charges against him for allegedly abusing the frailty of the L'Oréal hostess Liliane Bettencourt by asking her for a secret cash donation were dropped last year.
It was during an investigation into allegations that Mr Sarkozy had sought €50m from Libyan leader Muammar Gaddafi for his 2007 campaign, that phone taps showed a link to the Bettencourt case. Anti-corruption investigators also discovered that Mr Sarkozy and his lawyer had been made aware of the phone taps and bought substitute phones. Subsequent eavesdropping allegedly showed that the former President and his lawyer appeared to have discussed rewarding a senior judge from France's top court, the Cour de Cassation, with a prestigious post in Monaco in return for tip-offs about the Bettencourt case. Mr Sarkozy's lawyer Thierry Herzog, and senior judge Gilbert Azibert, both arrested on Monday, have also been placed under investigation. A fourth senior judge, Patrick Sassoust, was released without charge on Tuesday night.
Until tonight, Mr Sarkozy had not given interviews but had compared the phone tapping to the tactics of the former East German secret police, Stasi.
The wiretaps are likely to be at the heart of Mr Sarkozy's defence. The president of the bar, Pierre-Olivier Sur, expressed outrage at the publication of transcripts and suggested that the phone taps would be found to be invalid. He was particularly incensed that a confidential conversation with Mr Sarkozy's lawyer had been made public. He also said that investigators had no legal right for an eavesdropping "fishing expedition".
The impartiality of one of the two investigating magistrates, Claire Thépaut, was questioned by Sarkozy supporters. She was accused of being biased through her membership of the magistrates' union which posted pictures of right-wing politicians, including the former President, on an "idiots' wall" in the union offices.
The support from leaders of Mr Sarkozy's party – who may challenge him for the presidency in 2017 – was half-hearted. His former Prime Minister, François Fillon, noted on his blog that Mr Sarkozy was "presumed innocent" but that "light should be shed urgently" on the case.
Join our new commenting forum
Join thought-provoking conversations, follow other Independent readers and see their replies