Defiant Pussy Riot tell court: we are freer than those who prosecute us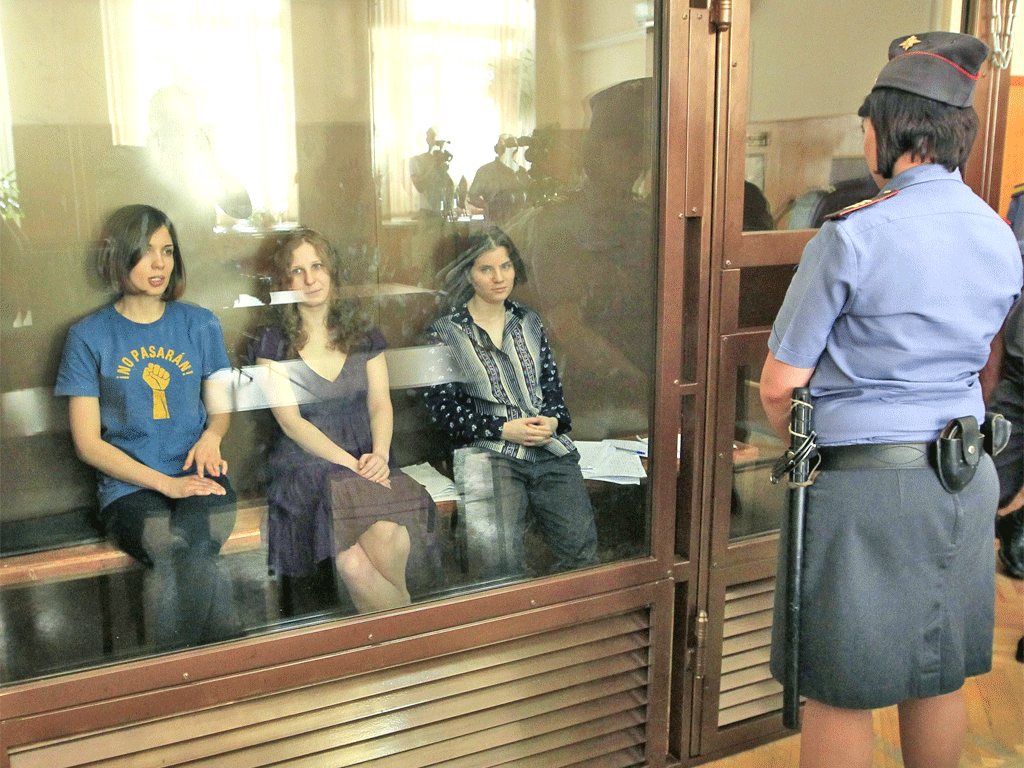 The Russian punk band Pussy Riot gave impassioned speeches yesterday sharply criticising the court and the country's regime on the last day of hearings at their trial.
The three women compared their case to the show trials of the Stalin era and said that the "so-called court" could not destroy their personal freedom. The judge retired to consider the verdict, which she said would be handed down next Friday.
The trio face up to three years in prison on charges of hooliganism motivated by religious hatred, for an impromptu "punk prayer" performed in Moscow's Christ the Saviour Cathedral in February. The three women mimed a song for around 40 seconds, which was later dubbed with a soundtrack calling on the Virgin Mary to "chase out Putin", and uploaded to YouTube. They have been held in pre-trial detention for the past five months.
Nadezhda Tolokonnikova, 23, read out a statement peppered with references to Socrates, Nikolai Gogol, Alexander Solzhenitsyn and the Bible. "We are freer than those who are prosecuting us," said Ms Tolokonnikova. "We can say everything we want, and they have their mouths shut, and are puppets."
"Spectators, we are not in the theatre," said the judge sternly when Ms Tolokonnikova's 15-minute oration was met with a round of applause. Defence lawyers say the judge has been biased from the start, rejecting their evidence, refusing to allow them to call witnesses, and ignoring blatant flaws in the prosecution's case.
"It was a small and ridiculous act that has grown into a huge thing for the authorities," said Maria Alekhina, 24, another defendant. "In a healthy society this wouldn't have happened." She criticised the Russian Orthodox Church for its unwillingness to offer the band forgiveness, despite their apologies.
The third defendant, 29-year-old Yekaterina Samusevich, attacked Mr Putin personally, saying he had realised his grip on power was weakening. The women denied that their performance had been motivated by religious hatred and said it was a political protest aimed at highlighting the Orthodox Patriarch's support for Mr Putin.
"When we talk about Putin we don't mean only Vladimir Vladimirovich Putin, we mean the system that he has built," said Ms Alekhina. "The system does not take into account the views of the masses, and the views of young people in particular."
There is little doubt that the verdict will be a guilty one, but Mr Putin himself, when asked about the case during a trip to London to watch judo at the Olympics, said that the women should "not be judged too harshly", which has led some to speculate that Russia's notoriously pliant court system might hand the trio a short sentence.
View from Moscow: 'A stupid mistake'
Lidiya, 58
Beauty parlour assistant
I think they should have been pardoned. It was a stupid mistake, but they are young, and you can't punish people who have young children so severely. The church should be forgiving.
Dmitry Romanchuk, 36
Company director
They should be punished, but not with a jail term. I'm not religious but I don't think they should go unpunished for going into church and doing something like that.
Katya Smirnova, 38
Translator
The louder their case becomes, the clearer it is that the fight is much bigger than just a punk song in a church. They don't deserve what the powers are trying to push on them.
Join our commenting forum
Join thought-provoking conversations, follow other Independent readers and see their replies